GFB News Magazine
Make family memories with Georgia Farm Passport
---
Posted on May 23, 2020 8:00 PM
---
By Jay Stone
Warner Robins couple Skip Mills and Dennie Douglas first heard of the Georgia Farm Passport program while watching the news on a Macon TV station.
Mills and Douglas visited 63 of the 67 markets across the state in 2019. They were among 51 travelers who collected 20 or more CFM stamps in their passports to qualifying them for a farm tour and farm-to-table meal at Southern Belle Farms in Henry County this year.
"I like a free t-shirt," Mills said. "We were looking for a diversion, something to do on the weekends because we typically spend most of our time at the beach, and the hurricane [Michael] kind of took our favorite spot out of the picture."
Mills picked up the Farm Passport at the Houston County Farm Bureau office, then he and Douglas rode to Pearson Farms in Fort Valley, scoring some peach ice cream and nuts.
Noticing several CFMs in Middle Georgia, they figured getting 10 stamps and qualifying for the t-shirt would be easy.
"It was a no-brainer," Mills said. "We ended up having so much fun, I started planning weekend trips."
As the participants who visited the most markets, Mills and Douglas also received an RTIC cooler and were featured in an episode of GFB's TV show, the "Farm Monitor."
"For me, it was a chance to get to see a part of Georgia that I had never really seen, to go to these small farms, these family-run farms," Douglas said. "Even though I was born and raised in Georgia, there are lots of these areas that I've never actually been to. It was neat to see the seasons change. It really made me appreciate Georgia and everything we have here. It was nice to interact with all these different folks. They were so nice and welcoming and appreciative."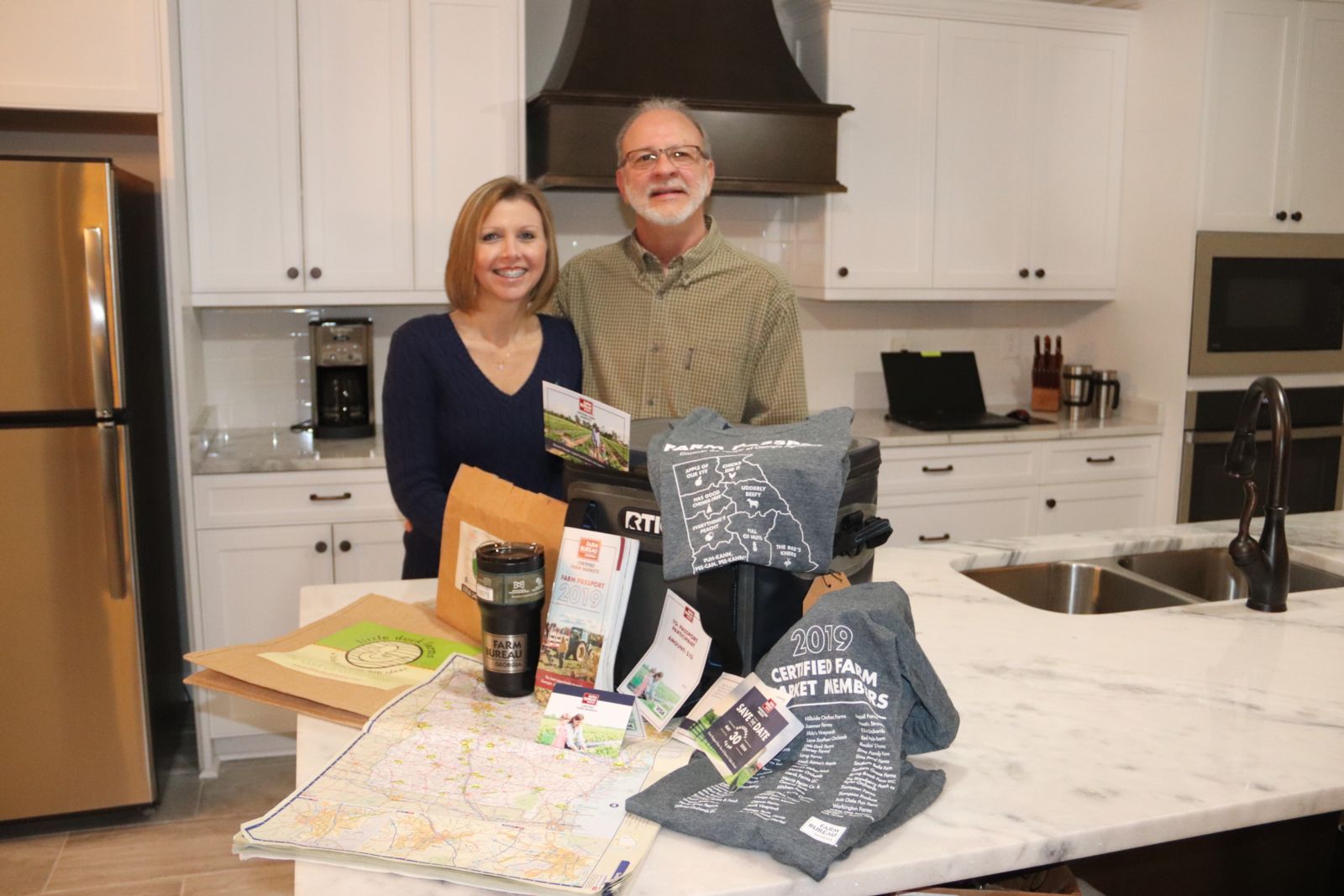 Dennie Douglas, left, & Skip Mills with their prizes for visiting the most Certified Farm Markets in the 2019 GFB Farm Passport program.
Photo by Jay Stone
Four generations make family memories
One Bibb County family showed that Georgia Farm Bureau's Farm Passport program transcends generational lines.
During summer 2019, Macon resident Robin Crosby had Fridays with her two oldest grandchildren, Jack and Carrington Lennon, then four and two years old.
Robin & Lindsey Crosby visit a GFB Certified Farm Market with their grandchildren.
Photo by Sidney Middlebrooks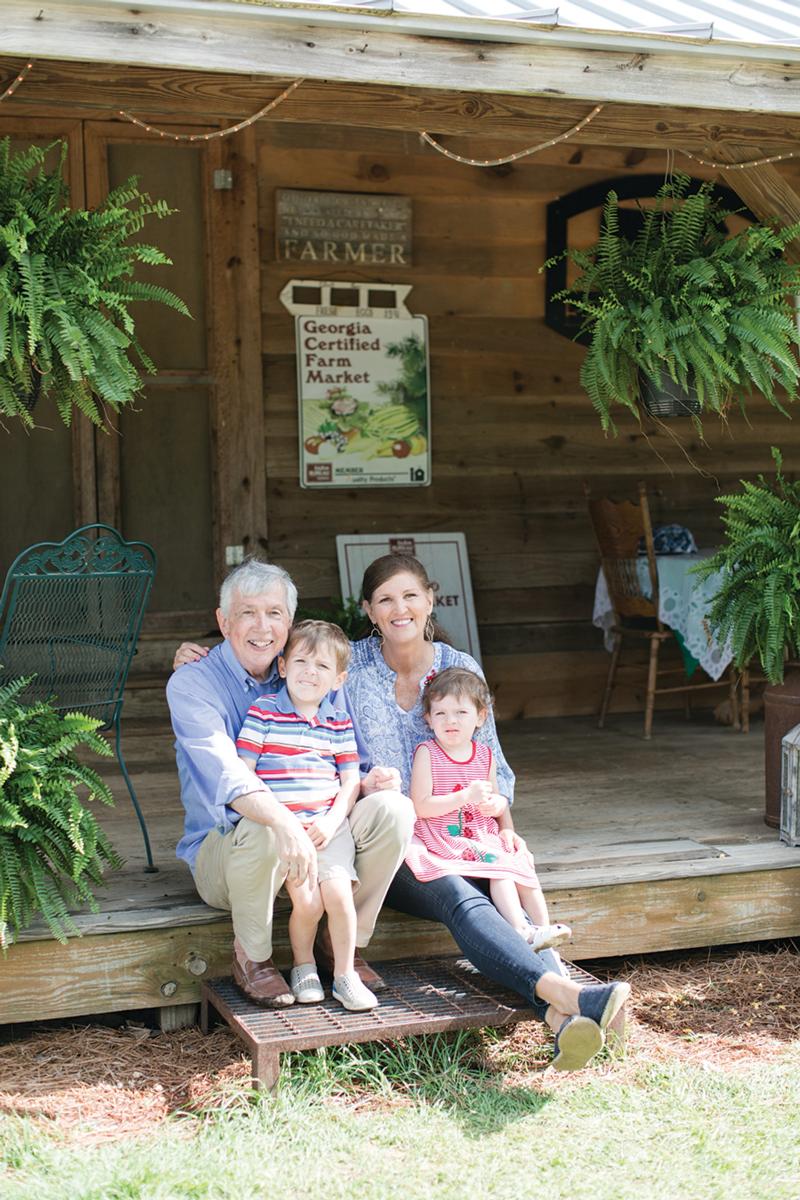 The question was, how to spend their time?
When Robin found out about the Farm Passport, she had her answer.
"I thought, 'That's perfect! That's what we can do,'" Robin said.
So off they went, visiting more than 20 Certified Farm Markets (CFMs) in all. Robin, her husband, Lindsey, and their grandchildren were occasionally accompanied by her parents, B.L and Betty Addleton, or their daughter, Amanda Lennon, and son-in-law Kevin - four generations of Crosbys/Addletons/Lennons hitting farms across the state, eating fresh and making memories.
Those memories included a corn pit; picking peaches and apples; eating ice cream, playing on farm-related playgrounds and taking lots of pictures.
Robin said one thing she'll treasure is the journey, specifically the conversations with the children.
"My strategy was, we have this many hours, so we would cluster it [farm visits]," Robin said, noting they often visited multiple CFMs in a day. "The memories were a large part of the mystery, like 'What are we going to find here? Do you think they'll have animals? Do you think they'll have a playground?' You know, anticipating was a fun part of it. Of course, if you asked us all which was our favorite, a lot of it's by age. If you had animals and a playground and ice cream, you were going to be scored a little bit higher."
Let's hit the road
Start your 2020 passport journey by picking up a Farm Passport at your county Farm Bureau office or at any of the 78 farms participating in GFB's passport program. To find participating farms, visit www.gfb.ag/farmpassport.
This year there are 11 new farms for passport participants to visit that weren't part of the program last year.
Passport travelers can earn some fun prizes.
Turn in your 2020 passport with stamps from five or more CFMs and you get a 2020 Farm Passport t-shirt. Stamps from 10 or more farms nets the t-shirt and additional items like sunglasses, bumper stickers, hand sanitizer and more. Travelers who get stamps from 15 or more CFMs get all that plus their choice of selected CFM products. Get 20 or more stamps and receive a farm-to-table dinner and farm tour along with all the other prizes.
Rules of the road
One passport allowed per person. One stamp allowed per farm per person. As you travel, please share your journey via social media with #farmpassport #gafarmbureau. While no purchase is required to participate, please be kind and make one since these farms are their owners' livelihoods. Deadline to submit your passport for prizes is Jan. 8, 2021.
Please email any questions to cfm@gfb.org .