GFB News Magazine
Late April storms damage South Georgia farms
---
Posted on May 10, 2021 8:00 PM
---
By Jay Stone
A line of storms that swept through Georgia on April 24 resulted in heavy rainfall, high winds and hail across South Georgia.
Farms in multiple counties were hit, in some cases making it necessary to replant. The National Weather Service (NWS) confirmed four tornadoes, two in Early County, one in Terrell County and one in Coffee County.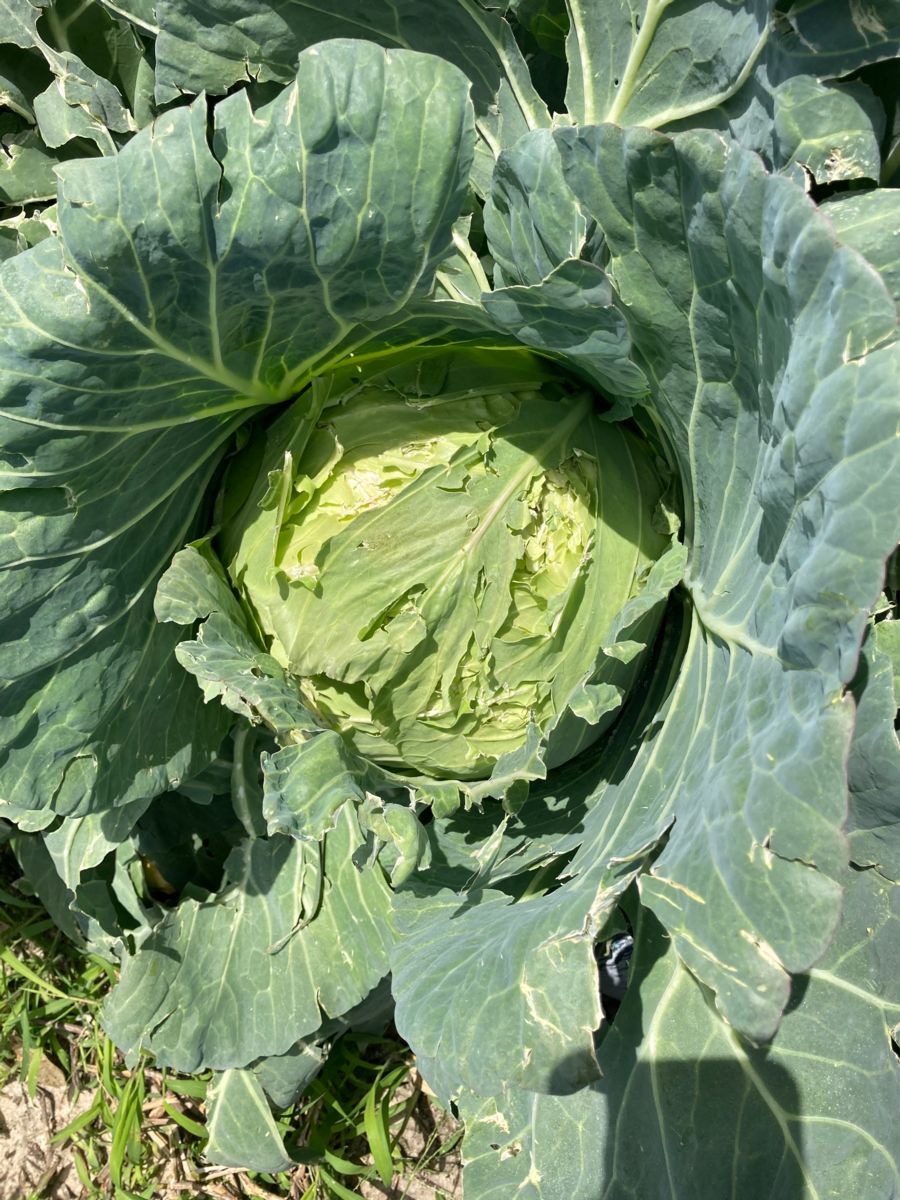 Cabbage growing at South Georgia Produce suffered hail damage on April 24. Photo by Justin Shealey
The NWS received reports of hail in 22 Georgia counties, and the hail ranged from nickel-size to tennis-ball size.
In Echols County, South Georgia Produce sustained extensive damage, losing large quantities of cabbage, bell pepper, squash and eggplant, all of which were ready to be picked, as well as sustaining damage to its packing shed, according to Echols County Extension Agent Justin Shealey.
"Really, everybody [in the county] had damage of some sort," Shealey said. "There was corn snapped off at the stalk and some fields of tobacco will have to be replanted because of damage from the hail."
In the southwest corner of the state, farmers in Baker and Grady Counties reported five inches or more of rain, and the wet conditions will likely result in planting delays for cotton and peanut growers. Hail damage to corn in Grady County was also reported.
Grady County Extension Agent Cole Cloud said the bulk of the damage was in the southern part of the county, where hail defoliated young pepper plants, shredded corn leaves and destroyed one farmer's cabbage.
"The farmer had started harvesting," Cloud said. "It's still edible, but you can't market it."
Cloud said not many peanuts had been planted, but some will likely have to be replanted after the heavy rain.
Turner and Irwin Counties received heavy rain, prompting concerns that cotton may have to be replanted.
In Lowndes County, Extension Agent Jake Price said that because of hail at least one field of cucumbers will have to be replanted, and some tobacco fields sustained 50% losses.
Farther east in Ware County multiple equipment sheds sustained damage from high winds, according to Ware County Farm Bureau Agency Manager Wendell Bagley. There were also reports of pecan trees being stripped of leaves by high winds.
In Bacon County, the NWS reported damage to at least one farm shelter and a tractor that rolled over from high winds.