GFB News Magazine
John Deere green-lights some equipment repairs
---
Posted on March 2, 2023 7:00 PM
---
By Jennifer Whittaker, Georgia Farm Bureau
Farmers and independent mechanics can now repair John Deere equipment thanks to a memorandum of understanding (MOU) the American Farm Bureau Federation (AFBF) and John Deere reached. The agreement comes after several years of discussions.
AFBF President Zippy Duvall and David Gilmore, John Deere Senior Vice President of Ag & Turf Sales and Marketing, signed the MOU Jan. 8 at the AFBF Convention in San Juan, Puerto Rico.
"AFBF is pleased to announce this agreement with John Deere. It addresses a long-running issue for farmers and ranchers when it comes to accessing tools, information and resources, while protecting John Deere's intellectual property rights and ensuring equipment safety," Duvall said. "A piece of equipment is a major investment. Farmers must have the freedom to choose where equipment is repaired, or to repair it themselves, to help control costs. The MOU commits John Deere to ensuring farmers and independent repair facilities have access to many of the tools and software needed to grow the food, fuel and fiber America's families rely on."
Securing right-to-repair access for farmers has been a priority issue for Georgia Farm Bureau for several years.
GFB President Tom McCall is one of four state Farm Bureau presidents who serves on the advisory board giving input on the MOU. State Farm Bureau presidents from California, Delaware, and Nebraska are also advisors.
"This Memo of Understanding is a working document that will help farmers using John Deere equipment expedite repairs on their important investments. I am extremely proud of the work the Georgia Farm Bureau Public Policy team did to help get this document executed. Our staff spent many hours working with folks at AFBF in D.C. to make certain this had a positive outcome," McCall said.
John Deere commits to engaging with farmers and dealers to resolve issues when they arise and to meet with AFBF at least twice per year to evaluate progress.
"This agreement reaffirms the longstanding commitment Deere has made to ensure our customers have the diagnostic tools and information they need to make many repairs to their machines," said Gilmore.
The agreement formalizes farmers' access to diagnostic and repair codes, operator, parts and service manuals, and product guides. It also ensures farmers will be able to purchase diagnostic tools directly from John Deere and receive assistance from the manufacturer when ordering parts and products.
AFBF has begun discussions with other manufacturers to reach similar MOUs.
Legislation regarding right-to-repair issues is pending in several states, but Farm Bureau leaders say the organization preferred to find a solution within the industry to have one set of guidelines for equipment owners nationwide rather than a patchwork set of laws that vary by state.
To read the MOU visit https://gfb.ag/afbfjdmou.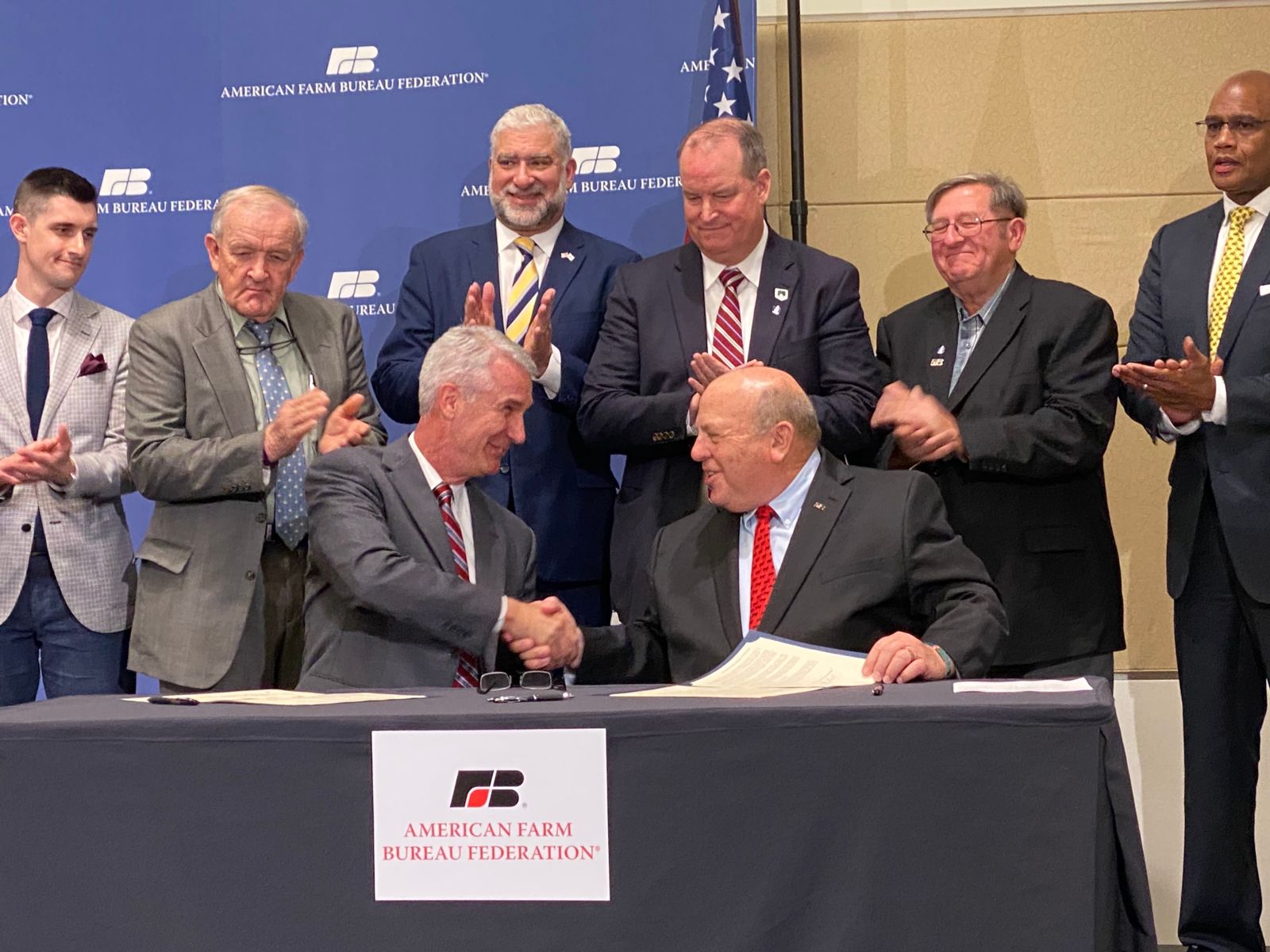 AFBF President Zippy Duvall, seated right, & John Deere Senior Vice President of Ag & Turf Sales and Marketing David Gilmore, seated left, signed an agreement at the 2023 AFBF convention, giving farmers the right to make repairs on their equipment. Advisors who gave input on the agreement, including GFB President Tom McCall, standing, second from left, attended the signing ceremony. Photo by Kenny Burgamy