GFB News Magazine
January tornadoes damage barns, kill livestock
---
Posted on February 27, 2023 7:00 PM
---
By Jay Stone, Georgia Farm Bureau
Jeff and Jana Busciglio found themselves scrambling for safety as a tornado roared through Meriwether County on Jan. 12. In a matter of minutes, the winds blew a portion of roofing off the dairy farm's feed barn and downed numerous trees, some pinning cows to the ground.
The EF-2 twister that hit the Busciglio farm was one of 10 tornadoes confirmed by the National Weather Service in Georgia, part of a series of thunderstorms that produced numerous tornadoes across the South, leaving at least nine people dead and a wide swath of damage to homes, businesses and property, including farms.
article continues below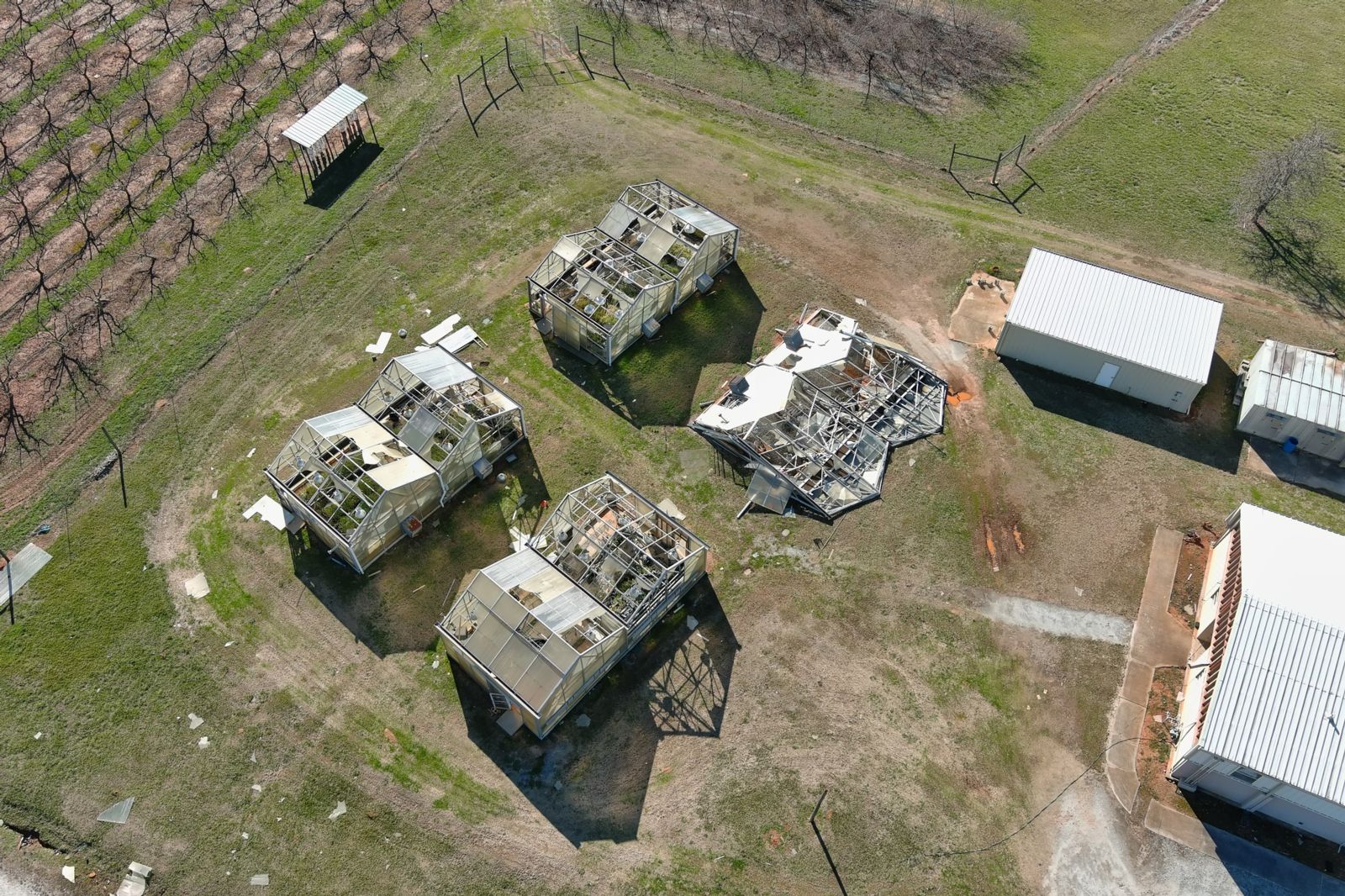 Greenhouses on the UGA Griffin campus were destroyed.
Photo courtesy of Clay Bennett, UGA CAES
Meriwether Co. hit hard
The Busciglios moved their dairy operation in 2017 from Hillsborough County, Florida, to its current location near Gay. Ultimately, the tornado cost them 11 cows from their herd of 140 milking cows, and they had to repair or replace about 1,000 feet of field fence and another 200 feet of barbed wire.
"We were really, really, extremely blessed that we didn't get torn up any more than we did, compared to what other people went through," Jeff said.
Jana had come home to prepare supper, knowing the coming storm likely meant a subsequent power outage. She'd just put chicken in her pressure cooker when winds started battering the back of the family's home. She moved the couple's children to the basement, peeking upstairs to get a sense for damage as it occurred.
"I was like 'Oh, this is not good. This is not just a storm. This is not OK,'" Jana said. "It was beating really hard. The wind picked up, and I couldn't see anything because it was like white outside."
Jeff, meanwhile, was on an ATV between the barn and the house. He was closer to the farm shop than the house, so he went there, but when he got inside, the roof was lifting off the shop. He drove the side-by-side under a carport, then made a run to the house.
All this happened in about five minutes, the Busciglios said. Afterward, Jeff went out to check for damage and found three cows killed by falling trees and a fourth with broken back legs that had to be put down.
Busciglio freed another five cows from beneath downed trees and helped them stand. They were all in significant pain and had to be put down the next day.
Also in Meriwether County, cattleman Darrell McCoy estimates he lost a mile of fencing, had damage to his barn, one steer killed and lost a stand of timber. McCoy, who owns Oak Hill Cattle, estimates his total damage at $750,000.
The lost containment from the downed fences let a number of cattle out, which McCoy said neighbors helped him round up.
"It definitely could have been worse. It could easily have moved probably 25 feet and it would have taken my entire house out," McCoy said. "Or it could have gone the other way and would have took our hay barn out that had just been finished this year."
article continues below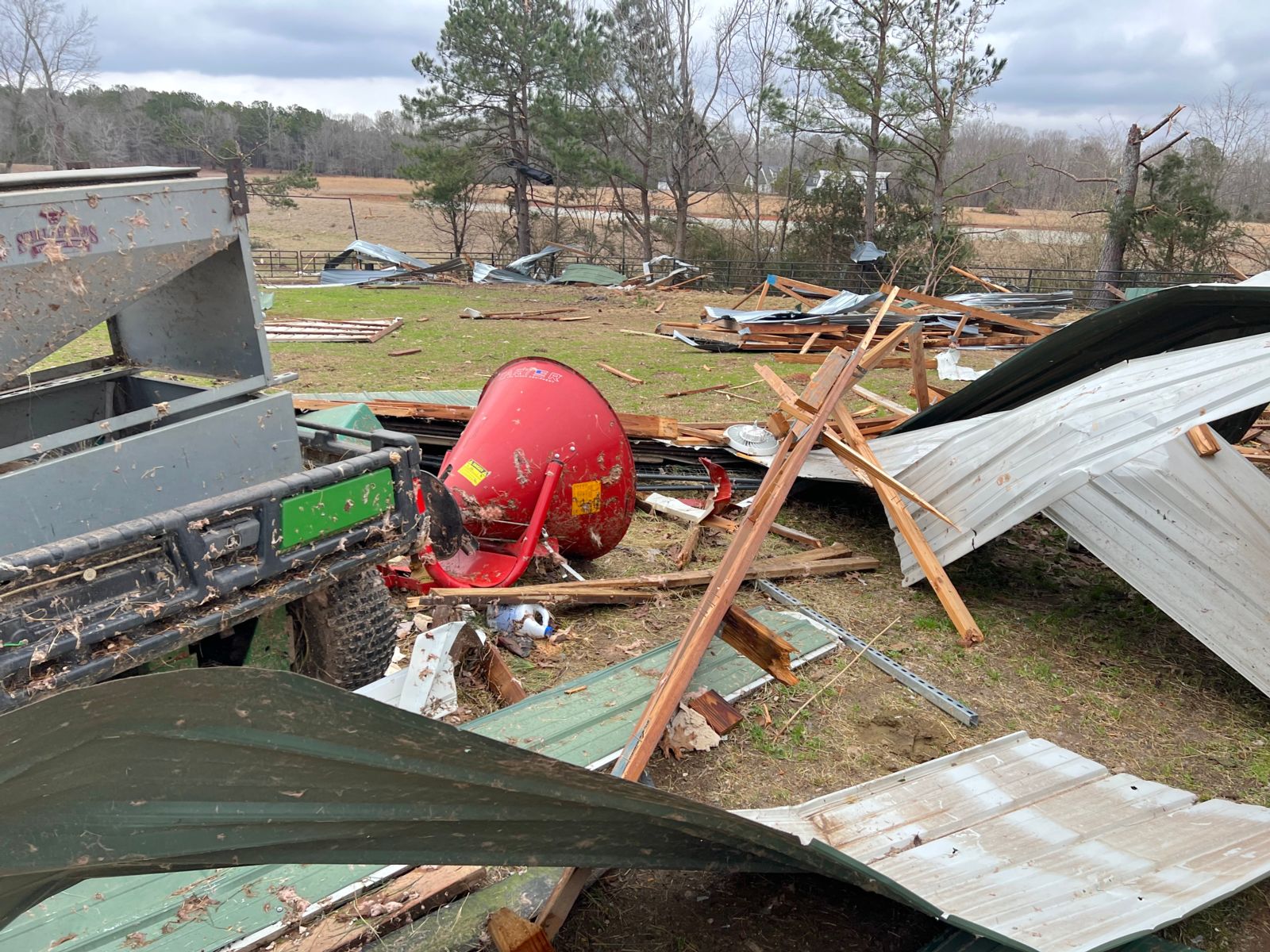 A swath of damage on the McCoy farm in Meriwether County.
Photo courtesy of Darrell McCoy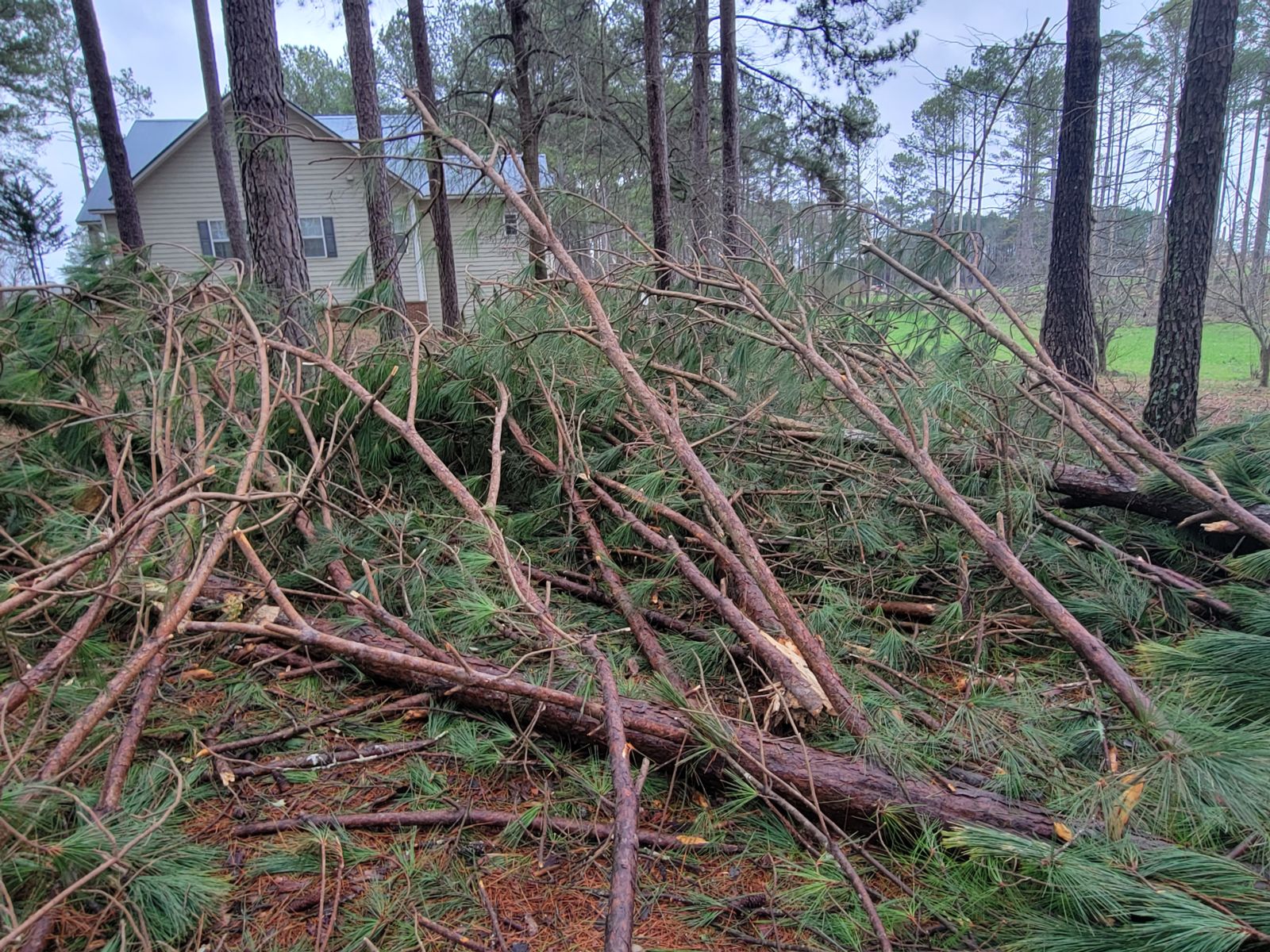 Pine trees wiped out near the Busciglio home in Meriwether County.
Photo courtesy of Jana Busciglio
The Georgia Forestry Commission estimates the Jan. 12 tornadoes swept across 143 miles of central Georgia's rural and urban landscape causing an estimated $14.8 million in timber damage.
Elsewhere in Georgia
The tornadoes ravaged parts of Butts, Cobb, Henry, Jasper, McDuffie, Meriwether, Newton, Pike, Spalding and Warren counties. Multiple private farms and the UGA Griffin campus sustained damage to agricultural assets.
One of the tornadoes in Griffin came close enough to the Spalding County Farm Bureau office to push its outside air conditioning unit off its pad and blow a few shingles from the roof. A stand of pine trees 100 feet away had numerous trees snapped off mid-trunk.
At the UGA Griffin Campus, multiple greenhouses and other farm buildings were damaged, and the campus lost numerous large trees. Several campus buildings were damaged by falling trees. The campus was closed for several days while cleanup work was being done.
On Andy Garland's farm in south Henry County, an 80-foot by 40-foot barn lost about half of its tin roofing, leaving equipment exposed. The barn is a converted poultry house that the family uses to store equipment, work inside and have family gatherings.
Garland said this is the third time this barn has lost roofing from strong winds since 1975..
"I've got tarps over my baler. All my tractors are in there," Garland said. "It's not just a building. There's a lot of history in that building."
There were reports of pastured poultry operations in Newton County that were damaged by the storms.
For information about USDA disaster assistance programs, visit https://gfb.ag/FSAtornadoasst.