GFB News Magazine
Heard Co. Farm Bureau raises money for local FFA
---
Posted on February 20, 2023 7:00 PM
---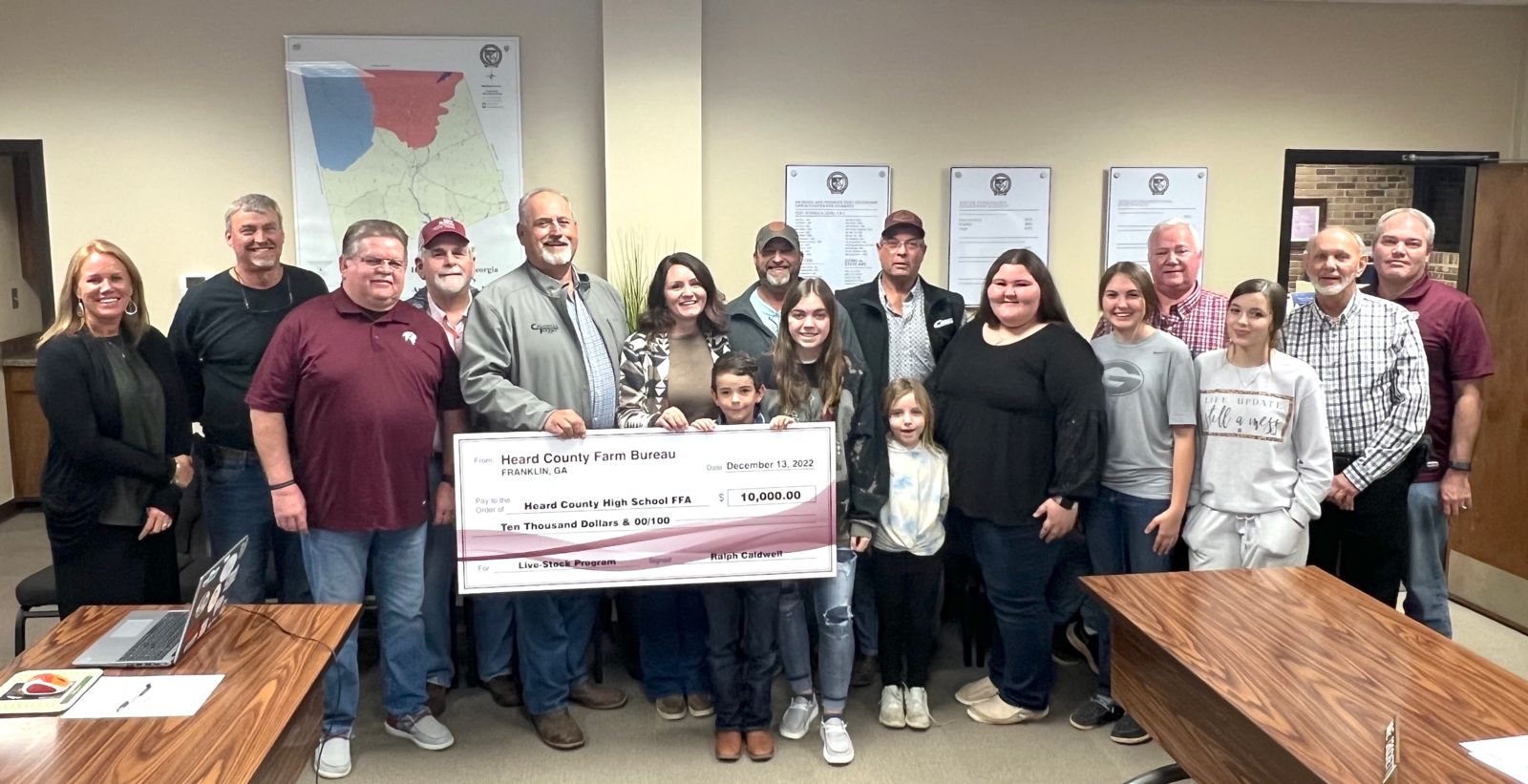 Heard County Farm Bureau (HCFB) President Ralph Caldwell, fifth from left, presents a $10,000 donation to Heard County High School (HCHS) FFA Advisor Kristin Wilson and several of her FFA students. Participating in the presentation were from left, Heard Co. Board of Education member Ashley Awbrey, HC School Board Chairman Roger Harrod, HC School Board member Greg Holcomb, HCFB Vice President Chuck Stephens, and right of Caldwell & Wilson, HCFB Directors Dan Harrod and Mickey Cook, HCFB Agency Manager Tim Shellnut and HC School Board members Mike Crockett and Chad Wood.
Photo courtesy of Brent Tisdale
By Jennifer Whittaker, Georgia Farm Bureau
Farmers love pocketknives. That's why Heard County Farm Bureau (HCFB) arranged for Case XX, which has been making knives in Bradford, Pennsylvania, since 1889, to make a series of collector's knives it sold to raise $10,000 for the Heard County FFA.
"Our FFA program started a show team a few years back, but they didn't have a trailer. The Heard County School Board has ordered the FFA program a truck that it will share with the maintenance department, and I said our county Farm Bureau would help them with the trailer," HCFB President Ralph Caldwell said.
HCFB had Case make 100 custom-designed Trapper knives featuring the FFA and Case logos on a blue bone handle. "Heard Co. FFA" and the knife number in the 100-piece series are engraved on the blade. Each knife sold for $100.
"The knives came in the first part of November and my goal was to have them sold by Christmas. Well, the community showed up and showed out. We sold them all in two weeks," Caldwell said. "There's a lot of former FFA members who collect pocketknives and want to support the local FFA program. This knife represents three American icons – FFA, Case knives and Farm Bureau. It doesn't get much more American than that."