GFB News Magazine
GFB Young Farmers & Ranchers Gain Ground at summer conference
---
Posted on July 31, 2018 8:00 PM
---
By Jay Stone
For Georgia farmers, "gaining ground" might mean acquiring more land, advancing the cause of agriculture, increasing knowledge or meeting new friends. All that and more was discussed at the Georgia Farm Bureau Young Farmer & Rancher Leadership Conference held July 19-21 on Jekyll Island.
The conference itself gained ground, with registration swelling to about 400 people, who were treated to a variety of educational sessions, social gatherings, competitive events and thought-provoking discussions on reaching consumers who have no connection to farming.
The young farmers and ranchers also advanced their cause through charitable giving.
Conference attendees brought in change collected at county Farm Bureau offices in the "Calf's Weight in Change" fundraiser for the Georgia Food Bank Association. The drive resulted in donations of $2,958.06. Farm Bureau Bank committed to matching the donations, so the total raised was $5,916.12.
Laurens County Farm Bureau won the awards for total weight of change collected (145 pounds) and total dollar amount collected ($491.53). The GFB 6th District donated the highest total weight in change (186 pounds) and the total dollar amount collected ($845).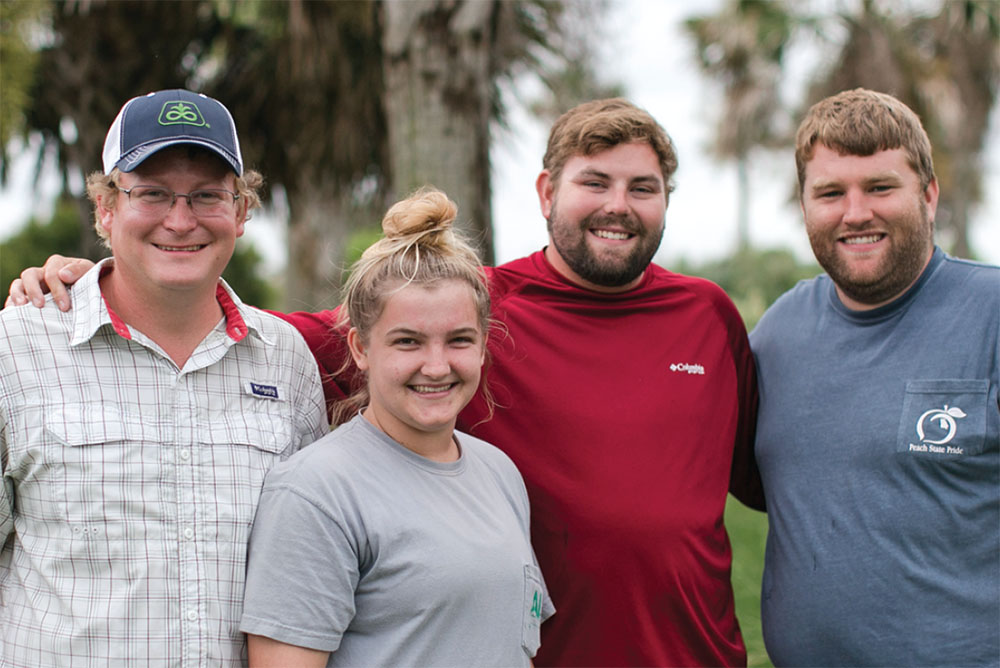 Pictured from left, Screven County Farm Bureau members Knapp Boddiford, Shelby Mains & James Woods catch up with Josh Brannen of Candler County at the GFB YF&R Conference. For more photos from the YF&R Leadership Conference, visit www.gfb.ag/18yfconfpics.
Educational sessions led by GFB staff and experts from public and private organizations that support agriculture covered business, advocacy and education/policy topics.
SOCIAL ADVOCACY
"Farm Babe" Michelle Miller gave the keynote speech during the morning general session on July 21, discussing social advocacy for agriculture.
"You can use social media to bridge the gap between people like you and people out there who don't know about agriculture," Miller said.
She named a number of information outlets that spread inaccurate or misleading information about farming and advised the YF&R crowd to smarten up their social media news feeds and to check sources of articles they see before sharing them.
"Fear sells. At the end of the day, fear is a new way for people to make profit, whether it's food or healthcare. There's a lot of different avenues where fear sells," Miller said. "Fear is easy. Science is hard. People don't always know where to go for trusted information."
She recommended consulting with veterinarians, farmers, animal welfare experts, dietitians or plant breeders for fact-based information.
Armed with that, Miller urged agriculturalists to be kind and have empathy when interacting with those outside agriculture.
"We need to reach out and talk about the science-based evidence behind agriculture," Miller. "There is no wrong platform. Just find your voice and personality."
GENERATIONAL DIVIDE
American Farm Bureau Federation Director of Organization Development Elise Stoddard examined how the experiences of various generations - Traditionals, Baby Boomers, Generation X, Millennials – shape their worldview. She covered identifying characteristics of each generation, including their culture and technology, and what they offer in support of the YF&R program.
Traditionals - generally those born between the early 1920s and the mid-1940s - have experienced extremely hard times and have a wealth of experience that makes them a valuable resource to younger generations.
Baby boomers - those born between the mid-1940s and mid- 1960s - are some of the YF&R program's biggest supporters.
"They really and truly believe that what we're doing here is meaningful," Stoddard said.
Stoddard urged the young farmers and ranchers to embrace Generation Xers - generally, those born between the 1960s and early 1980s. Stoddard said millennials learned how to shake things up from Generation X.
"We do need to know that they're speaking a different language," Stoddard said. "Every generation makes up slang. Every generation is like the crazy, rebellious ones until they get a little bit older."
FUTURE OF AGRICULTURE
Podcaster and AgGrad owner Tim Hammerich gave the closing keynote address about the future of agriculture while examining clues left by successful people. Hammerich said highly successful individuals ask the right questions and do not give up when the answers are tough.
The questions: What's really happening today that has the potential to impact agriculture in the future? What problem do I want to solve? And, how will the right people know that I'm solving it?
"Everybody I talk about who's made their mark in agriculture seem to be asking different questions than the rest of us," Hammerich said.
Hammerich talked about leaders of agricultural companies that he has interviewed on his podcast.
"They become passionate if not borderline obsessive about the problem they want to see solved," Hammerich said. "They're thinking about some sort of problem. It could be anything, but the more specific, the better. I want you to ask yourself what problem you solve."