GFB News Magazine
GFB sponsors FFA Discussion Meet; Christopher wins
---
Posted on May 17, 2022 8:00 PM
---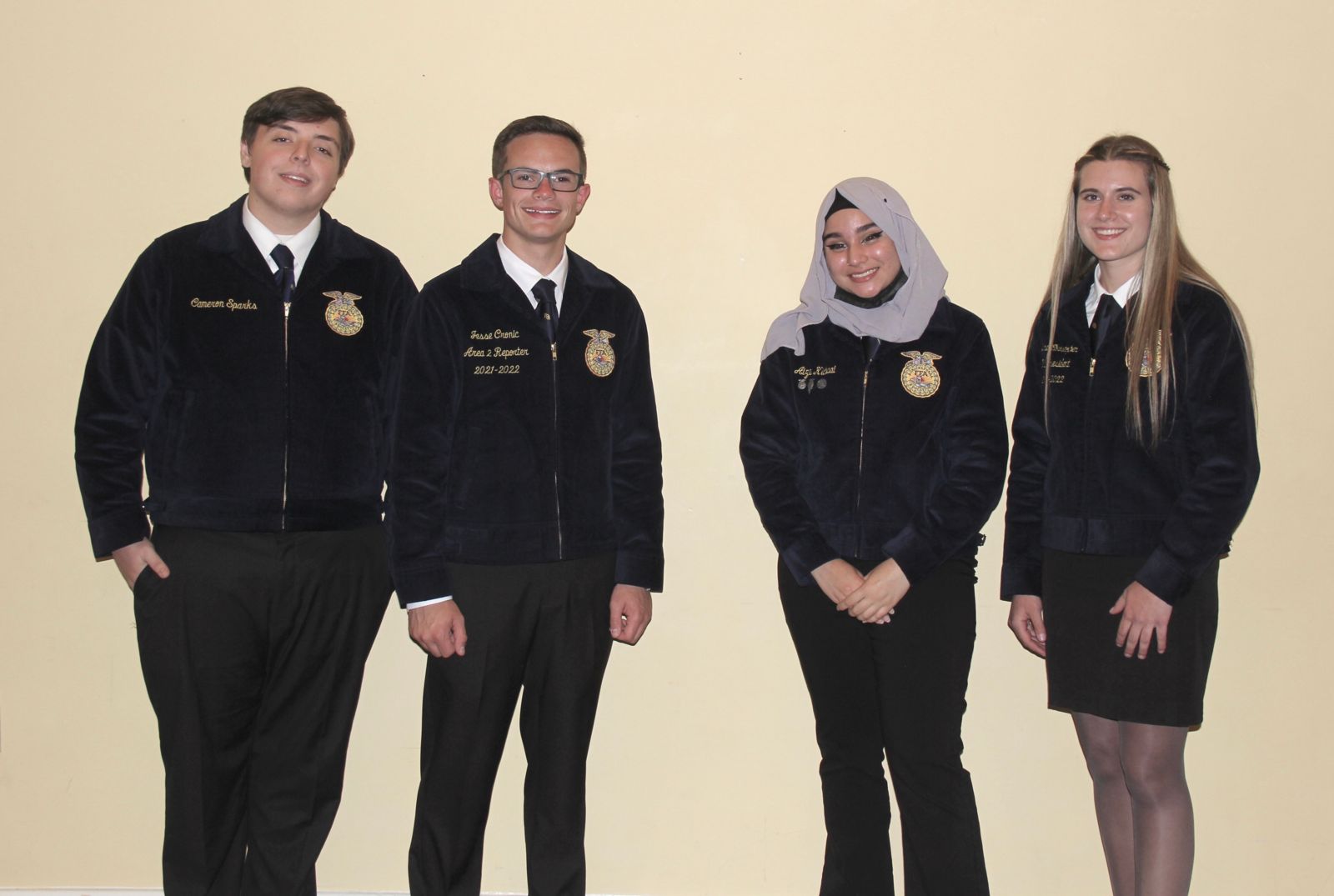 Pictured from left, the Top Four finalists in the 2022 Georgia FFA Discussion Meet were, from left: Cameron Sparks of Monroe County; Jesse Cronic of Jackson County; Aiza Kidwai, of Fulton Co.; and event winner Laurel Christopher, of White County.
Photo by Jennifer Whittaker
By Jennifer Whittaker
Congratulations to White County High School FFA member Laurel Christopher for winning the Georgia FFA Discussion Meet Career Development Event sponsored by Georgia Farm Bureau! The event is designed to simulate a government committee or county commission meeting during which the members discuss an issue pertaining to agriculture.
Eleven first and second place Georgia FFA area finalists, who won competitions held earlier this year, competed in the state event on April 27 at the Georgia FFA Convention in Macon.
The three top finalists were Cameron Sparks, Mary Persons High School, Monroe Co.; Aiza Kidwai, Cambridge High School, Fulton Co.; and Jesse Cronic, Empower College & Career Center, Jackson Co.
Other area finalists competing in the event were: Alyssa Archer, Wayne County High School; Leanna Beverley, Brantley County High School; Whitley Gatch, Southeast Bulloch High School; Taylor Lucas, Effingham County High School; Chloe Mays, Pickens County High School; and Will Pace, Seminole County High School; Kamren Yaughn, Peach County High School.
Contestants were split into two groups of five and six for the first round of competition. Contestants drew room numbers to determine who they competed against.
During the first round of competition, the contestants discussed how Farm Bureau can help farmers and ranchers continue to increase their efficiency in using valuable natural resources and transition to green energy practices on their farms.
In the final four round of competition, Christopher, Cronic, Kidwai and Sparks discussed what the ag community can do to create a preventative rather than reactive approach to farm safety given that farming is one of the most hazardous occupations.
GFB awarded each of the area finalist contestants $50; each of the top four finalists $100 and the state winner $250.