GFB News Magazine
GFB Farm Passport provides roadmap to fun
---
Posted on June 4, 2020 8:00 PM
---
By Jay Stone
We've all seen the movie where a stern airport customs agent freezes an international traveler's heart with fear as the agent examines the traveler's passport. Even with approval, the traveler feels less than welcome.
With the Georgia Farm Bureau (GFB) Farm Passport, your 2020 travelogue need not be scary. It doesn't have to involve bureaucracy, and the only borders you'll cross are county lines.
You can pick up your free passport at any of GFB's 78 Certified Farm Markets (CFM) or 158 county Farm Bureau offices.
The passport guides travelers across Georgia to farms that grow a majority of what they sell at markets on their farms. Many of the farms also offer agritourism activities such as farm tours, corn mazes, farm games, educational opportunities, or they host special events.
"The Farm Passport was created to provide people a fun, interactive way to discover farms across Georgia," GFB CFM Coordinator Kelly Thompson said. "We hope people using the passport will create lasting memories, learn more about agriculture, and will continue to directly support farmers."
Hit the road in Georgia, and chances are you're within an hour of straight-from-the-farm goodness, whether it's strawberries in the spring, peaches or fresh vegetables during the summer, apples in the fall or Christmas trees at year's end.
This is the second year of GFB's Farm Passport program. In 2019, farm passport travelers made more than 2,400 visits to GFB Certified Farm Markets.
"People were very excited about this passport," said Sheila Rice of Calhoun Produce in Turner County. "They'd tell us where
Long-time GFB CFM members, from left: Brad Calhoun, Sheila Rice, Joyce & Gerald Calhoun.
Photo by Logan Thomas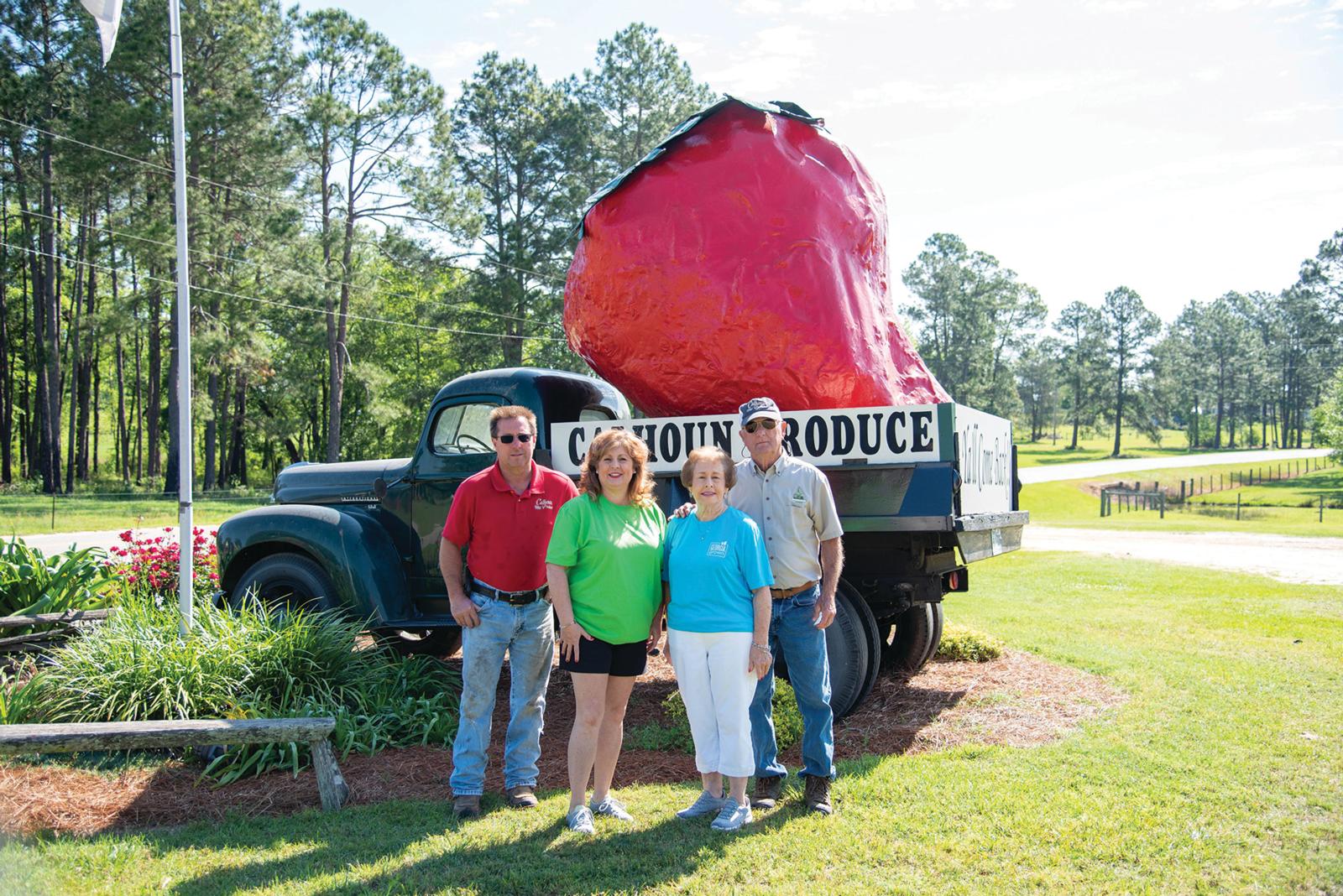 they'd been. They'd ask us about other markets. It's interesting to see where all they've been and to hear their stories, and their excitement in it. That's what tickled me, their excitement."
Travel with the passport to live out your love of exploring Georgia, supporting local farms and eating fresh. Passport holders will discover where their food comes from, meet the people who grow it, and see our state's agricultural diversity firsthand!
Despite COVID-19, the CFMs are still open as they are classified as essential businesses because they're growing food. Operation practices at CFMs vary. Most are allowing customers to shop in their stores. Many offer online or phone order options with curbside pick-up. Some are scheduling appointments for customers to shop and pick fruit.
If you're looking for an activity to do with the family that gets you outside, find a GFB CFM near you at wwww.gfb.ag/cfm .
Be sure to call ahead before you plan your visit. You'll get a warm welcome!