GFB News Magazine
GFB developing ag leaders  
---
Posted on May 2, 2023 8:00 PM
---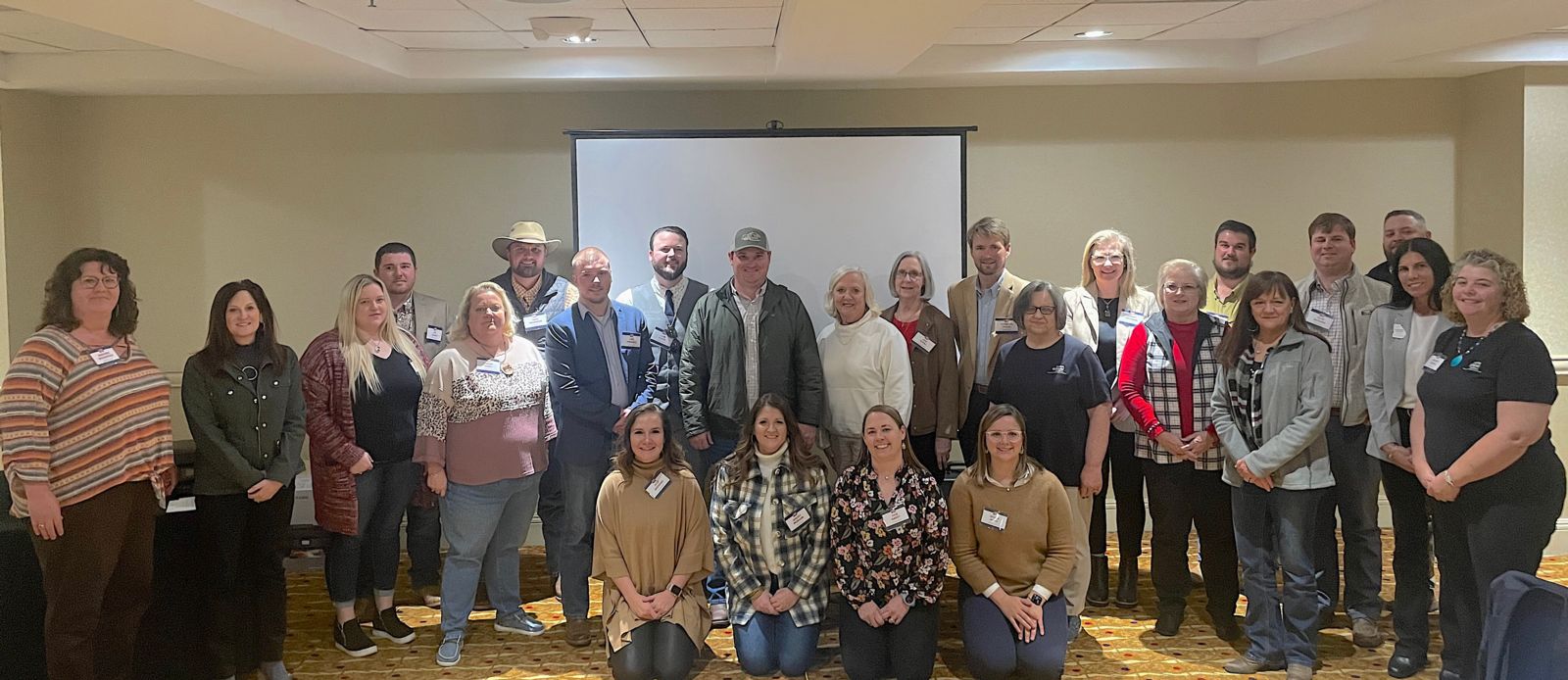 Participants in GFB's Legislative Drive-In learned how to interact with legislators. /Photo by Breanna Berry
By Breanna Berry, Georgia Farm Bureau
The Georgia Farm Bureau Women's Leadership and Young Farmers & Ranchers Committees have been busy providing programming to develop leaders and volunteers statewide.
For the second year, the committees held a Legislative Drive-In the day before GFB Day at the Capitol. Thirty YF&R and WLC members from across Georgia attended the event on Feb. 13 to prepare participants to discuss ag issues with their state legislators.
At the Drive-In, AFBF Sr. Director of Advocacy and Political Management Randy Dwyer held a simulation during which participants were divided into teams and experienced a legislative session as an elected official. Teams had to consider time, budget, constituents, political party, issues and other factors when making decisions and voting on legislation.
GFB President Tom McCall greeted and addressed the group. GFB Governmental Affairs Specialist Jake Matthews covered ag topics including truck weights, soil amendments, Waters of the U.S. and other ag-related issues legislators considered during the 2023 legislative session. WLC and YF&R Drive-In attendees put the training they received into action during GFB Day at the Capitol Feb. 14.
Members of the GFB Women's Leadership and Young Farmer Committees also attended the American Farm Bureau FUSION Conference in Jacksonville, Fla., March 3-6.
article continues below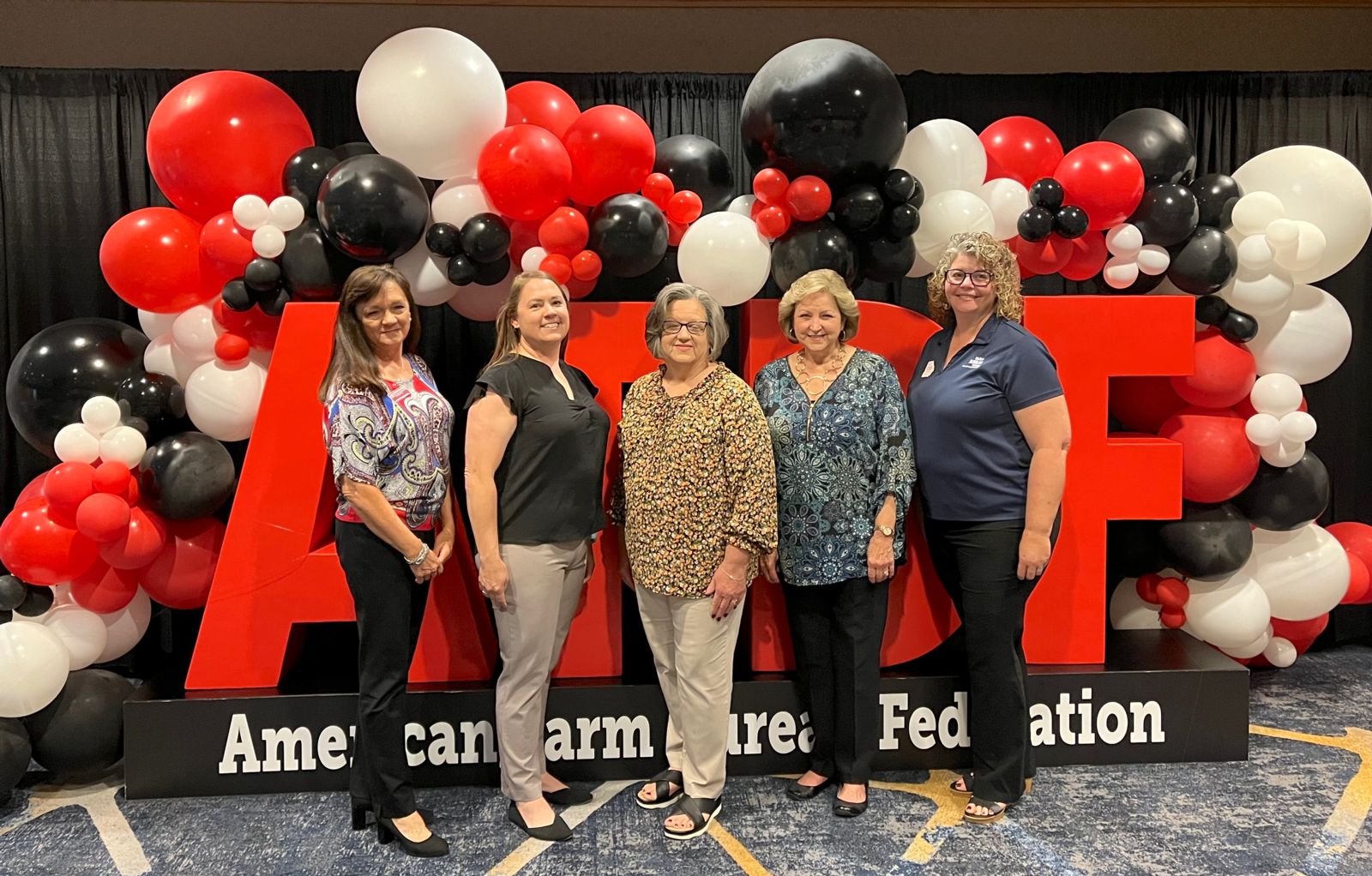 GFB Women's Leadership Committee members attending the AFBF FUSION Conference were, from left, Chairman Kathy Sanders, Julie Hardy, Vickie Brown, Andrea Sims & Committee Vice Chairman Melanie Hendrix. / Photo by Anna Leigh Peek
FUSION stands for "Farmers United: Skills, Inspiration, Outreach and Networking." The conference is designed for Farm Bureau members serving on county Young Farmer, Women's Leadership, and Promotion & Education committees.
"The FUSION Conference is a unique opportunity to energize our WLC by interacting with Farm Bureau members from across the country," said WLC Chairman Kathy Sanders. "We listened to motivational speakers, engaged in breakout sessions, attended tours, exchanged ideas, and gained knowledge from our new friends!"
WLC members attending the FUSION Conference were Chairman Kathy Sanders (Dist. 6), Vice Chairman Melanie Hendrix (Dist. 7), Dist. 1 Chair Andrea Sims, Dist. 5 Chair Amy Moncrief, Dist. 8 Chair Vickie Brown, and Dist. 9 Chair Julie Hardy. YF&R members attending were Chairmen Colt & LeAnna Hart (Dist. 2), Vice Chairman Anna Leigh Peek (Dist. 3), Dist. 9 Chairs Colt & Camille Calhoun, and Dist. 10 Chairs Ryan & Kelsie Highsmith.
These committee members attended workshops on AFBF's four major focus areas: consumer outreach, member value, advocacy, outreach/education, and leadership development. They will utilize what they learned in their role as district chairs to support and assist county Farm Bureau committees.
Georgia Farm Bureau Leadership Programs Coordinator Breanna Berry may be reached at bcberry@gfb.org or 478-474-0679, ext. 5232. Contact your county Farm Bureau if you'd like to get involved with your local WLC Committee.