GFB News Magazine
GFB celebrates Ga. Junior National Livestock Champions
---
Posted on May 12, 2023 8:00 PM
---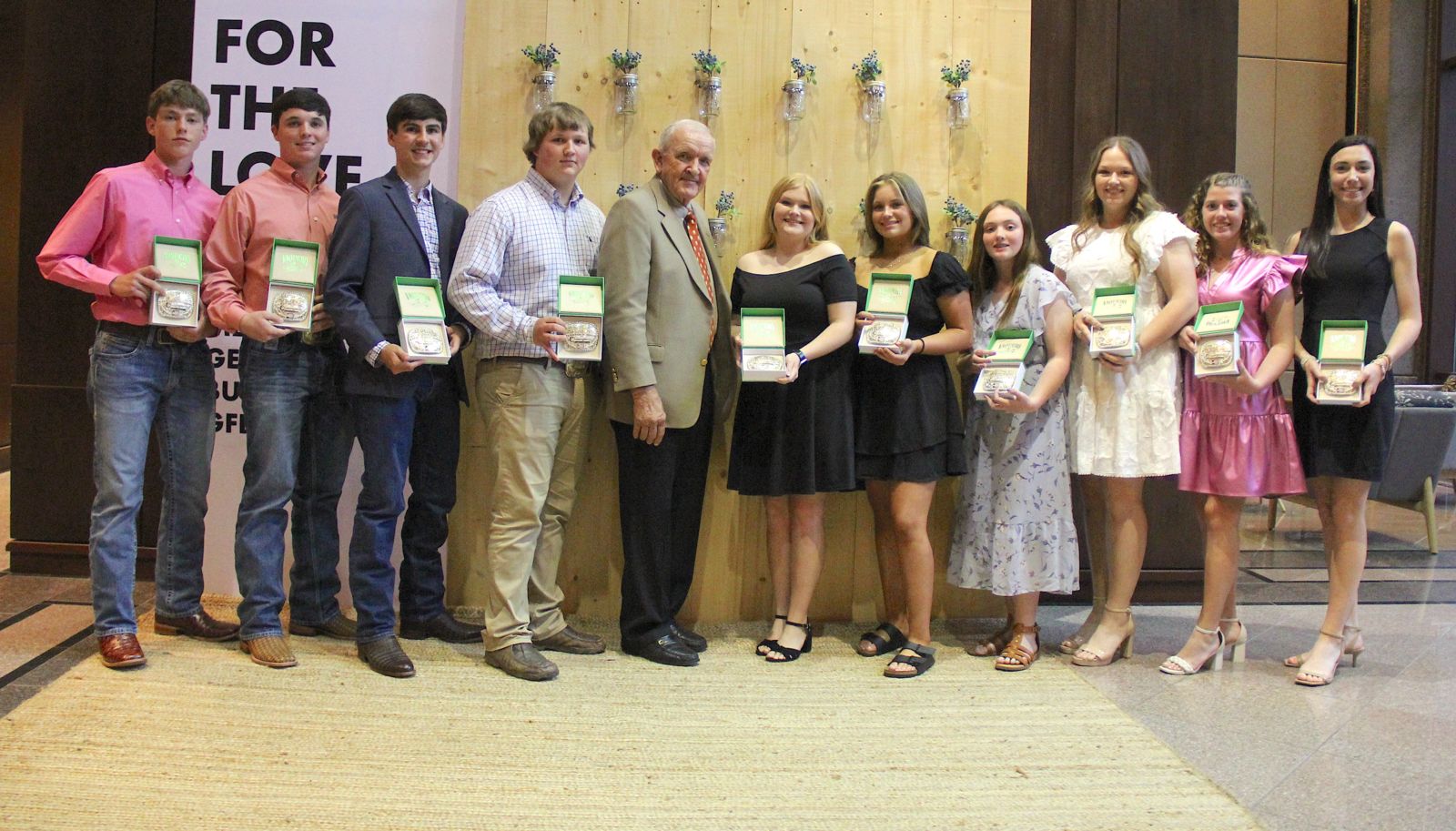 GFB President Tom McCall, center, congratulates from left, Colby Yarbrough, Matthew Ferrell, Luke Mobley, Cheyne Norton, Aly Corzine, Bailey Williams, Rydlee Ponder, Maddie Dean, Abigail Kendrick & Rachel Hayes. / Photo by Logan Thomas
By Jennifer Whittaker
Georgia Farm Bureau (GFB) celebrated the newest group of Georgia Junior National Livestock Show winners during its Evening of Champions dinner, May 5. GFB welcomed the students, their families, FFA advisors and 4-H agents to its state office in Macon.
"Congratulations to all of you champions. Your accomplishment is a big deal. The time you spent working with your best friends, and I know how these animals turn into your best friends, paid off," said GFB President Tom McCall. "There's ten of y'all here tonight. You worked with your animals, and they won out over more than 4,800 animals entered at the livestock show."
This is the 12th year GFB has sponsored the cash prizes and belt buckles awarded to the Ga. Jr. National Livestock grand champion species exhibitors.
The Ga. Jr. National is open to Georgia 4-H and FFA members from across the state. The show is the culmination of the youth programs' livestock projects, which give students a chance to learn how to care for beef cattle, dairy heifers, hogs, goats and lambs for months, train them to be shown, and then compete for state honors as having the best animal in the various species categories.
About 1,903 Georgia 4-H and FFA students from across the state showed 2,816 animals as they competed in the 2023 Ga. Jr. National Livestock Show Feb. 22-25 at the Georgia National Fairgrounds & Agricenter in Perry. About 354 4-H and FFA members showed 707 goats in the 2022 Georgia Jr. Market Goat Shows held at the Agricenter last October while the 2022 Georgia Jr. Market Lamb show drew 203 exhibitors who showed 431 lambs.
GFB awarded a total of $18,000 in prize money to the grand champion exhibitors who are: Breeding Beef Heifer - Maddie Dean, Crisp Co.; Breeding Doe - Bailey Williams, Gordon Co.; Breeding Ewe - Abigail Kendrick, Turner Co.; Commercial Dairy Heifer - Rydlee Ponder, Gilmer Co.; Market Barrow - Colby Yarbrough, Jeff Davis Co.; Market Beef Cattle (steer) Luke Mobley, Colquitt Co.; Market Doe - Cheyne Norton, Grady Co.; Market Gilt - Matthew Ferrell, Brooks Co.; Market Lamb - Rachel Hayes, Decatur Co.; and Market Wether - Aly Corzine, Houston Co.
Visit www.gfb.ag/23gajrchampions to read more about each exhibitor & to see photos of them with their grand champion animals .