GFB News Magazine
GFB Award presented to Patsie Cannon
---
Posted on August 12, 2019 8:00 PM
---
By Jennifer Whittaker, Georgia Farm Bureau News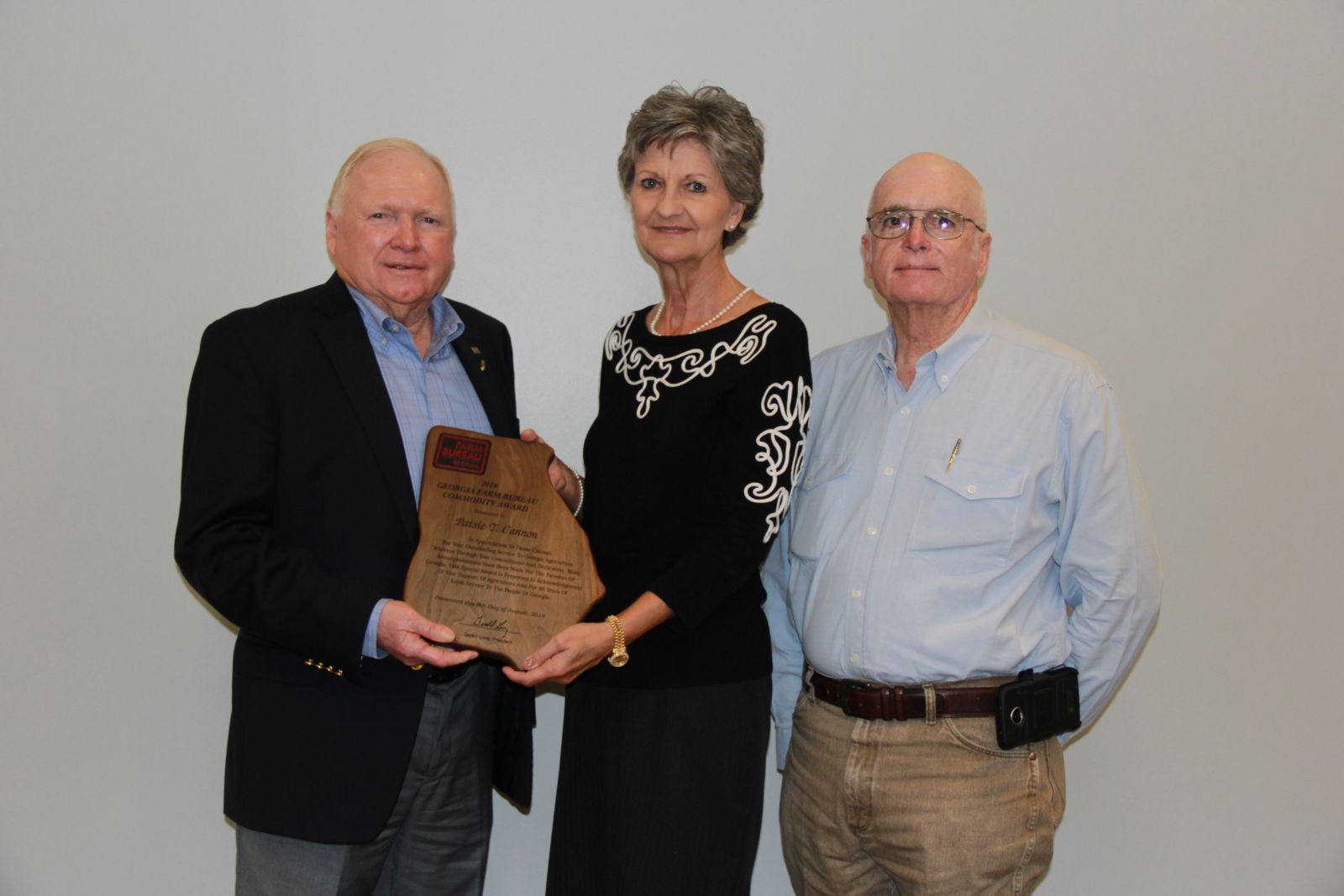 Georgia Farm Bureau President Gerald Long, left, presents the 2019 Georgia Farm Bureau Commodity Award to Patsie T. Cannon, who is accompanied by her husband, Carroll.
Patsie T. Cannon received the 2019 Georgia Farm Bureau (GFB) Commodity Award given to individuals who support Georgia agriculture.
"Patsie has served Georgia's beef sector for more than 35 years in a variety of roles," GFB President Gerald Long said. "Patsie has been a blessing to cattle producers across Georgia through her work with numerous University of Georgia beef production programs, announcing cattle shows, and her volunteer work with cattle organizations. Her dedication is evident by the long-lasting relationships and the many lives she has touched across the state."
Cannon taught business classes at Abraham Baldwin Agricultural College for seven years before pursuing fulltime work with Cannon Marketing, the family business dedicated to marketing purebred cattle throughout the Eastern United States and Canada. She later served 16 years at the UGA College of Agricultural & Environmental Sciences Tifton Campus. During her time with UGA, Cannon worked with the college's Georgia Beef Challenge, Bull Evaluation Program, and the Heifer Evaluation and Reproductive Development (HERD) Program.
Cannon is an active member of the Georgia Cattlemen's Association (GCA) and Georgia Cattlewomen's Association (GCWA). She serves on the GCA Nominating Committee and the Junior Advisory Board and supports all GCWA activities.
Since the 1990s, Cannon's melodious voice has announced the names and placings of 4-H and FFA exhibitors competing in cattle shows at the Georgia National Fairgrounds.
After retiring from UGA in 2015, Cannon continues to support Georgia's beef industry through the family business.
Cannon and her husband, Carroll T. Cannon, live near Ty Ty. They have one adult son, Patrick.