GFB News Magazine
GFB Ambassadors spread good news about membership
---
Posted on February 10, 2023 7:00 PM
---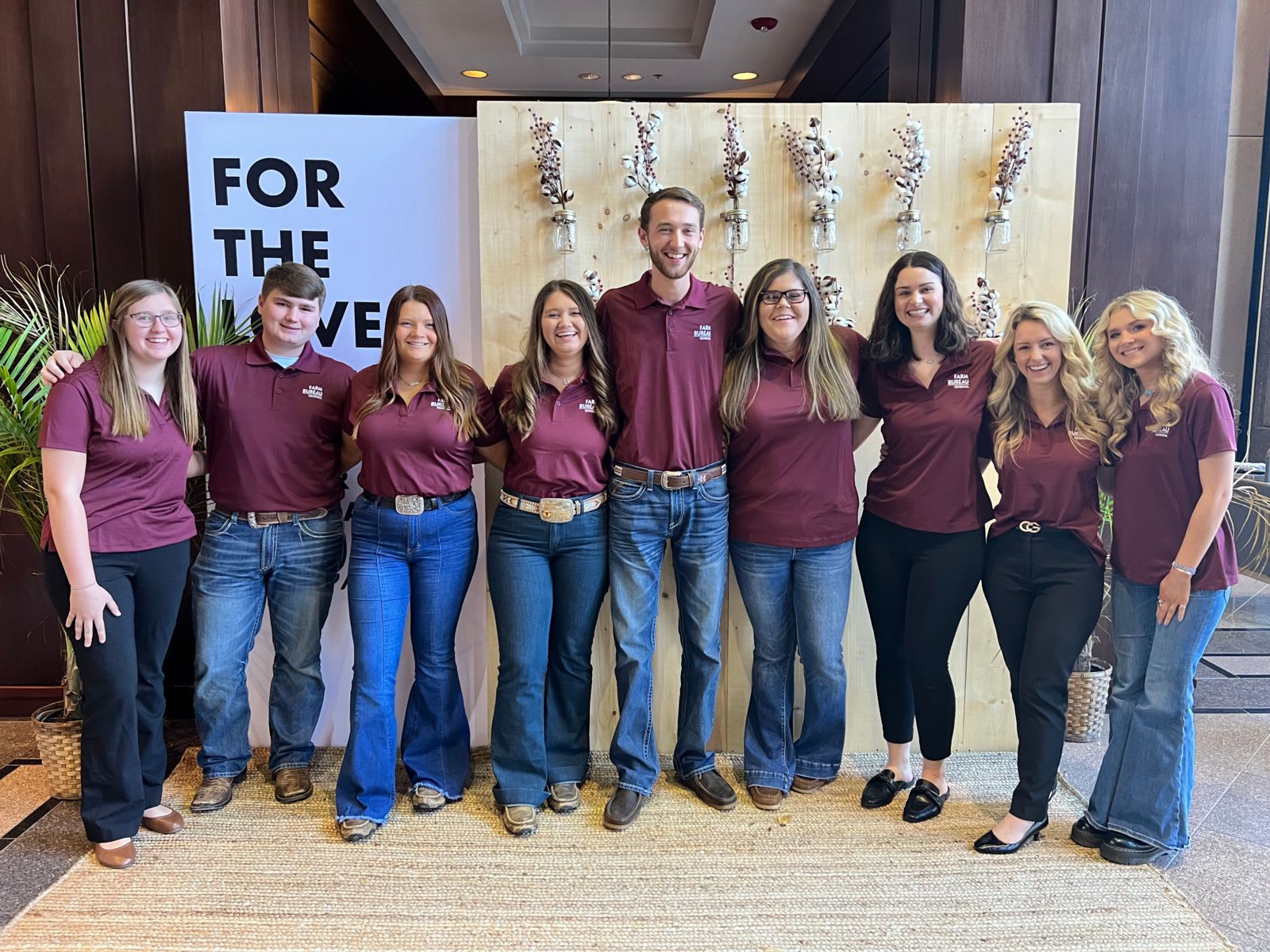 Meet the 2023 GFB Federation Ambassadors, from left: Carrie Keown of Stephens County; Jerrett Alligood of Laurens County; Allison Cook of Henry County; Gracie Grimes of Candler County; Blake Segars of Franklin County; Bailey Rayfield of Cook County; Sage Barlow of Fayette County; Abbie O'Steen of Coffee County; and Elizabeth Sanders of Dodge County.
Photo by Logan Thomas
Georgia Farm Bureau (GFB) is proud to announce its 2023 GFB Federation Ambassadors.
Due to their outstanding leadership during the inaugural program last year, Bailey Rayfield and Blake Segars will serve as chairmen of the 2023 team.
The GFB Federation Ambassadors will serve for one calendar year. Promoting GFB as a membership organization is the main purpose of the ambassador team.
The ambassadors will promote GFB through a variety of statewide member recruitment, public relations and brand awareness campaigns. Ambassadors will work alongside GFB staff and industry professionals on projects and events throughout Georgia. They are scheduled to attend about 25 ag events across Georgia this year to promote GFB.
"People want to hear from someone, other than a Farm Bureau employee, who is genuinely passionate about our organization," explained GFB Membership Acquisition Manager Slayten Carter. "Think of our ambassadors as our nine walking billboards for Georgia Farm Bureau."
While hosting the GFB booth during the six weekend days of the Georgia National Fair last October, GFB Ambassadors signed up 101 new members.
Rayfield and Segars shared tips on how the ambassador team recruits new members.
"Sincerely connect with the person you are talking to before asking them to join. Get to know them. Find out what they and you may have in common," Rayfield said.
Segars recommends sharing GFB's five values – faith, family, farming, flag (patriotism) and friends.
"Tell them who Georgia Farm Bureau is and what we stand for," Segars said. "We believe that if you get out and talk to people about membership and what your Farm Bureau membership means to you, they will become a member."
Federation Ambassadors are chosen based on their interpersonal skills, passion for ag advocacy, innovative thinking, and overall enthusiasm. To serve as an ambassador, candidates must be over the age of 18 at the time of selection, be willing to commit to the hours of service and present an exceptional application. If applicable, they must also maintain good academic standing while in service to the program.
Applications for the 2024 program will be available in November. To learn more, visit www.gfb.ag/ambassadors or follow @gafarmbureau on Instagram or www.gfb.ag/group .
Slayten Carter is GFB's membership acquisition manager. She may be reached at smcarter@gfb.org .