GFB News Magazine
Georgia National Fair comes back full tilt
---
Posted on November 11, 2021 7:00 PM
---
By Jennifer Whittaker, Georgia Farm Bureau
Whirling carnival rides. Colorful craft and art displays. Bleating farm animals. Tantalizing fair food. These were just a few of the sights, sounds and smells that beckoned the 485,758 visitors who attended the 32nd Annual Georgia National Fair in Perry.
After a one-year hiatus due to COVID-19, the fair roared back to life at full throttle from Oct. 7-17.
"Welcome back. You don't know how happy I am to be standing here because we have had some unprecedented times around here," Georgia National Fair & Agricenter Executive Director Stephen Shimp said during the opening day ceremony. "This fair celebrates everything that's good about Georgia. The theme for our fair this year for me and our staff is 'Grateful.' We're grateful that we get to be here."
Article continues below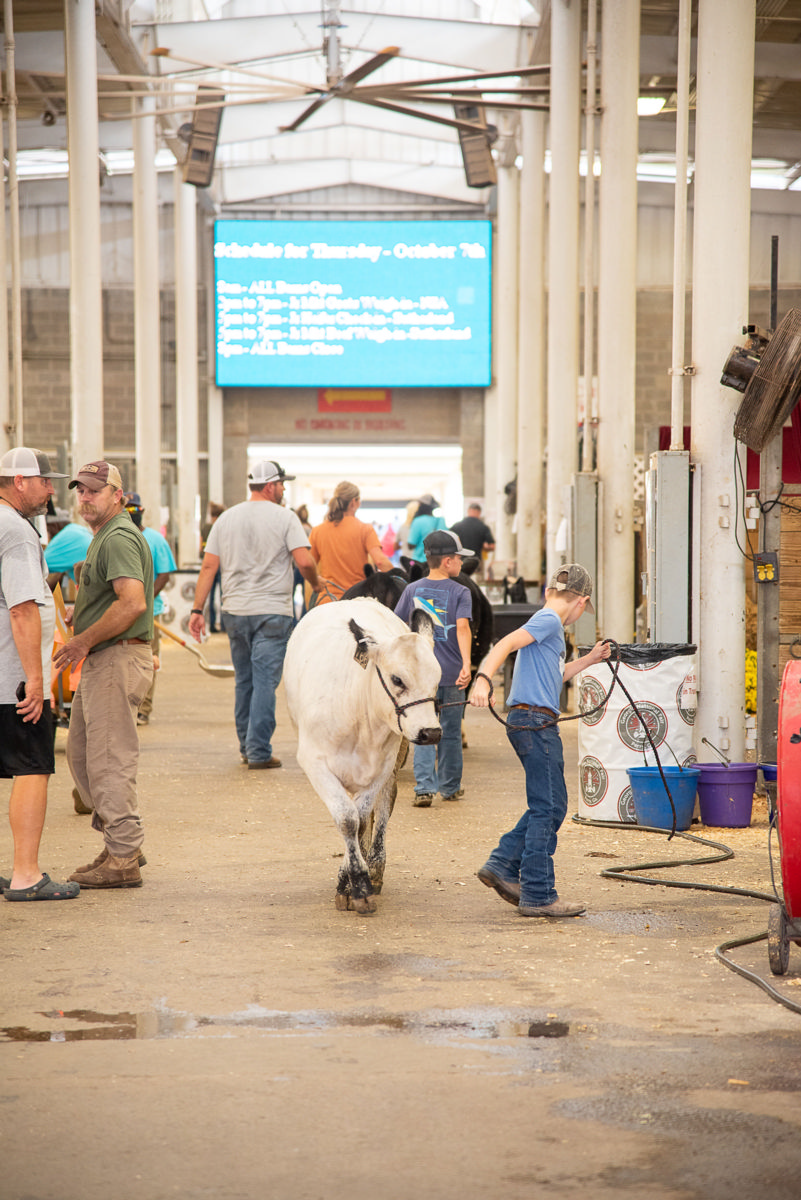 4-H & FFA livestock shows are an integral part of the Georgia National Fair. Georgia Farm Bureau was a premier sponsor of the fair and provided prize money for the fair's livestock shows. | Photo by Logan Thomas
Gov. Brian Kemp thanked the Georgia General Assembly and local Houston County and Perry leaders for their ongoing support of the Georgia National Fairgrounds & Agricenter.
"This fair is built on the foundation started by a lot of great Georgians," Kemp said, recognizing former Georgia Rep. Larry Walker and former Gov. Sonny Perdue, who attended the ceremony.
"I want to thank our Agricultural Exposition Authority (AEA) and the fair staff for persevering. That's what our whole state has been doing," Kemp said. "We faced a worst-case scenario with not having the fair last year and [what] the loss of revenue that meant for this facility, but Stephen and his staff found new ways to use this facility. We will be better for that even though it's been a brutal year."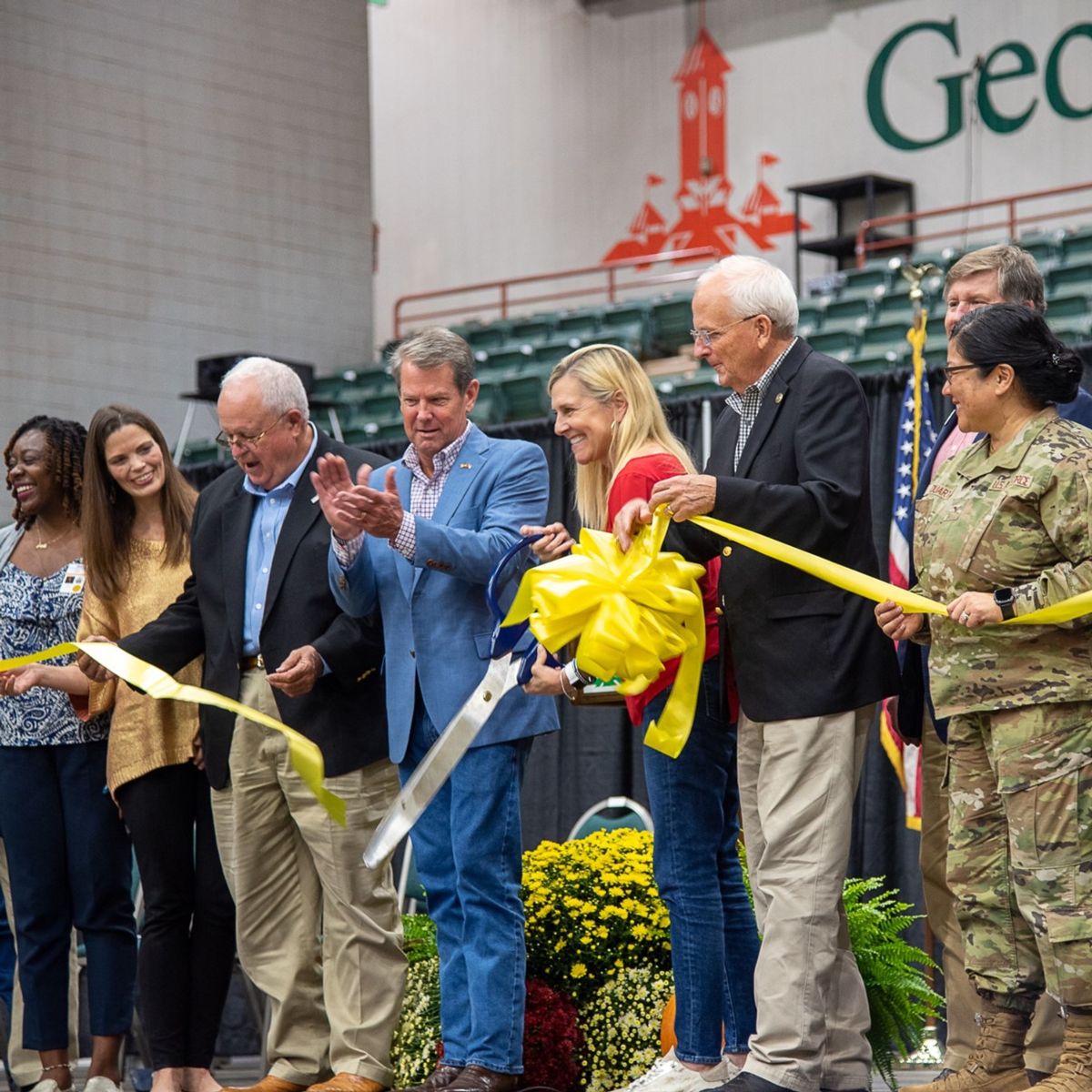 Gov. Brian Kemp & First Lady Marty Kemp had the honor of cutting the ribbon to start the 32nd Annual Georgia National Fair, Oct. 7-17. | Photo by Logan Thomas
Jack Spruill, who recently retired as marketing director for the Georgia Department of Agriculture, was recognized by the Georgia AEA for the contributions he made in designing the Georgia Grown Baby Barn, which debuted at the 2018 fair.
This year, fairgoers again had the chance to see cows giving birth and the multiple baby calves born in the Baby Barn. Piglets nursing their mother sows lay nearby.
Other aspects of Georgia agriculture were showcased in the Georgia Grown Building. A pollinator greenhouse housed about 300 painted lady butterflies. The Georgia Grown program and Georgia Green Industry Association partnered with Everyday Farm & Garden in Lizella to highlight plants and trees that provide habitat to pollinators.Georgia Farm Bureau showcased its advocacy and ag literacy programs and offered guests the opportunity to take their picture against its photo wall and receive a keepsake photo.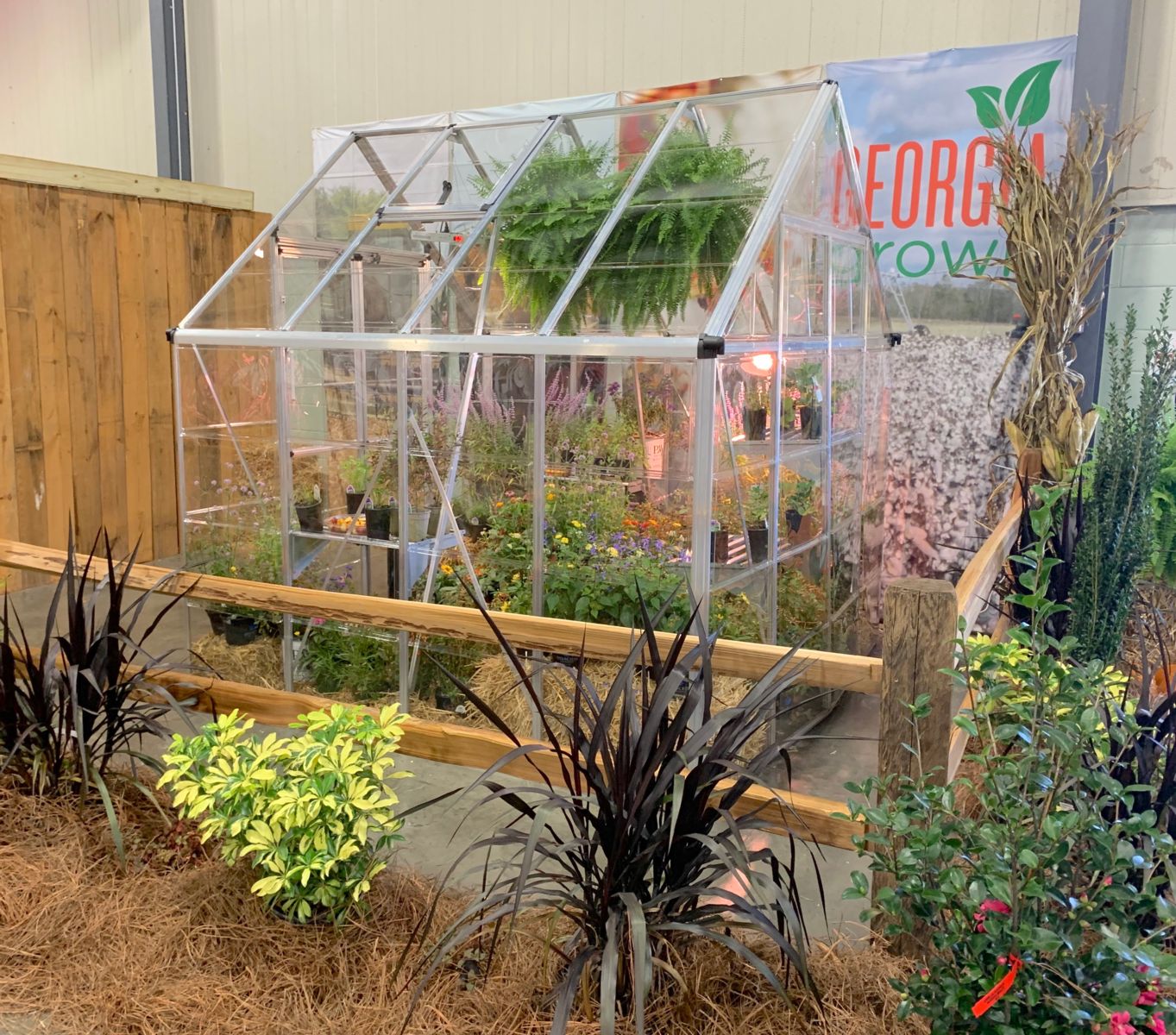 A greenhouse in the Georgia Grown Building housed 300 painted lady butterflies highlighting plants and trees that provide habitat for pollinators crucial to Georgia crops. | Photo by Jay Stone
REITHOFFER SHARES 32 OF ITS 125 YEARS WITH GA
Reithoffer Shows, which has provided the midway carnival rides for the Georgia National Fair since the fair began in 1990, is celebrating its 125th year of thrilling fairgoers across the U.S. with its rides and carnival attractions.
"As proud as the authority members are of the Georgia National Fair, Reithoffer Shows feels the same way," said Rick Reithoffer, whose great-grandfather, Julius, started the family's carnival business in 1896.
He and his brother, Pat, and their children, are carrying on the family tradition.
"We are the oldest family-owned carnival in the U.S. still owned by the same family. We've grown with the fair. When we first came here, the fairground was only about half the size as it is today. We've
expanded the midway size three times since 1990. We're now covering a mile of midway."
The Reithoffers have even bought rides with Georgia's fair in mind.
"When we bought the great big ferris wheel with the LED lights that sits near the west gate, I was thinking about putting it here in Perry so it could be seen on I-75," Reithoffer recalled.
In 2020, Reithoffer Shows only attended the Pensacola International Fair, Reithoffer said, but the company employed its whole crew all of last year in hopes that they would have some shows.
"We did a lot of maintenance work and refurbishment of rides so we would be ready when shows started again. It was a very difficult year for the amusement industry," Reithoffer said. "We're glad to be back in Perry."