GFB News Magazine
Georgia farms honored for longevity
---
Posted on November 15, 2022 7:00 PM
---
By Jennifer Whittaker, Georgia Farm Bureau
With the USDA reporting that only 1.4% of the U.S. population farms, being a farmer is rare. Farming land that's been in your family for at least a century is extraordinary.
On Oct. 12, six Georgia farms were recognized for having been operated and owned by members of the same family for 100 years or more. Appropriately, the Georgia Centennial Farms reception was held on National Farmers Day during the Georgia National Fair in Perry.
The 2022 recipients of the Centennial Family Farm Award
Green Acres Bartow County
John Davis Farm Bartow County
Gough Family Land, LLC. Burke County
Balkcom Family Farms Early County
Callaway Homeplace Farm Heard County
Walker Place Sumter County
Farms may be recognized with one of three awards. The Centennial Family Farm Award recognizes farms owned by members of the same family for 100 years or more that are not listed in the National Register of Historic Places (NRHP). The Centennial Heritage Farm Award honors farms owned by the same family for 100 years or more that are listed in the NRHP. The Centennial Farm Award does not require continual family ownership but farms must be at least 100 years old and listed in the NRHP.
This program is administered by the Historic Preservation Division of the Georgia Department of Community Affairs with support from Georgia Farm Bureau (GFB), Georgia EMC, the Georgia Department of Agriculture, Georgia Forestry Commission, and Georgia National Fairgrounds & Agricenter. GFB has been a supporting partner of the award since it began in 1993.
"Congratulations to all of you on your families farming for 100 years or more," GFB President Tom McCall told the award recipients. "I especially congratulate those of you in growing areas who have held off developers so you can continue to grow our food and fiber."
Since 1993, more than 600 farms have been designated a Georgia centennial farm.
"Thanks to all of you for what you do as farmers. I think it's important that we recognize the centennial farms in our state for the contributions they have made," said Georgia Department of Community Affairs Deputy Director Rusty Haygood.
Want to nominate a farm?
Farm owners interested in nominating a farm for recognition should visit www.gfb.ag/centennialfarmsapply to download an application or contact outreach@dca.ga.gov or call 404-679-4840. Applications should be postmarked by May 1 each year.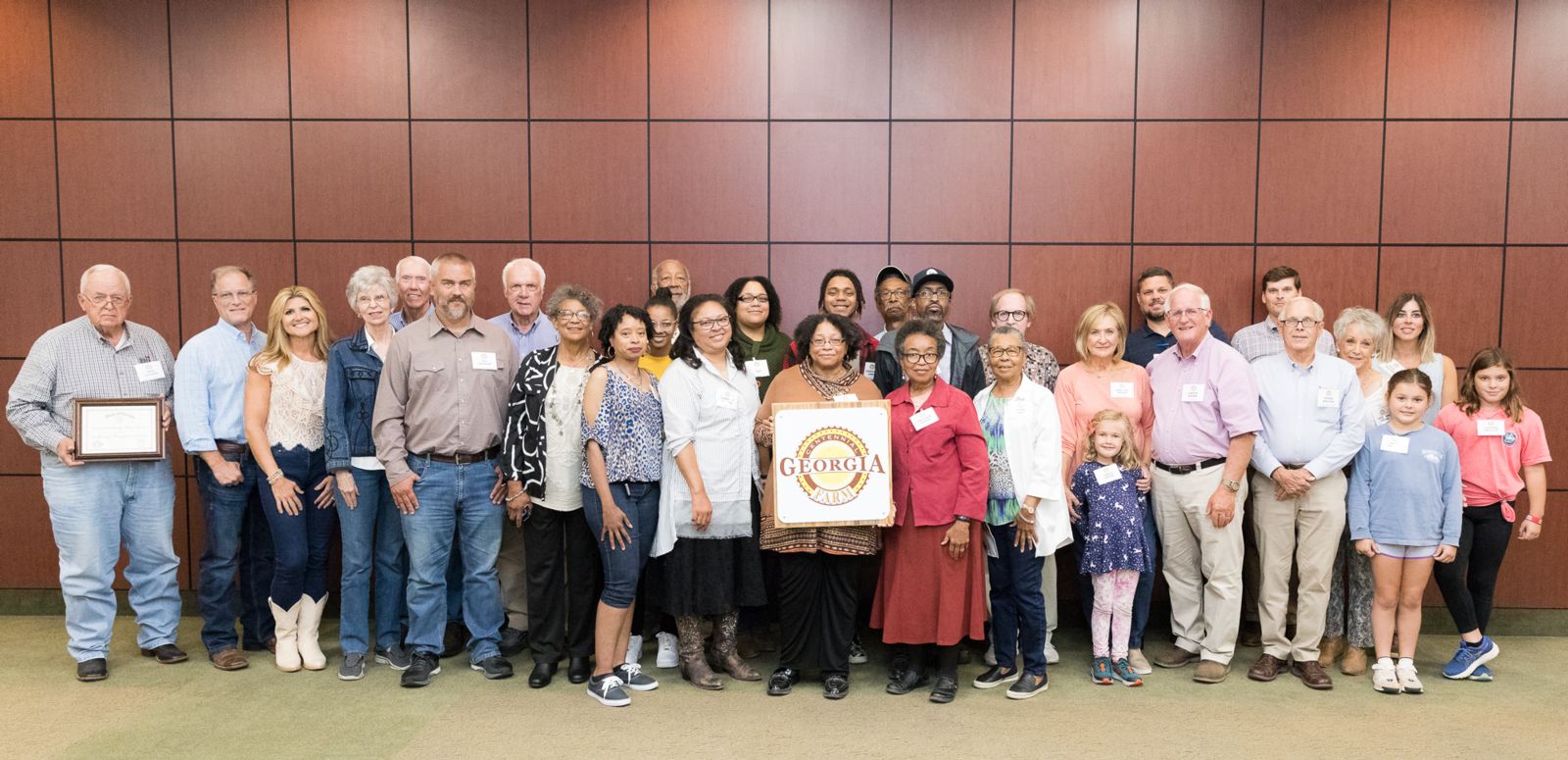 Congratulations to the six families honored with a 2022 Centennial Family Farm Award. / Photo courtesy of Ga. Dept. of Ag/ Nick Vassy