GFB News Magazine
Georgia Farm Bureau honors the cream of the crop
---
Posted on February 12, 2022 7:00 PM
---
Georgia Farm Bureau honors the cream of the crop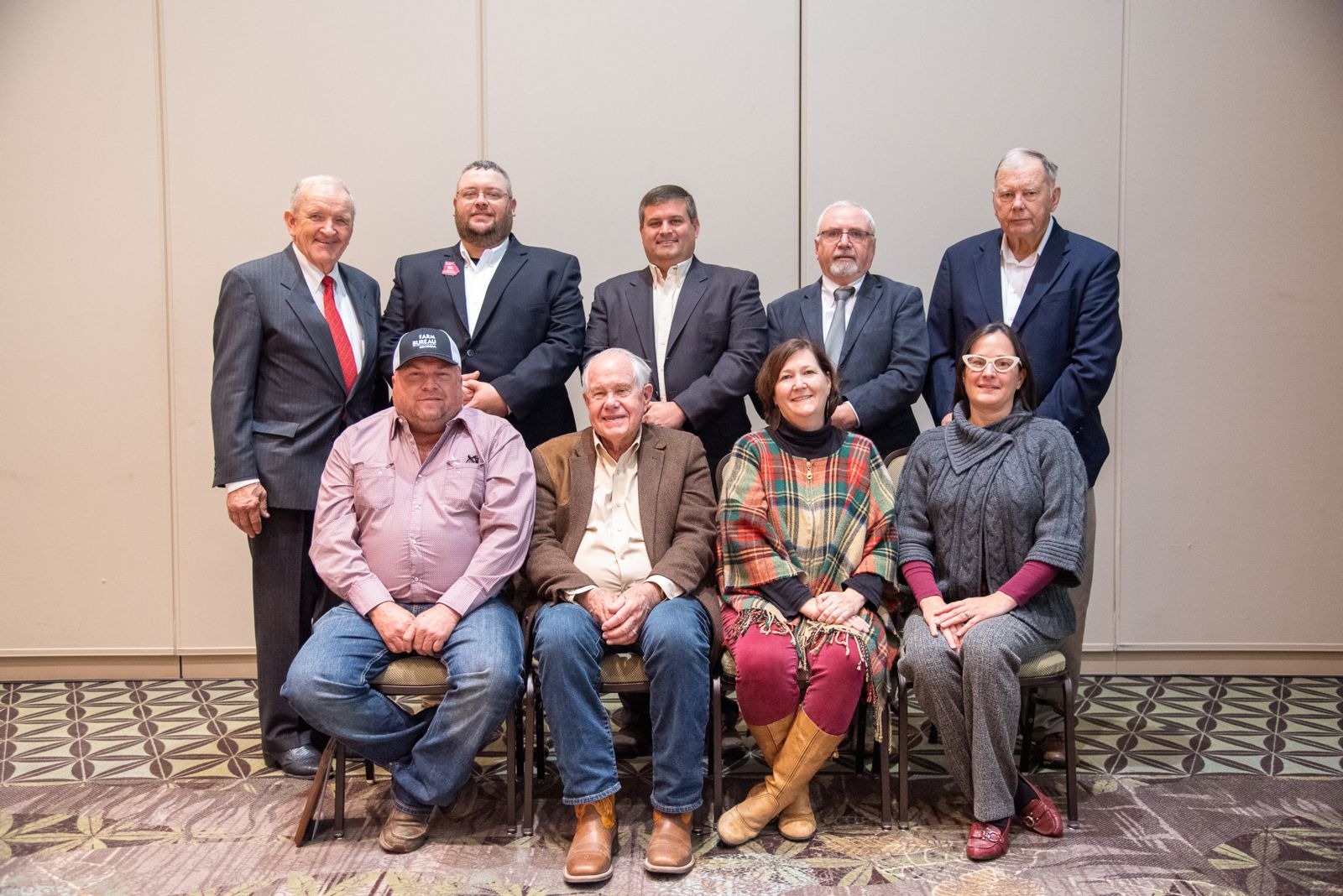 Georgia Farm Bureau (GFB) recognized the best of the organization's volunteers and county chapters during its 84th convention in December.
"We're proud of the activities all of our county volunteers and staff do for Farm Bureau statewide. Your efforts make a difference!" GFB President Tom McCall said. "We congratulate the individuals and county chapters that won state awards for their 2021 efforts."
GFB President Tom McCall (back row, far left) congratulates the 2021 GFB award recipients: (front row, from left) Justin Long accepting the McKemie Award for Decatur County in GFB's medium membership division; Charles Berry accepting the Outstanding Women's Leadership Committee Award for Newton County; Angie Roberts accepting the Outstanding Promotion & Education Award for McDuffie County; GFB Outstanding Office Manager Kim-Cora Kay of McDuffie County; (back row, second from left) Colt Hart accepting the Outstanding Young Farmers & Ranchers Committee Award for Franklin County; Wayne McInvale accepting the McKemie Award for Crawford County in GFB's small membership division; Don Keeter accepting the Outstanding Legislative Program Award for Cherokee County and William Grizzle accepting the McKemie Award for Cherokee County in the large membership category.
State winners not pictured are: GFB Quality Hay Contest winner Doyle Lamb, Turner County; GFB YF&R Achievement Award, Steven & Tara Green, Spalding County; GFB YF&R Excellence in Ag, Jessica Lance, Morgan County; GFB Discussion Meet, Cleve Jackson, Floyd County; 2021 GFB Ag Teacher, Natalie Murray, Douglas County.
The 2021 GFB state award winners were selected from the GFB district award winners honored at the organization's district annual meetings last fall. A list of district award winners is available at www.gfb.ag/21districtwinners.
Photo by Logan Thomas