GFB News Magazine
Georgia agriculture comes to life through GFB Art Contest
---
Posted on August 31, 2020 8:00 PM
---
Georgia high school students across the state used their artistic talent to illustrate the beauty of Georgia agriculture as they created entries for the 26th Annual Georgia Farm Bureau High School Art Contest. The 67 county Farm Bureaus that held local contests submitted their top winners to GFB from which 10 district winners were chosen.
"Georgia Farm Bureau's Art Contest encourages high school students to express their creativity and showcase their artistic ability
through black and white media," said GFB Women's Leadership Committee Chairman Heather Cabe. "The students' knowledge and perspective of Georgia agriculture comes to life on paper as they sketch different commodities and the farming lifestyle that is so beloved in our state."
Abigail Montgomery of Twiggs County sketched the first-place winning picture. Kaylee Brackett of Cherokee County and Arwyn Kovach of Lee County were named the state runners-up.
Montgomery won $250 as the state winner and $100 as the GFB 6th District winner. Brackett and Kovach each won $150 for being runners-up and $100 each for being the GFB 1st and 8th District winners respectively.
Other district winners in the art contest were: Brooke Gooch, Banks County, GFB 2nd Dist.: Jordan Haynes, Cobb County, GFB 3rd Dist.; Shania Hobbs, McDuffie County, GFB 4th Dist.; AnnaBella Alderman, Crawford County, GFB 5th
Dist.; Tony Hernandez, Evans County, GFB 7th Dist.; Jay Granger, Miller County, GFB 9th Dist.; Kaiyah Cook, Glynn County, GFB 10th Dist.Contestants were instructed to create a black, white and gray drawing using graphite, charcoal, pastel, chalk, colored pencil, ballpoint pen or mixed media appropriate for printing. Drawings were judged on how well the artwork represents modern agriculture in the student's county or Georgia and artistic merit.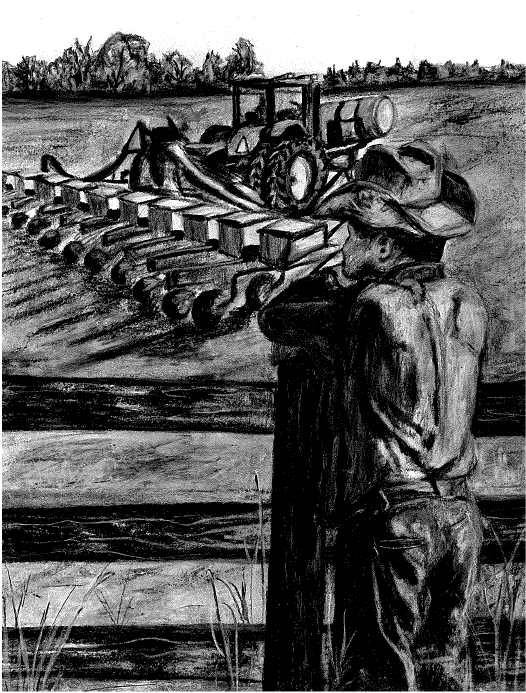 Abigail Montgomery of Twiggs County won the GFB Art Contest. Visit www.gfb.ag/20artcontest to see the artwork of all district & honorable mention winners.
The winning artwork from each district will be featured in GFB's 2021 Ag in the Classroom calendar along with the drawings of Raine Ansley of Greene County and Highland Roberts of Upson County, who were selected as honorable mention winners.
Georgia Farm Bureau Agriculture in the Classroom Coordinator Lauren Goble may be reached at ldgoble@gfb.org or 478-474-0679,ext. 5135. For the latest news about AITC & for resources you can use at home or in a classroom setting to teach children about how their food is grown & the natural resources they depend on, visit www.gfb.ag/AITC.