GFB News Magazine
Dowell wins GFB Hay contest
---
Posted on February 24, 2023 7:00 PM
---
By Jay Stone, Georgia Farm Bureau
Bartow County Farm Bureau member Franklin Dowell won the 2022 Georgia Farm Bureau Quality Bermudagrass Hay Contest. As the top winner in the hay contest, Dowell receives a year's use of a Vermeer 604R baler, with the option to purchase it at a reduced price at the end of the year.
The contest, which drew 30 entries, has been held by the GFB Hay Commodity Committee since 1992 to encourage superior Bermudagrass hay production. Vermeer has provided the first-place prize since 1999.
Hay samples entered in the contest are analyzed using the University of Georgia's Relative Forage Quality (RFQ) testing method, which measures nutrient content and digestibility of the hay.
RFQ for Bermudagrass hay in Georgia typically ranges from 75-120 or higher. Dowell's sample of Jiggs Bermuda had an RFQ score of 155. The average RFQ score for all entries was 119.
For more about the lab and how the hay is tested visit www.gfb.ag/ugahaylab.
Entered samples are required to have nitrate levels below 4,500 parts per million and moisture content of 18% or less to be eligible for contest prizes.
Jeff Bacon of Laurens County took second place for his Coastal Bermuda with an RFQ of 147 to win $200 and a soil probe. Guerry Hall of Franklin County came in third place with Coastal Bermuda that had an RFQ of 144 and won $100. Eddy Turner of Washington County placed fourth with Tift 44 that had an RFQ of 143 to win $100. Floyd Knowles of Telfair County placed fifth with Coast Cross hay that had an RFQ of 142 to win $100. GFB provided the runner-up prizes.
The winners were announced during the GFB Convention on Jekyll Island in December.
Look for details about the 2023 hay contest to be announced this summer at www.gfb.ag/hay. If you are a GFB member with hay to sell or a farmer looking for hay, visit www.gfb.ag/hay.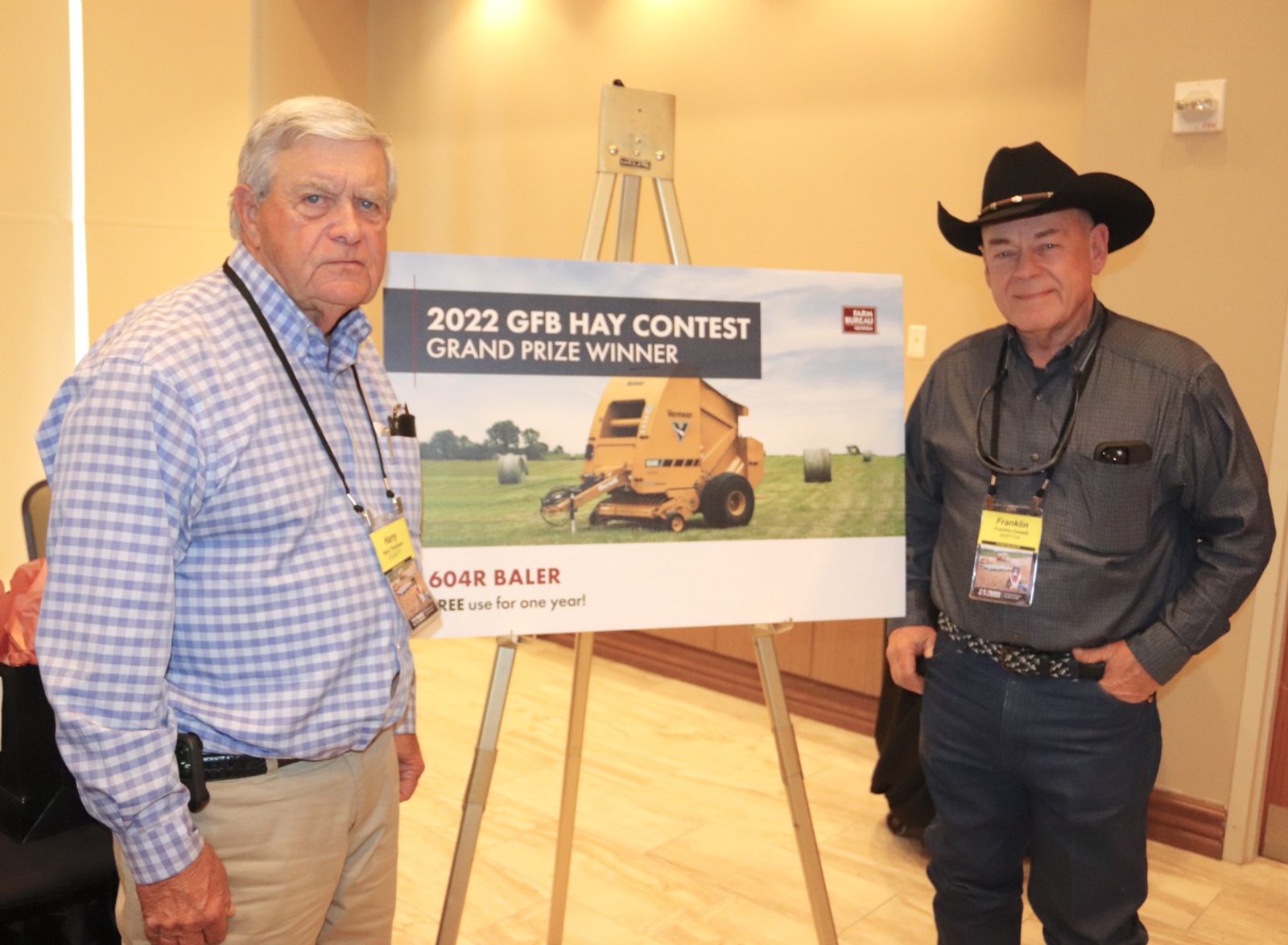 Georgia Farm Bureau (GFB) Hay Committee Chairman Harry Thompson, left, congratulates Franklin Dowell for winning the 2022 GFB Hay Contest. / Photo by Jay Stone