GFB News Magazine
Bottomses named National Outstanding Young Farmers
---
Posted on May 20, 2022 8:00 PM
---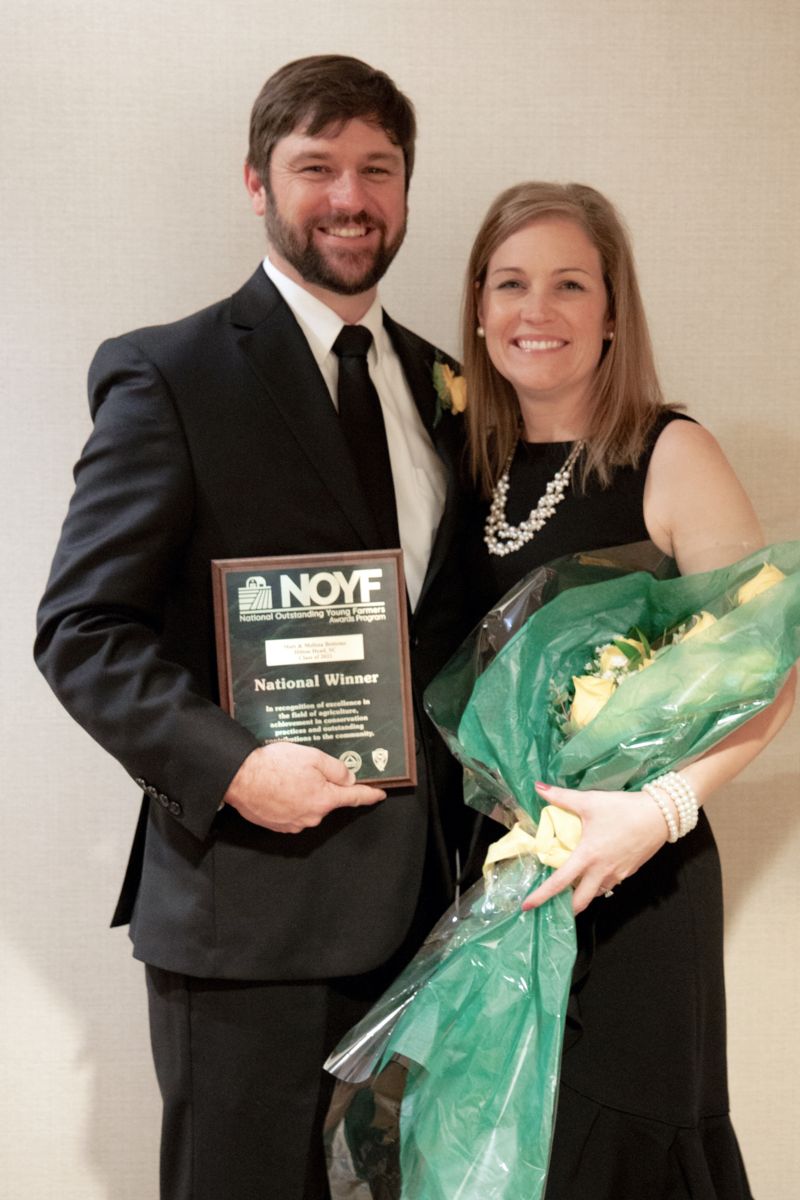 Matt & Melissa Bottoms
Photo courtesy of NOYF
Matt and Melissa Bottoms of Pike County are recipients of the 2021 National Outstanding Young Farmers Award. They accepted the award at the annual National Outstanding Young Farmers Awards Congress held Feb. 3-6 on Hilton Head Island. Matt is a GFB 5th District director and Pike County Farm Bureau president.
Four national winners are annually presented the award based on their farming operations, extent of soil and water conservation practices, and contributions to the well-being of the community, state and nation.
The 2021 and 2022 national winners were honored together after last year's event was postponed due to the COVID-19 pandemic. The other three 2021 national winners are from New Mexico, Wisconsin and New Jersey. All national winners receive a savings bond from corporate sponsor John Deere and the opportunity to travel to represent the NOYF at future ag events.
The Bottomses operate a nursery and row crop farm, growing soybeans, corn, and millet.
Matt said he does not remember a time in his life when he was not involved in farming. Since taking an official leadership role in the family nursery in 2000, he has focused on increasing yields, improving plant quality, and marketing his products while working closely with the Natural Resources Conservation Service to develop erosion control measures and improve nutrient retention.
Matt has prioritized developing new machinery to decrease dependence on labor, such as developing a rotary hoe that eliminates weeks' worth of hand labor and an overhead watering system that decreases the time spent soaking thousands of newly potted plants.
The couple has three children: Anna, Madelyn, and Abigail. Melissa manages the farm office and works in the nursery. They are both active in Georgia Farm Bureau and Pike County Farm Bureauu, FFA alumni, and various ag organizations. Melissa served on the GFB Women's Leadership Committee in 2016, 2017 and 2018. Matt and Melissa served on the GFB YF&R Committee in 2009 & 2010 with Matt chairing the committee in 2010.
The NOYF program is the oldest farmer recognition program in the United States, selecting its first group of national winners in 1955. The program is sponsored by John Deere, administered by the Outstanding Farmers of America (OFA), and supported by the National Association of County Agricultural Agents and the U.S. Jaycees.