GFB News Magazine
Athens Technical College offers conservation law enforcement degree
---
Posted on August 21, 2023 8:00 PM
---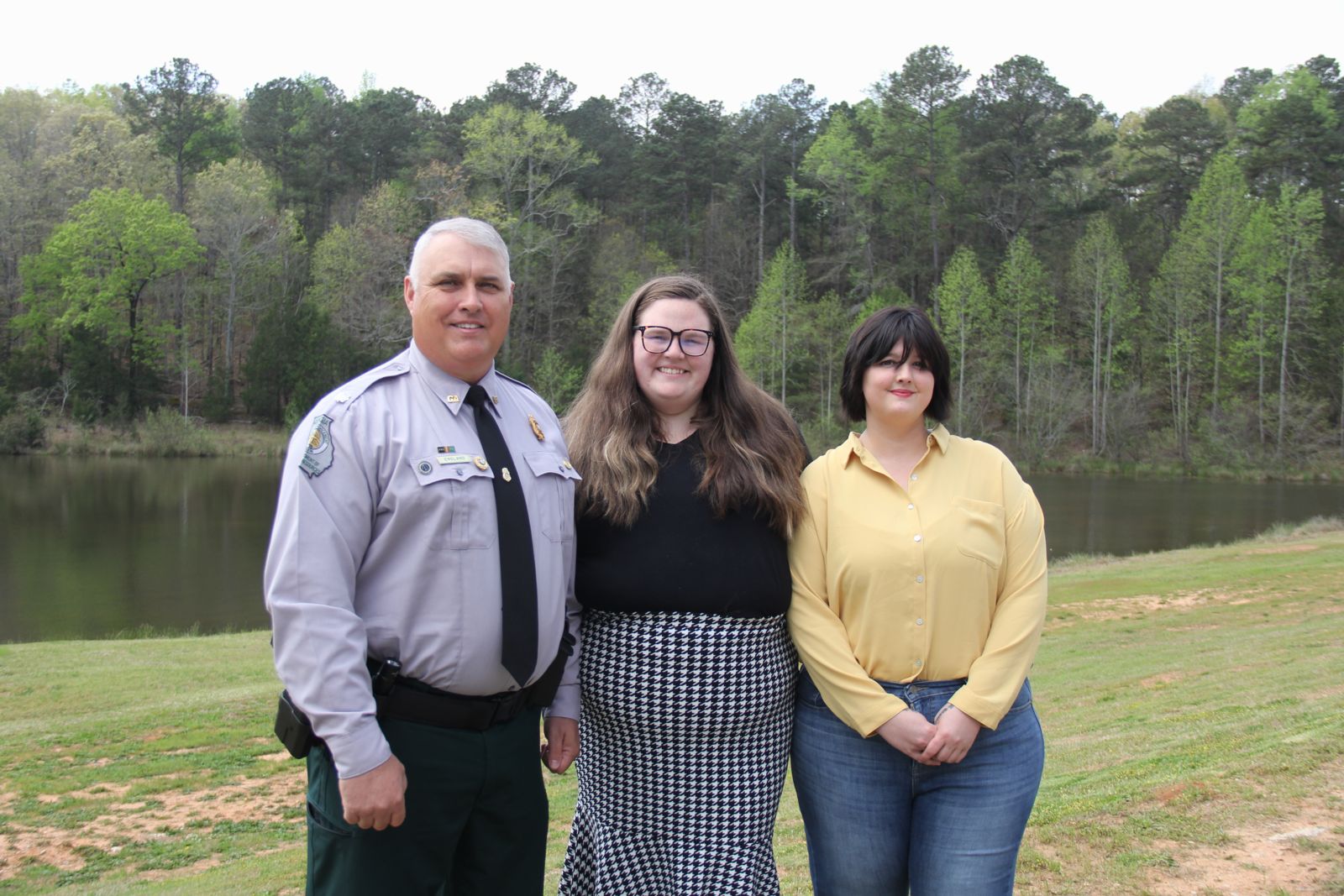 From left, Georgia Department of Natural Resources Lt. Colonel Mike England, Athens Technical College Conservation Law Enforcement (CLE) Chairman Alexia Goodman & ATC CLE student Megan Adkins discuss the merits of the CLE program. / Photo by Jennifer Whittaker
By Jennifer Whittaker, Georgia Farm Bureau
Many students who grow up in rural communities are interested in wildlife. Athens Technical College (ATC) offers an associate degree in conservation law enforcement (CLE) that may appeal to them.
The program prepares students for careers as game wardens, park rangers, conservation technicians, or environmental protection technicians, ATC CLE Program Chair Alexia Goodman said. It combines fisheries and wildlife management with criminal justice courses.
"This program gives students a good background in wildlife and lets them know what they're getting themselves into," Goodman said.
ATC is one of two schools in the Technical College System of Georgia that offers a conservation law associate. Ogeechee Technical College in Statesboro is the other.
What's involved?
CLE courses include hands-on labs and outdoor field work including surveying campus for wildlife, equipment operation and research projects. Athens Tech offers its CLE program on its Elberton Campus where it's housed in the McCall Agricultural Science Complex.
Goodman said CLE students utilize the six-acre pond behind the McCall Center and the tract of hardwoods adjacent to the pond to study wildlife.
"Our students will be working in the woods, so this campus allows us to give our students the experience of being in the woods," Goodman said. "We've seen white tail deer, raccoons, turtles, squirrels, possums, armadillos, a breeding pair of hawks, a blue heron and an osprey. We've also got a beaver that has built two dams and taken down some trees that we're observing."
The CLE program requires an internship with a conservation law enforcement agency or related position for graduation. This internship is completed over the summer. In addition to internships, students have many opportunities to network with current and former conservation law enforcement professionals.
Classes are held during the day with some online class options available.
Pathway to DNR Academy
Graduates of the program will have an associate degree to meet the minimum education requirement to apply for the Georgia Department of Natural Resources (DNR) Game Warden Academy. The average starting salary for game wardens is about $52,000, according to the DNR LE Division website.
Game wardens, also known as conservation officers, forest rangers, and wildlife officers, are peace officers employed by local, state, and federal government agencies. In Georgia, game wardens are certified peace officers through the Peace Officer Standards and Training (P.O.S.T.) Council and employed by the Georgia DNR Law Enforcement Division.
Game wardens are primarily responsible for the enforcement of state and federal natural resources laws related to wildlife, fish, water resources, boating and the environment. On patrols, game wardens investigate suspicious activities, make arrests, give warnings, and write citations. Game wardens may also be asked to testify in court in relation to the cases they are involved in.
"Graduates of this program can apply to attend the Georgia DNR Academy. If we hire them, we'll pay for them to attend an 11-week peace officer training and then our 15-week game warden academy," Georgia DNR Lt. Colonel Mike England explained.
Why choose the CLE degree?
Meagan Adkins is an ATC student pursuing the CLE degree.
"I knew I wanted to do something with animals. I wanted to be a vet but then realized it was a lot of school and money," Adkins said. "My advisors told me about this program and it fit. I love this campus. I love the pond and the tree area we use for our studies."
Adkins is also excited about not having student debt when she graduates with an associate degree in December.
"An advantage of attending a technical college is definitely the cost," Adkins said. "Of all my friends who have gotten degrees, I'm the one coming out with no debt."
GFA Scholarships Available
The Georgia Foundation for Agriculture annually offers scholarships to students attending any accredited Georgia technical college and majoring in an area of agriculture or an ag-related field of study, such as welding, mechanics, culinary arts, commercial truck driving and wildlife sciences/management. Visit https://gfb.ag/gfatechscholarshipmajors for a list of eligible schools and majors. Scholarships have already been awarded for this year, but information is available at www.gafoundationag.org/scholarships. Visit this website in October/November for information about the 2024 scholarships.
For more information about the CLE degree, visit www.gfb.ag/atcconservationlawenforcement or email Alexia Goodman at agoodman@athenstech.edu.