GFB News Magazine
Athens Technical College dedicates McCall Agricultural Science Complex
---
Posted on May 11, 2023 8:00 PM
---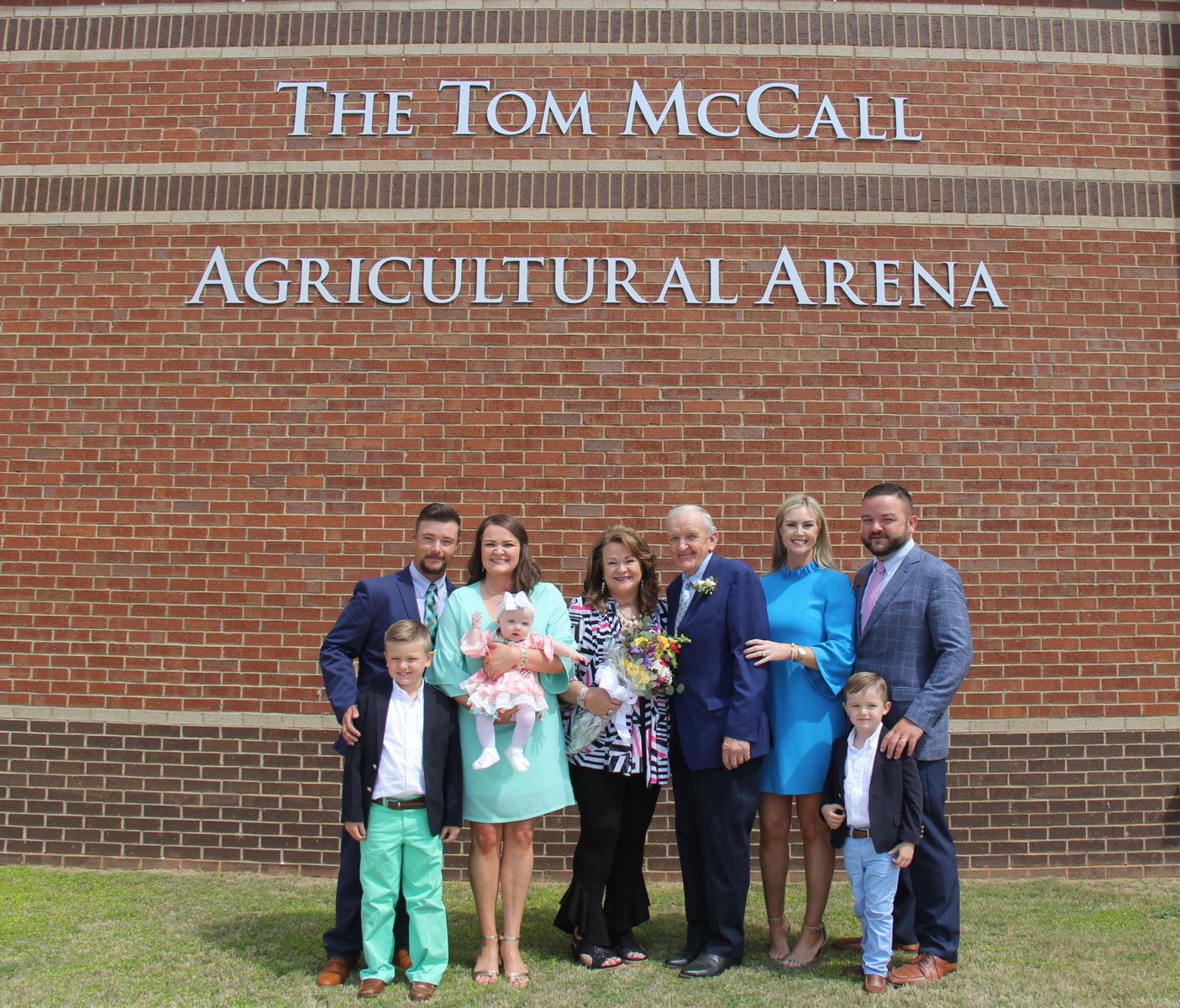 Tom & Jane McCall, center, were joined by their family to celebrate the dedication of the Tom McCall Agricultural Science Complex on Athens Technical College's Elberton campus. / Photo by Jennifer Whittaker
By Jennifer Whittaker, Georgia Farm Bureau
Since 2014, Athens Technical College (ATC) has offered an agricultural science program to prepare students in Northeast Georgia for agricultural jobs that need education beyond high school but not a bachelor's degree.
The program began on ATC's main Athens campus, but last year moved to the new Tom McCall Agricultural Science Complex on ATC's Elberton campus.
On March 31, ATC held a dedication ceremony to honor the man for whom the complex is named.
"Tom has always supported Athens Technical College. He understands the importance of what we're doing for workforce development and worked tirelessly to support Athens Tech during his 26 years in the General Assembly," ATC President Andrea Daniels said.
The ag science complex includes a 10,320-square-foot classroom building and a 17,091-square-foot arena.
"I can't think of anyone more deserving to name this facility for," said former Gov. Nathan Deal, who signed the state budget that allocated funds for construction of the complex. "I have an ag background and it makes me more appreciative of what I see here. This is a facility that will give students practical, hands-on training to secure jobs and make a living for their families."
The classroom building includes four labs with lecture seating, four offices, one classroom, a conference room and a beautiful lobby and student workspace with windows facing a pond that sits below an adjoining patio. A 5,400-square-foot greenhouse will be completed soon.
"It's because of people like Tom McCall, who from his 26 years of service in the General Assembly to him serving as president of Georgia Farm Bureau, have ensured that Georgia agriculture is successful. Tom understands that our state can't be successful if agriculture isn't successful and that providing our own food and fiber is a national security issue," Georgia Agriculture Commissioner Tyler Harper said. "What better way to honor Tom's legacy than with an arena and classroom building where new ag leaders' minds will be shaped?"
The arena has a 5,841-square-foot show ring with bleacher seating for 274 people, a 4,725-square-foot tie-out, multipurpose area and a 1,876-square-foot ag mechanic/construction lab. The first livestock show was held in the arena in January. To rent the arena, call ATC at 706-369-5875.
"Thank you all for this today. It is a much, much undeserved honor, but I do appreciate it. Y'all are sitting on one of the most beautiful campuses in Georgia, and I'm looking forward to it turning out a bunch of agricultural graduates to go into the ag workforce," McCall said. "I want to thank Gov. Deal for putting this facility in Elberton and Terry England, former chairman of the House Appropriations Committee, for allocating the money for it and everyone who supported it."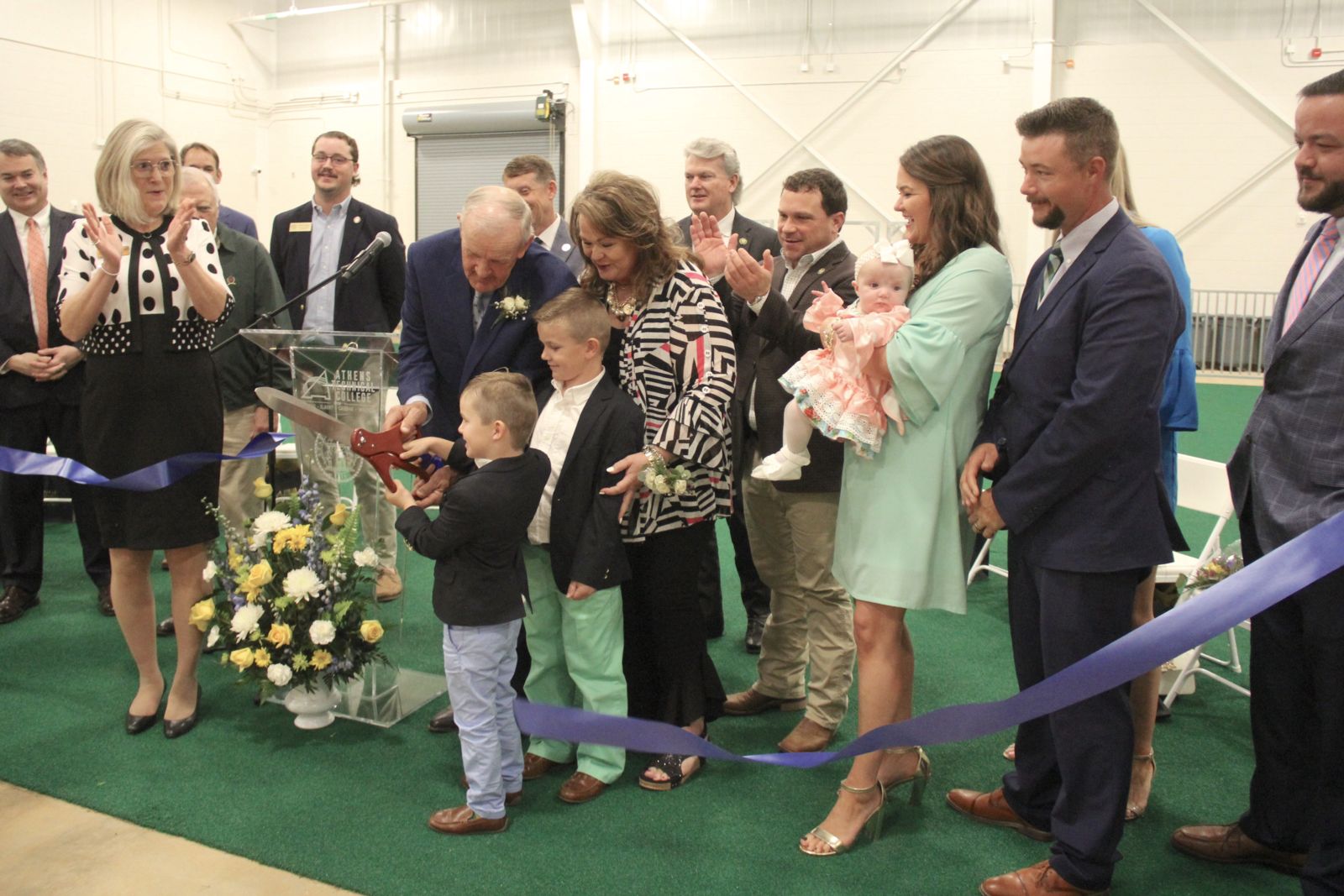 During a spring ceremony, Tom & Jane McCall, center, along with family and friends cut the ribbon for the new
Tom McCall Agricultural Science Complex on the Athens Technical College Elberton Campus. / Photo by Jennifer Whittaker