GFB News Magazine
Ag roots run deep for Folsom family
---
Posted on November 13, 2020 7:00 PM
---
By Jennifer Whittaker
Most folks in Southeast Georgia know Woody Folsom for his seven auto dealerships in Baxley and Vidalia, but Woody is also proud to be a farmer.
He grew up on a farm in Appling County where his parents, James and Rilene, raised beef cattle and some produce. Like most farm kids, Woody had daily chores growing up that included driving tractors, feeding the cows and helping with the produce crops. During the summer, Woody bottle fed dairy calves, which involves twice-a-day feedings, to earn money for school clothes.
Woody now owns his parents' farm and through the years has expanded his Circle F Farms to about 2,700 acres. The Folsoms have a registered Brahman herd of about 400 head and a herd of about 250 cows bred to registered Hereford and Angus bulls to produce elite F1 females. Woody runs his cattle operation in memory of his father, who died in 2013. His mother still lives on the family farm.
The Folsoms also raise broilers and produce table eggs for Pilgrim's Pride. They grow hay and raise show-quality hogs.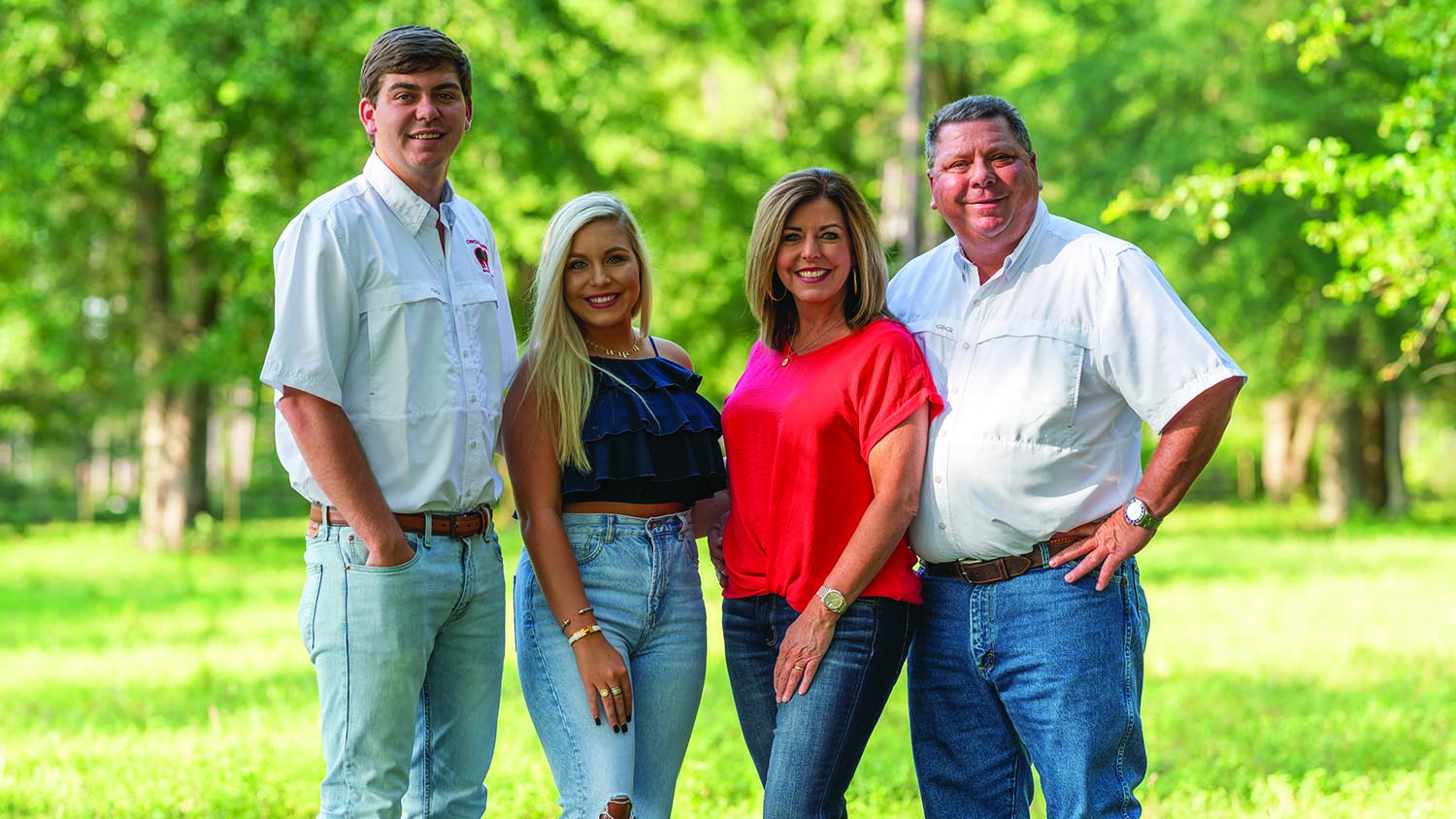 Farming is a family affair for Woody Folsom, his wife Tamela, daughter Anna Kate, & son Tanner.
Photo courtesy of Circle F Farms
Circle F Farms and the auto dealerships are a family venture. Woody's wife, Tamela, is a school counselor, but helps on the farm and at the dealerships when needed. The Folsoms' two children, Tanner and Anna Kate, attend Georgia Southern University and work at the dealerships and farm when home from school.
With both his auto and farm operations, Woody likes being diverse. His auto dealerships include Ford, Chevy, Buick & GMC, Chrysler,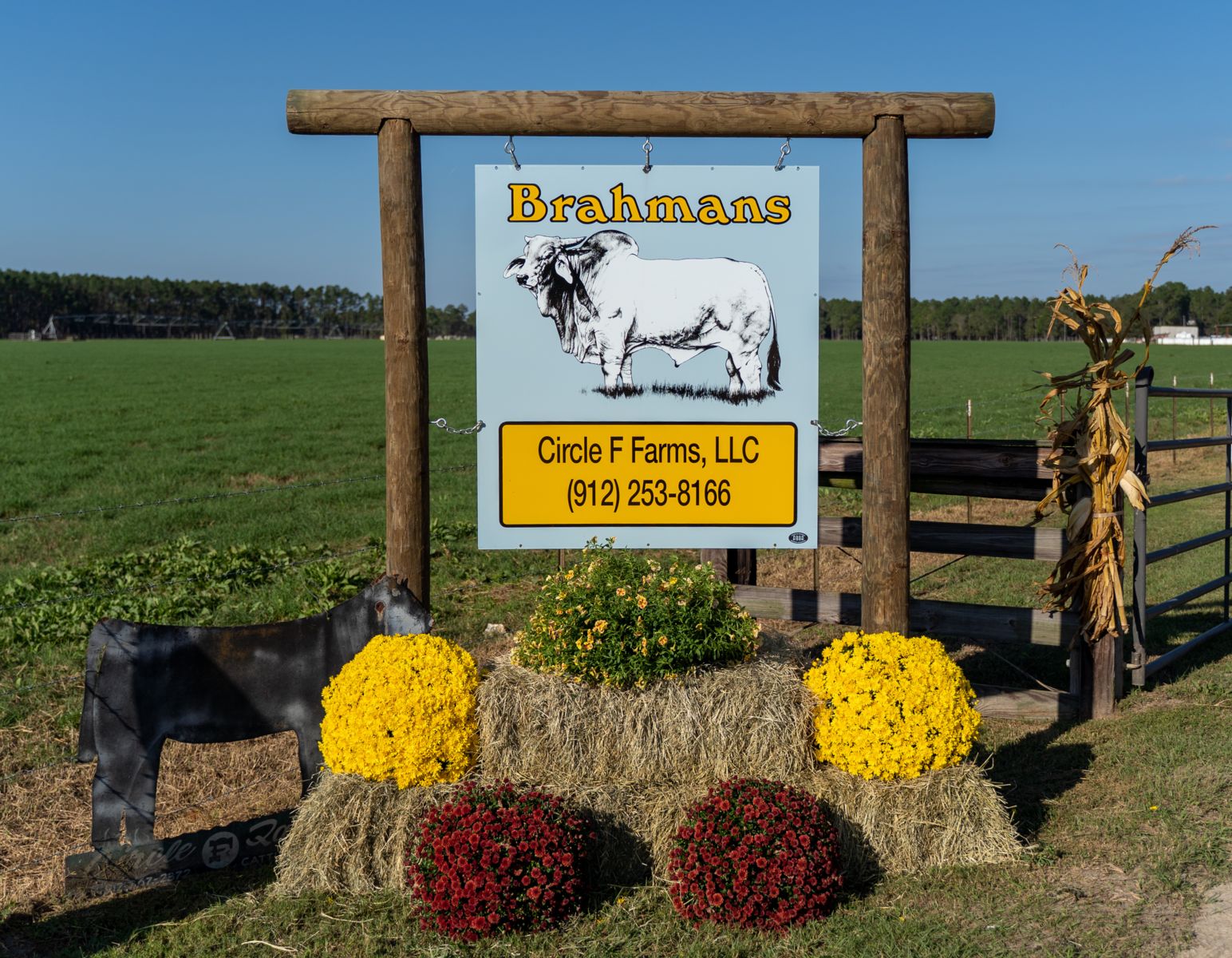 Dodge, Jeep and Nissan. He also owns a livestock trailer business. The Folsoms are working to expand their farm operation by opening Circle F Meats – a butcher store that will feature high quality beef including some grown on his farm, local produce, and home décor items - by the new year.
Growing up, Woody was an Appling County FFA member. He served as his chapter chaplain and showed hogs. He passed his love of showing hogs on to his kids. Both Tanner and Anna Kate showed hogs from the time they were in elementary school through high school.
Woody has been a long-time supporter of his local FFA and 4-H programs because of the positive influence the programs made on his and his children's lives through showing livestock.
"I believe in the mission of both organizations and know the future of agriculture depends on a commitment that starts at a young age," Woody said. "I've always had a passion for agriculture. I grew up raising my own cattle as a child. It's those life lessons my parents taught me when I was young that I try to implement every day."
In recent years, Woody Folsom Trailers has awarded the use of a livestock trailer to the eight grand champion winners of the Georgia National Fair livestock shows. He also buys livestock projects from local and area FFA members and 4-Hers at the end of their show seasons.
Because of his commitment to supporting ag youth programs, when the Georgia Foundation for Agriculture asked Woody to support its new Georgia Ag Experience mobile classroom, he agreed to donate a new Ford F-350 truck to haul the classroom trailer across the state.
"I strive to assist with keeping the ag traditions alive in and out of the fields. I'm proud to partner with the Georgia Foundation for Agriculture to make sure that we continue to teach the younger generations about agriculture," Woody said. "Donating a truck to help teach kids and adults about Georgia agriculture felt like something I needed to do."
Woody is a long-time Georgia Farm Bureau (GFB) member. His Ford dealership has participated in the Farm Bureau Ford rebate program since it began in 2011. In partnership with Ford Motor Company and GFB, Woody Folsom Ford has given Farm Bureau members rebates averaging more than $100,000 a year on qualifying Ford purchases.
"I'm proud of my family's auto dealerships and how we can serve our customers with their auto needs, but I'm even prouder to be a farmer," Woody said. "I can't wait to see the Georgia Ag Experience mobile classroom hit the road to start teaching Georgia students about our state's top economic sector."