GFB News Magazine
A View from the Field
---
Posted on September 5, 2022 8:00 PM
---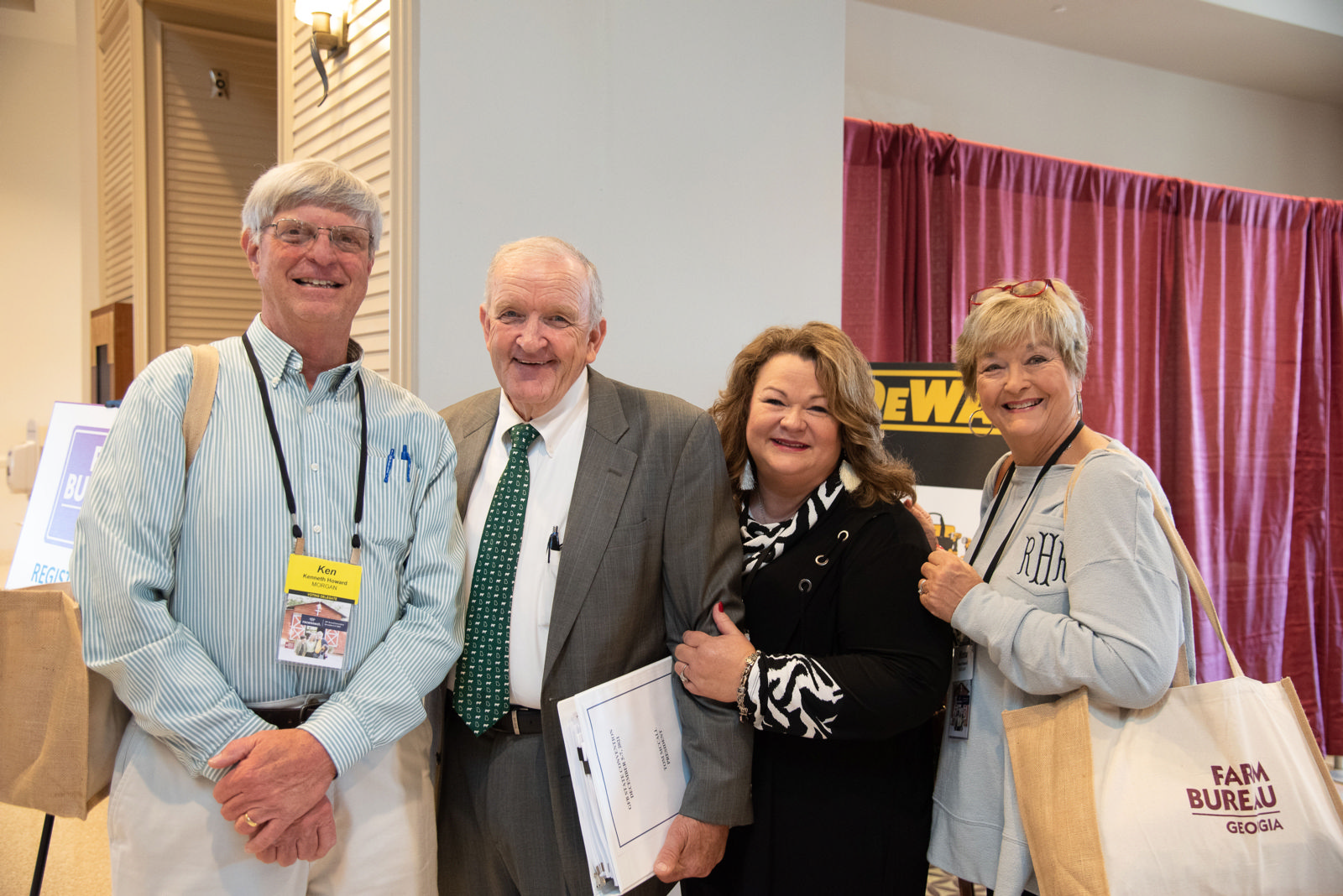 Tom & Jane McCall, center, visit with longtime friends Ken & Mona Howard at last year's GFB convention. Photo by Logan Thomas
By Tom McCall
As farmers, the work we do on our farms is never finished. The same is true with the work we do as an organization. Our goal is to foster prosperity for your farm and family.
Since most of our member meetings have returned to pre-pandemic schedules, it has been a very busy year inside and out of Georgia Farm Bureau.
As I write this column, the GFB staff is working on a number of upcoming events. Planning includes the 85th annual convention that will be held Sunday, Dec. 4 through Tuesday, Dec. 6 on Jekyll Island. If you haven't had a chance to attend your convention the last several years, I encourage you to come this year. This will be our 10th year holding our convention in the beautiful Jekyll Island Convention Center, which always makes for a great setting for the sessions and trade show that we have planned for you.
Preparation is also underway for next month's Sunbelt Expo in Moultrie. Your GFB team will be well represented Tuesday, Oct. 18 through Thursday, Oct. 20. We'll celebrate Scotty and Melanie Raines for being named Georgia's Sunbelt Expo Farmer of the Year. I always have fun at the Southeast's largest farm show. Getting to see you and your families is a special time for Jane and me as we catch up with so many new and longtime friends.
Also, we're excited about the start of the 33rd Annual Georgia National Fair, Oct. 6-16. It will be held, as it has been since Oct. 1990, at the Georgia National Fairgrounds in Perry. It is one of my favorite times of the year because this event puts emphasis on the young people across Georgia who have enthusiastically worked so hard to show their livestock.
Someone asked me recently why I love the fair so much. I told them, "It's all about the young people." I truly believe this, and hope you make a special effort to support these young folks at the livestock shows at Georgia's National Fair.
Jane and I look forward to seeing you at one or more of these important gatherings.
Georgia Farm Bureau's 85th year has been full of positive momentum, and I ask you to assist us in keeping the energy going. You are a very important part of helping your Georgia Farm Bureau continue to protect and enhance agriculture and our quality way of life. Thank you!