Agriculture + Lifestyle
Fresh Fixins
---
Posted on February 28, 2022 7:00 PM
---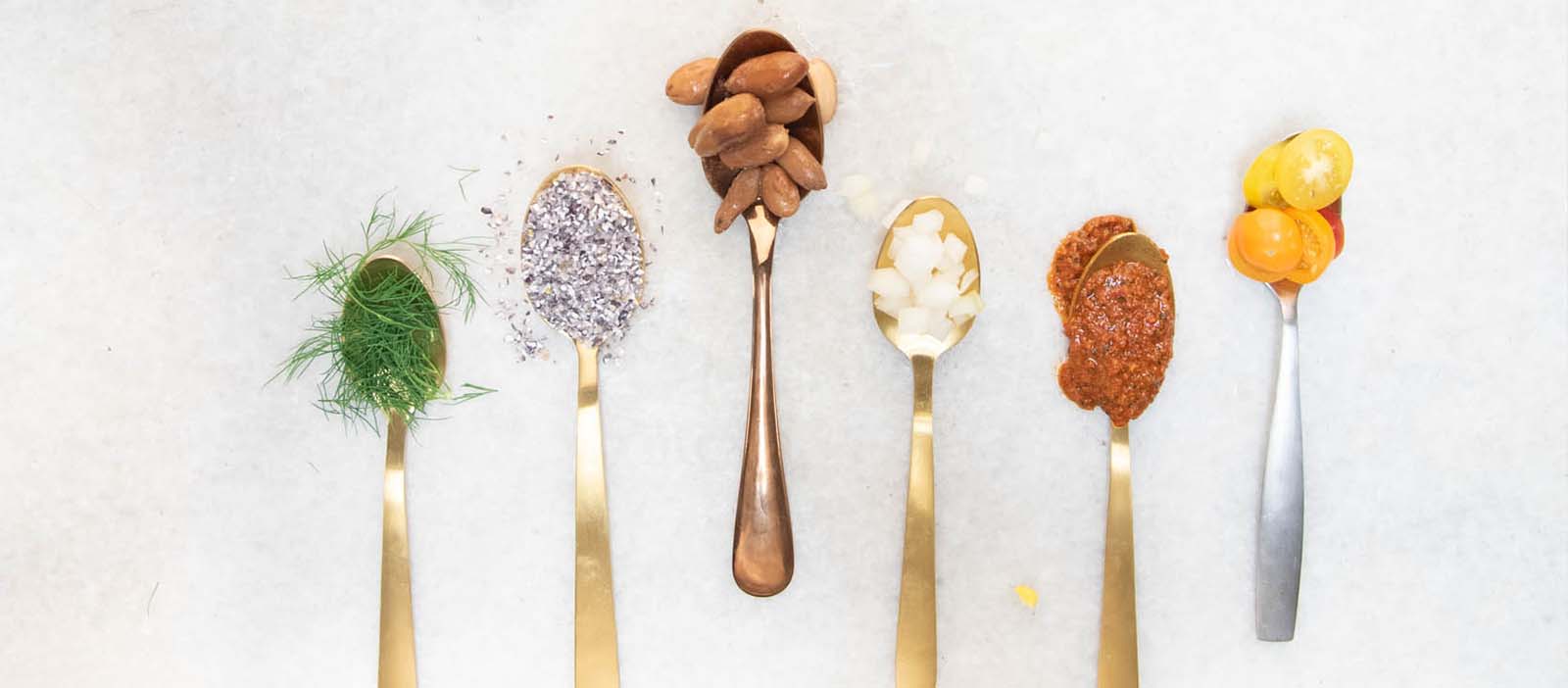 With help from our Certified Farm Markets, try this savory Southern-style seafood and vegetable dish created by Daniel Zeal, resort executive chef at Sea Island Company.
Georgia Black Bass with Boiled Peanut Succotash, Blue Corn Grits & Pickled Red Onion
Black Bass
Ingredients
6 6-ounce portions black bass, skin on
4 tablespoons olive oil
Sea salt
Fresh herbs, for garnish
Instructions
Separate the fish into two batches. Dry the skin side with a paper towel. In a hot, non-stick sauté pan over medium-high heat, heat the oil until it reaches smoking point. Then, season the fish fillet with salt and place it into the pan, skin side down.
Allow the fish fillet to cook for 4-5 minutes over medium heat, gently pressing down on the flesh side until the skin side is very crispy. Use the 70-30 method, which means cook the fish 70 percent of the time on the skin side to ensure it is crispy, then turn it over gently and finish the other 30 percent.
You can also finish the fish skin-side down in a 425-degree oven, then remove and serve immediately. This will allow for some plating time while the fish finishes in the oven for 3-5 minutes.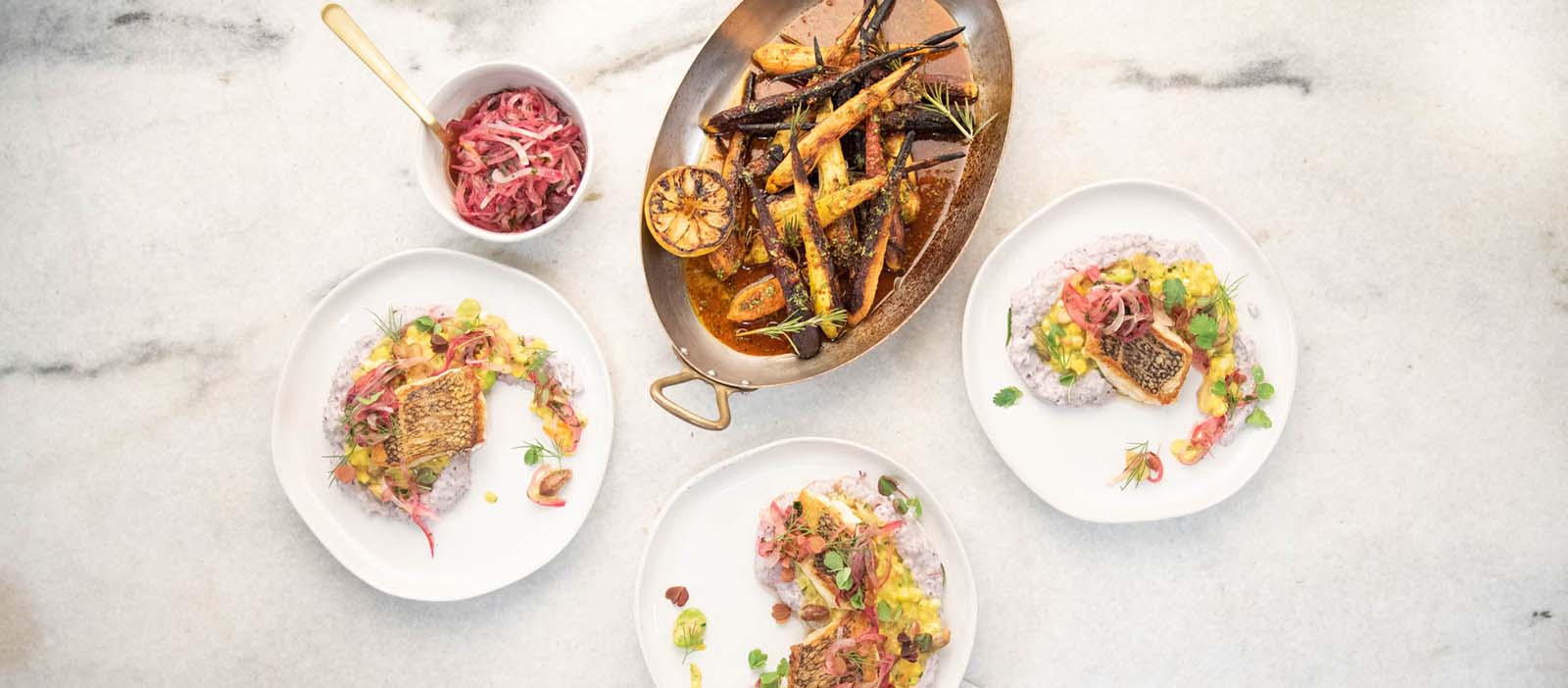 Boiled Peanut Succotash
Ingredients
bacon
½ cup sweet onion, chopped
3 cups fresh corn kernels, separated into 2 cups juiced and 1 cup steamed
¼ cup fava beans, shelled
½ cup boiled peanuts, shelled
½ cup vegetable or chicken stock
½ cup heirloom cherry tomatoes, sliced
4 tablespoons butter
1 teaspoon fresh dill, chopped
Salt and pepper, to taste
Instructions
In a sauce pot over medium heat, gently sweat the bacon until it has rendered the fat. Do not brown the bacon. Add the onion and a pinch of salt and pepper into the pot and sweat the onion until tender.
Add 1 cup steamed corn kernels, fava beans, boiled peanuts and stock. Cook for 3-5 minutes. Add corn juice and increase heat to bring to a boil. This will activate the natural corn starch and will begin to thicken the succotash. You may need to add a touch more stock, as needed. (Each corn cobb will have a different level of starch naturally.)
Remove the pot from the heat. Add tomatoes, butter and dill, and adjust seasoning with salt and pepper. Stir until the butter has melted completely and the texture is creamy. Reserve warm for plating.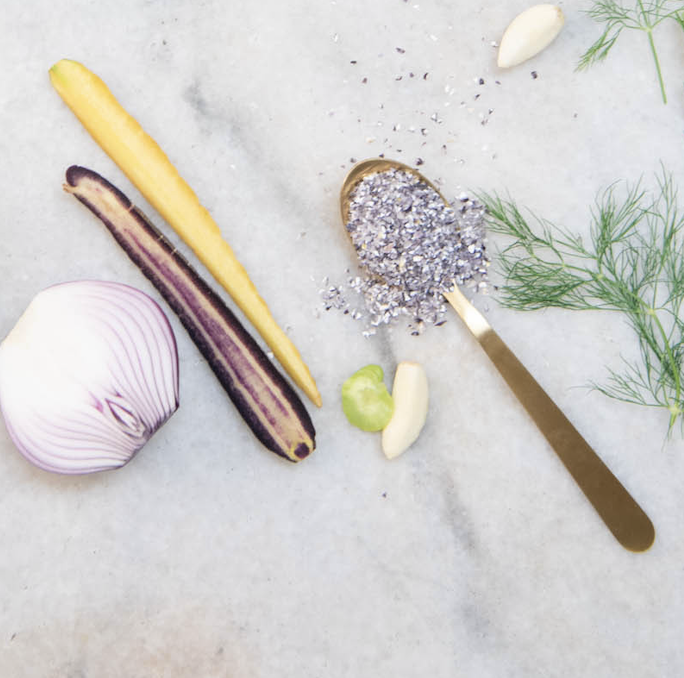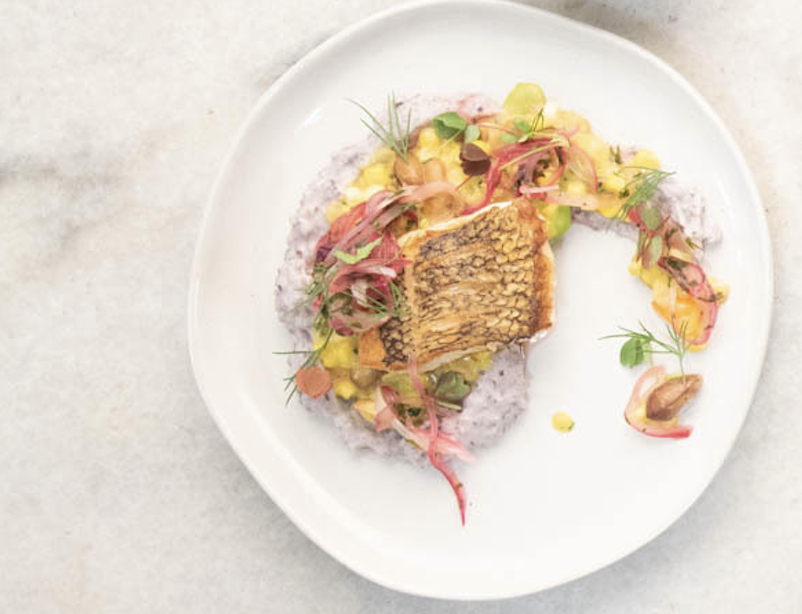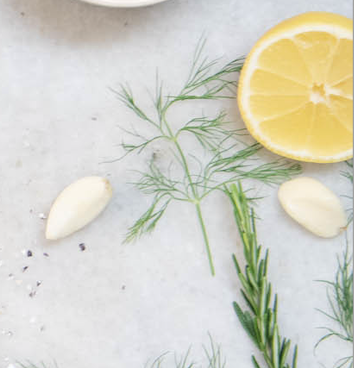 Blue Corn Grits
Ingredients
2 cups whole milk
2 ½ cups water
1 teaspoon kosher salt
1 cup stone-ground, blue corn grits
6 tablespoons butter, diced
Black pepper, to taste
Instructions
Add milk, water and kosher salt into a 1-gallon, heavy-bottomed sauce pot. Bring to a simmer over high heat.
Stir in the grits and reduce heat to low, stirring often for 40-50 minutes until tender. If the grits start to get dry, adjust with hot water as needed. (This will depend on starch content, as not all grits are created equal.)
When cooked and no longer al dente, stir in butter and adjust the seasoning.
Pickled Red Onion
Ingredients
2 cups red onion, julienned
1 habanero pepper, seeded and fine julienned
½ cup red wine vinegar
¼ cup fresh-squeezed lime juice
¼ cup fresh cilantro, chopped
½ teaspoon kosher salt
2 tablespoons granulated sugar
Instructions
Toss all of the ingredients together in a stainless-steel bowl. (I use disposable nitrile gloves so that the capsaicin in the chilis does not burn my hands.)
Pack the ingredients into a 1-pint mason jar. Pour the juice over the top, seal and refrigerate overnight. The pickled onions will last weeks and can be used in many other applications.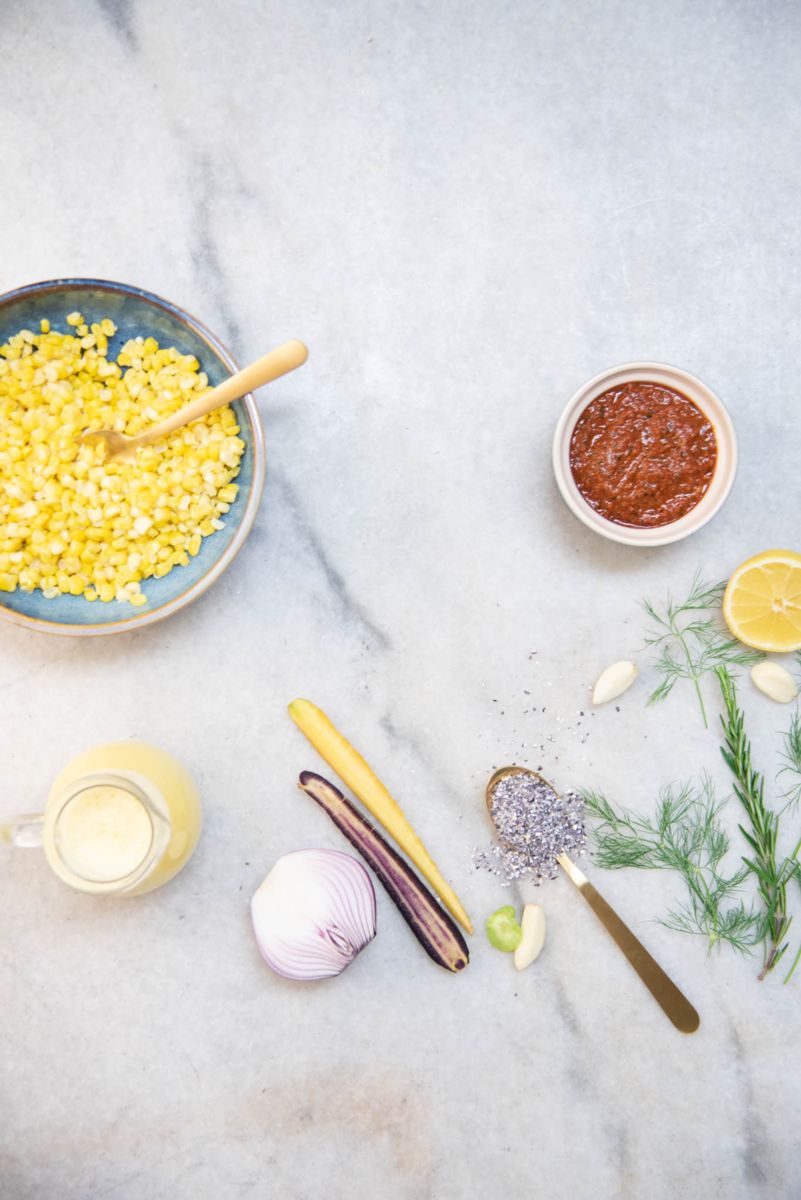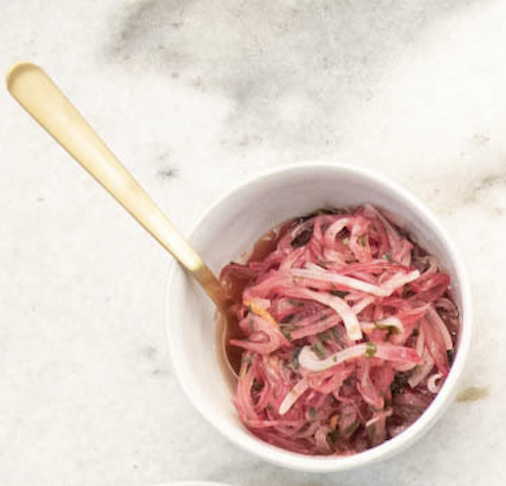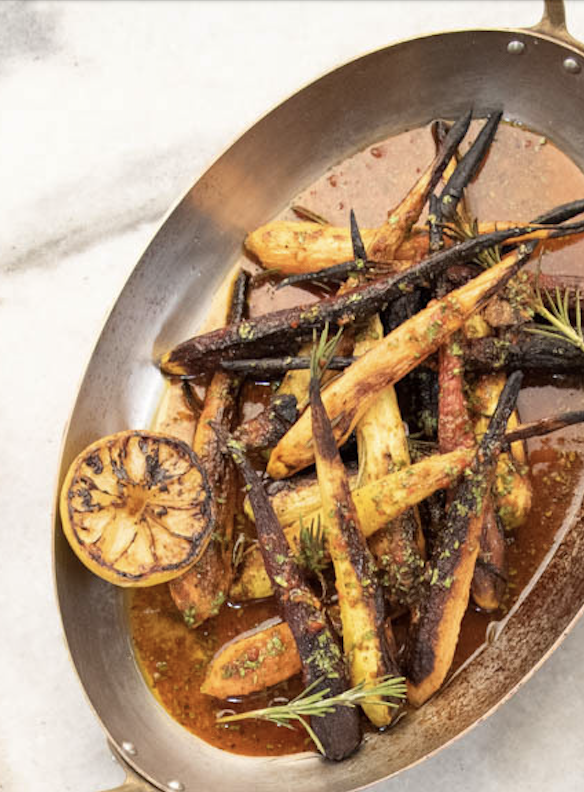 Wood-Oven Roasted Carrots with Harissa-Hot Honey Dressing
Carrots
24 baby carrots, peeled and tops trimmed
2 tablespoons olive oil
6 garlic cloves, smashed with the back of a knife
6 sprigs fresh rosemary
½ teaspoon kosher salt
Harissa-Hot Honey Dressing
2 tablespoons fresh harissa paste
4 tablespoons local honey
2 tablespoons lemon-infused olive oil
1 tablespoon minced shallot
¼ cup Meyer lemon juice
¼ cup fresh cilantro, chopped
½ teaspoon kosher salt
Instructions
Toss all ingredients for the carrots in a stainless-steel baking sheet and place in a 700-degree, wood-burning oven for 8-10 minutes. (You can use a broiler or grill if you do not have access to a wood-burning oven.) Remove the garlic and rosemary and reserve the carrots warm.
Combine all the ingredients for the dressing.
Place carrots in a family-style casserole dish and dress with the Harissa-Hot Honey Dressing. Garnish with fresh herbs and sliced radish.