Agriculture + Lifestyle
At Home with the McCalls
---
Posted on March 2, 2021 7:00 PM
---
Jennifer Parson, Georgia Farm Bureau Marketing Specialist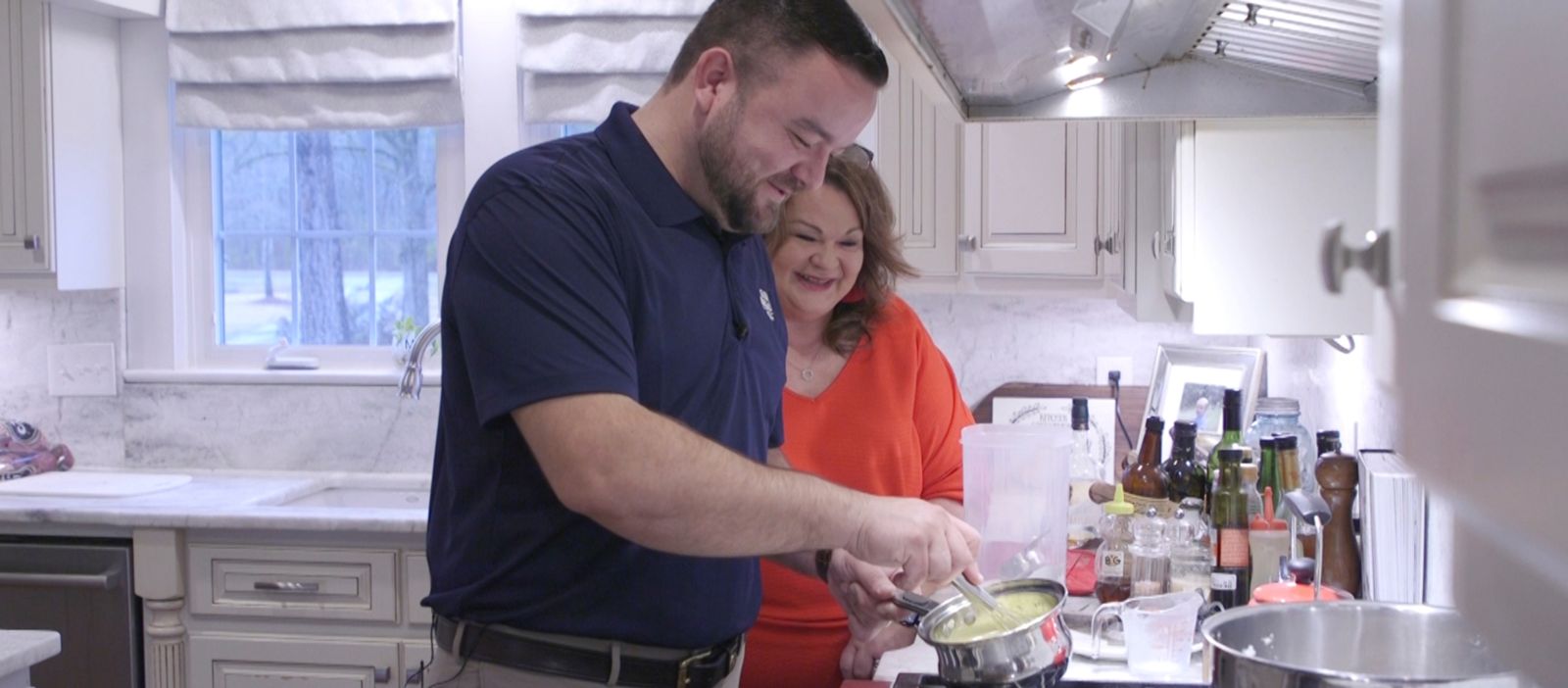 Our world is constantly changing, and this past year we've all been hit with challenges that can sometimes divide us. But there is one thing that brings us together, food. We all need food to survive, and most of us eat three meals a day. "As bad as this pandemic has been, I think it's shown people where their food comes from." Said Jane McCall. Food is something we all have in common, and we have farmers to thank for it. "The farmer gives you your clothes, your food and shelter and the good Lord gives you air and water. So, if you didn't have a farm, you couldn't survive." Explained Jane
Some use family recipes as a link between generation to generation. Passing down the ingredients along with memories that go into creating a wonderful meal shared with family. We gathered in the McCall's kitchen to share in their family memories while they prepared a meal together.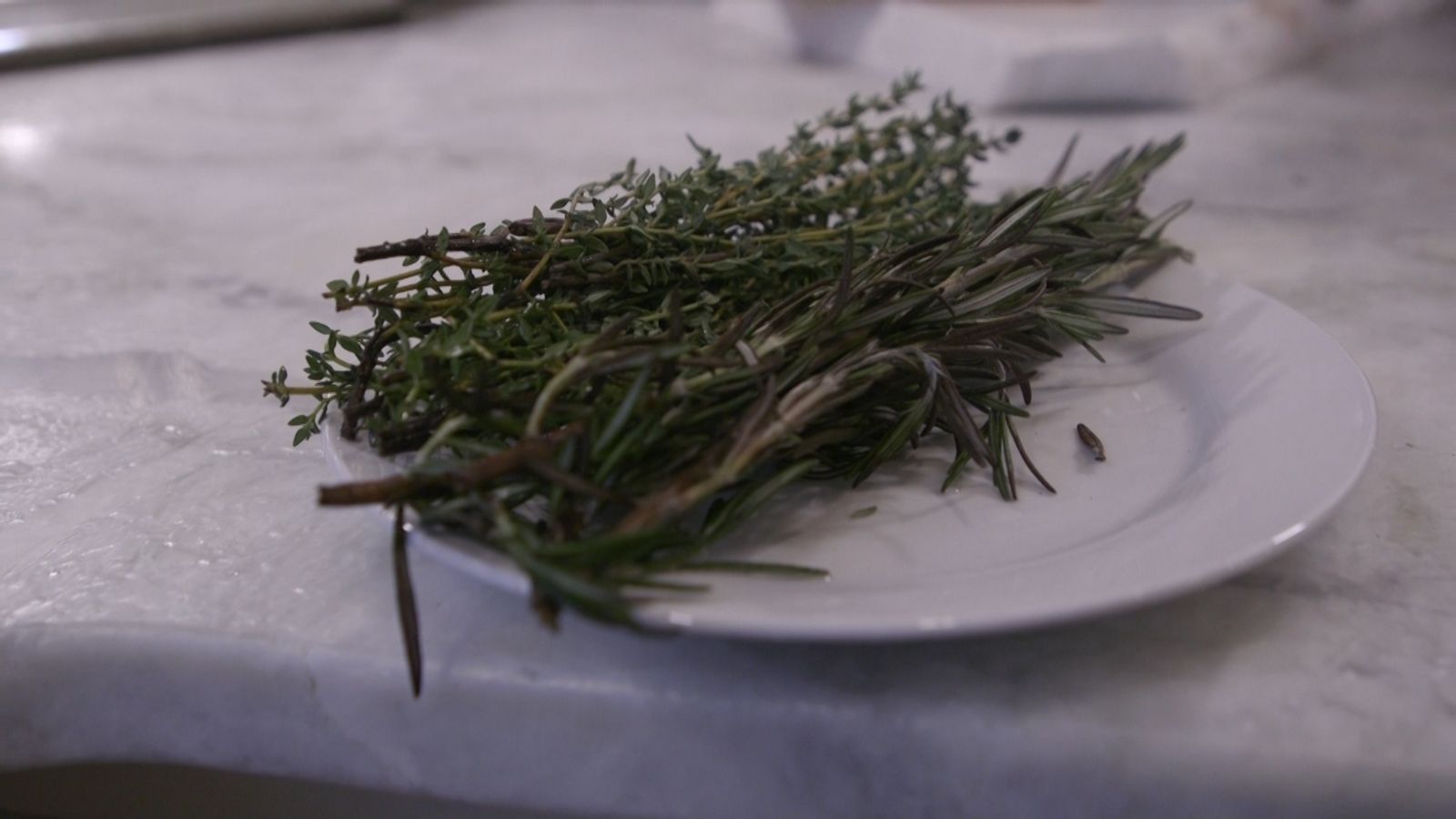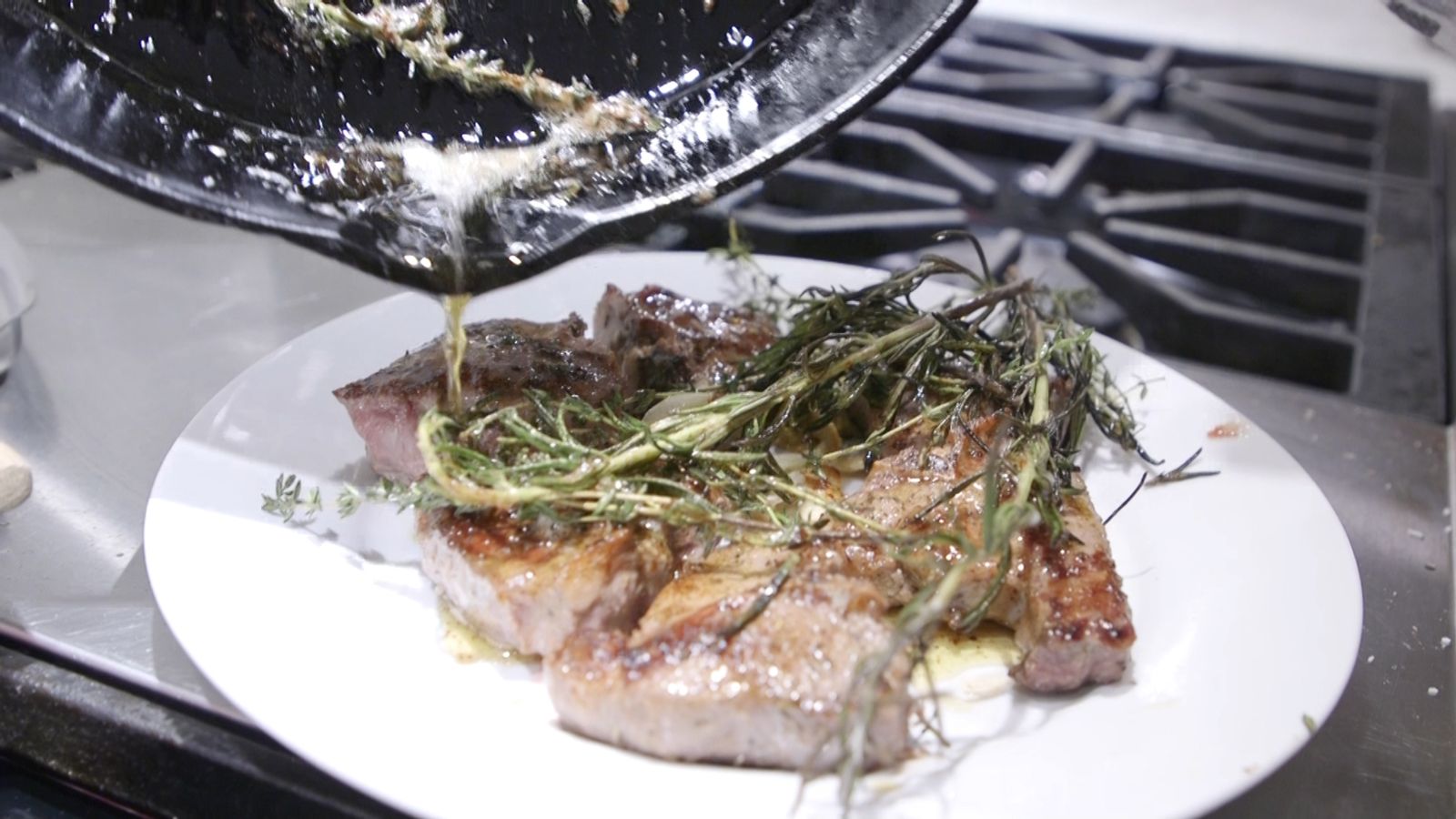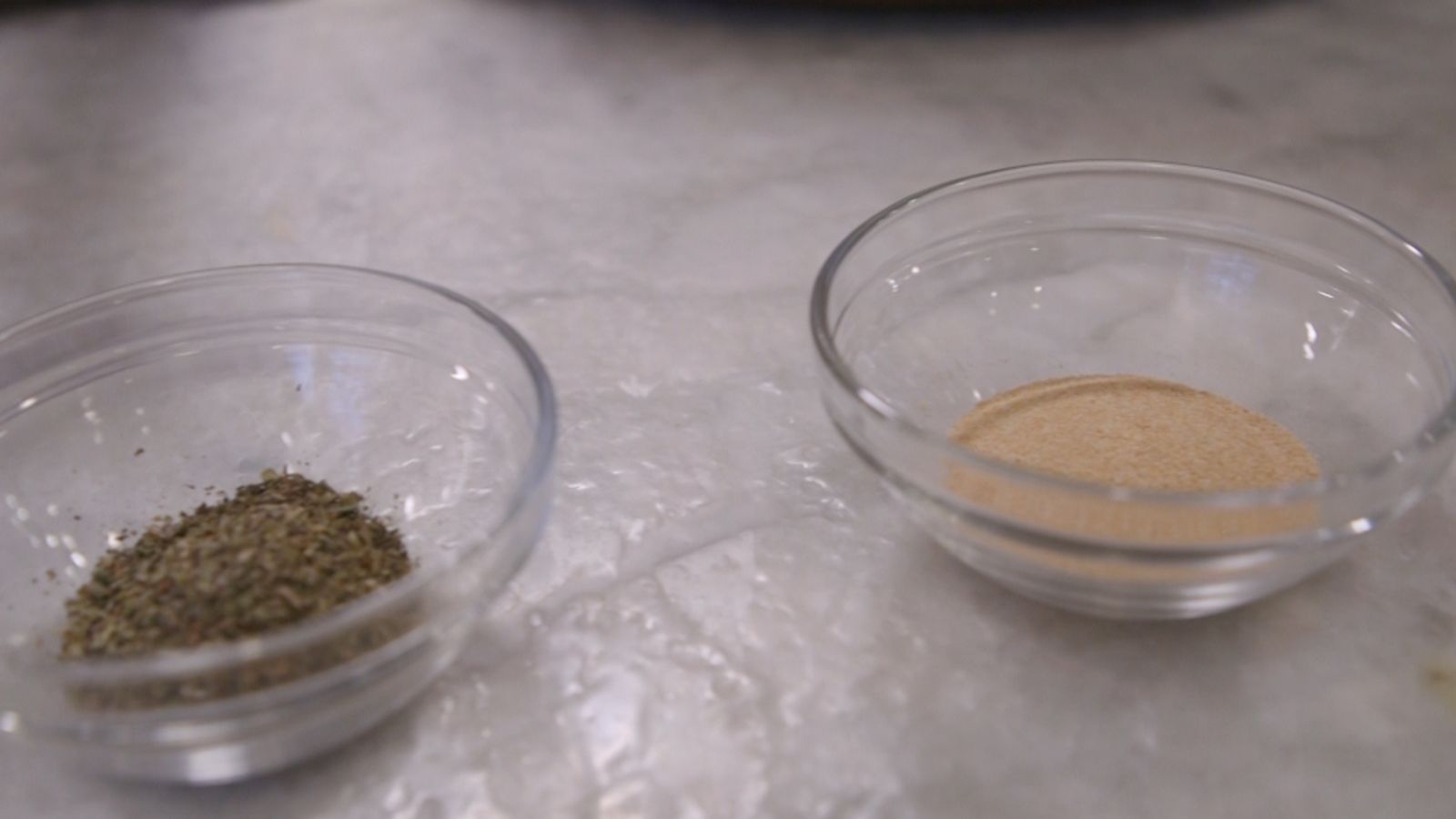 Jane McCall, wife to Georgia Farm Bureau President Tom McCall, and their son Al whipped up some lamb chops raised right there on their family farm. "It's food to table at its best." Explained Al. He says he enjoys cooking, especially living in a rural area sometimes it's the only way to have a good meal. "Food is what brings all of our buddies, friends, and family together."
Al seasoned the chops and browned them on top of the stove in his grandmother's cast iron skillet. He said it's a valued tool in his kitchen, because they just don't make them that good anymore. After adding a generous amount of butter, garlic, fresh thyme and rosemary from their garden it's time to pop the lamb chops in the oven to finish cooking.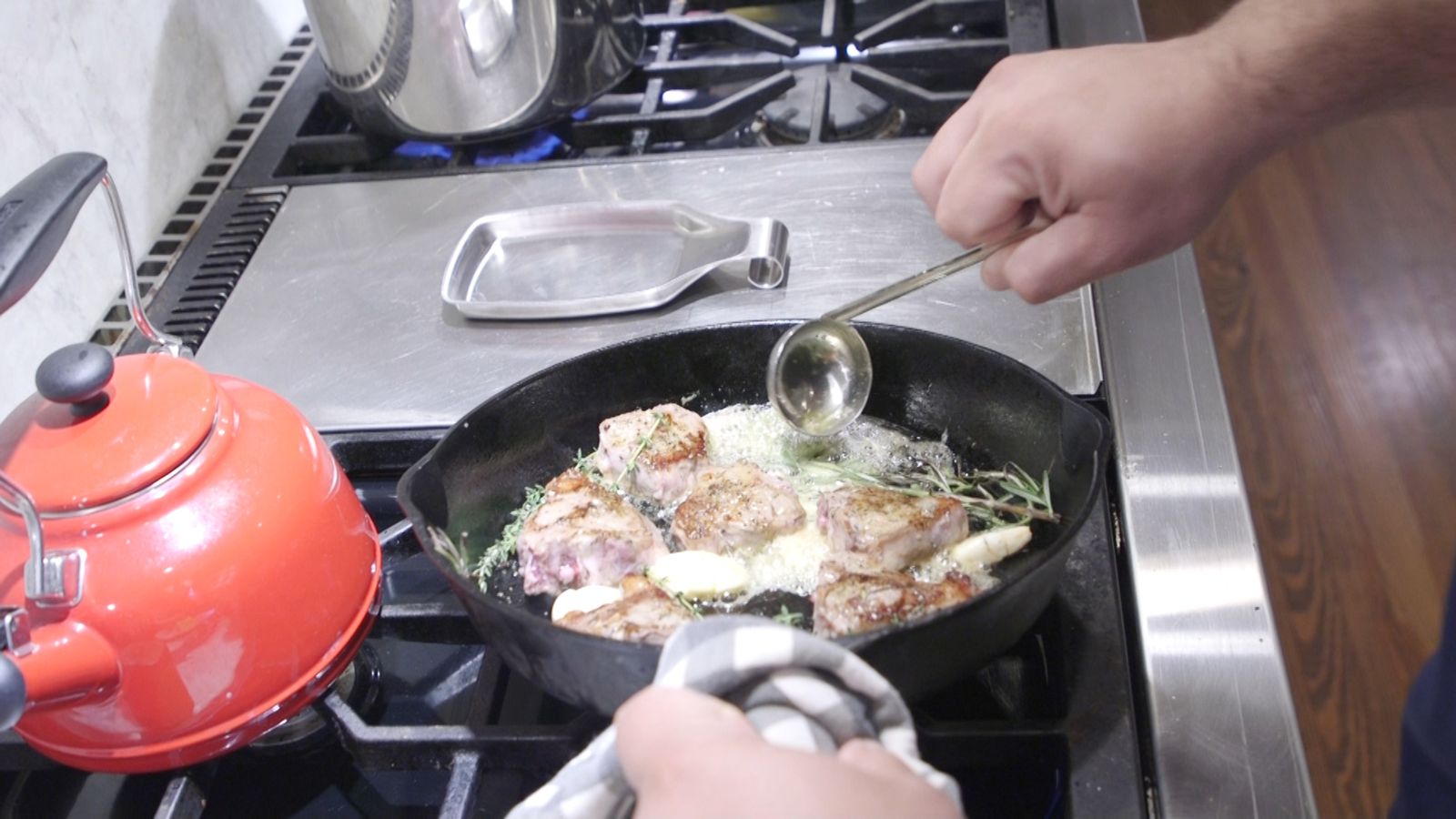 Next up on the menu was Bread Pudding. It's a dessert that Jane says is her husband's favorite and they enjoy making it for special occasions. She made the bread homemade and began to chop it up in preparation for the pudding. "Bread pudding comes from humble roots, because everyone had bread and you can even use biscuits or whatever you've got leftover." Said Al.
"My grandmother and my mother used to make flat biscuits and they had a recipe that we would have on Sundays." Said Jane. She explained that both her mother and grandmother used the same bowl for their family recipe, which included a layer of biscuits, a layer of stewed apples, followed by another layer of biscuits. "I always thought it was neat that they used the same bowl and I still have that bowl."
After the bread was chopped, they began to make the pudding part of the dessert. Mixing in sugar, cream and milk followed by eggs fetched by Wynn, Al's son that morning. "There's a rooster that likes to chase him, so we have to watch out for that rooster." Explained Jane. Al added a pinch of salt to cut down on the sweetness and a cap full of vanilla. After a good stir, the mixture is poured over the cubes of bread. "You can mix it up by adding in blueberries or raspberries from your favorite Certified Farm Market." Said Al.
Next up is the pecan crumble, which will top the bread pudding. The crumble includes brown sugar, softened butter, and a cup of Georgia grown pecans. "You want to get in incorporated enough so it looks kind of like gravel." said Al. After you pour it right on top of the bread mixture. Then you pop it in the oven at 350 degrees for about 45 minutes. Jane joked that her son is the real cook in the family. "I wash the dishes and he cooks, and that's a hard job because he messes up lots of dishes." Laughed Jane.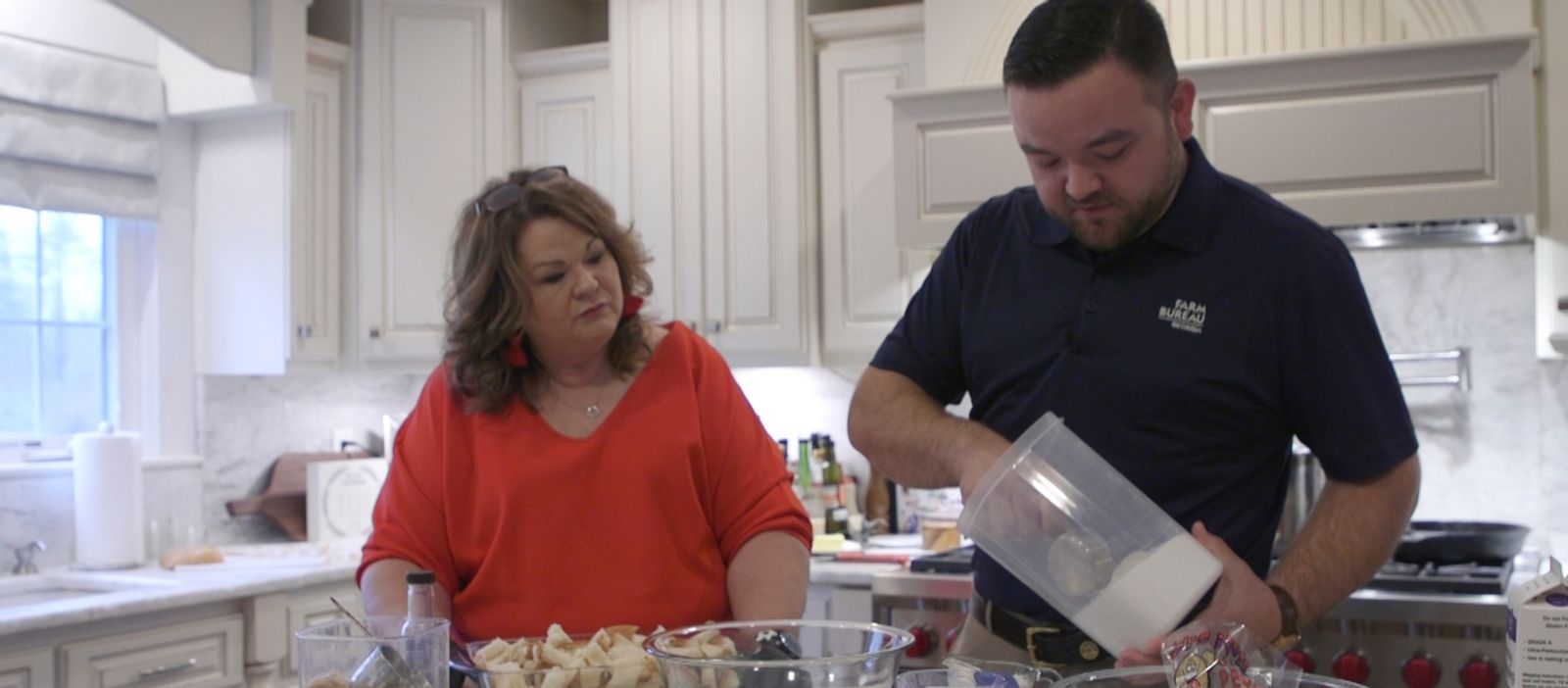 Once it's done baking you can make a sauce to go on top of it. The sauce includes butter, sugar, and cream. You slowly melt the sugar into the butter and cream over low heat until the mixture gets the consistency of pudding. Then you add one beaten egg. This part is a bit tricky, because if you add the egg directly into the pudding mixture over the stove it will scramble. The best thing to do to prevent this from happening is to take a little bit of the pudding mixture and mix it into the bowl with the egg. This allows the egg to get closer to the temperature of the pudding mixture before adding it to the pot on the stove. "You can put a little bit of bourbon in it or any kind of rum or whisky the stove will cook the alcohol out of it, and it give the sauce a little bit more flavor." Said Al. If you plan to serve the Bread Pudding immediately you can go ahead and pour the warm sauce on top. You can also save the sauce and ladle it over each individual serving.
At the end of the meal preparation, GFB President Tom McCall stepped in to have a taste test. The whole family gathered around to see if the meal tasted as good as the kitchen smelled. "it's worth eating I know that." Exclaimed Mr. McCall.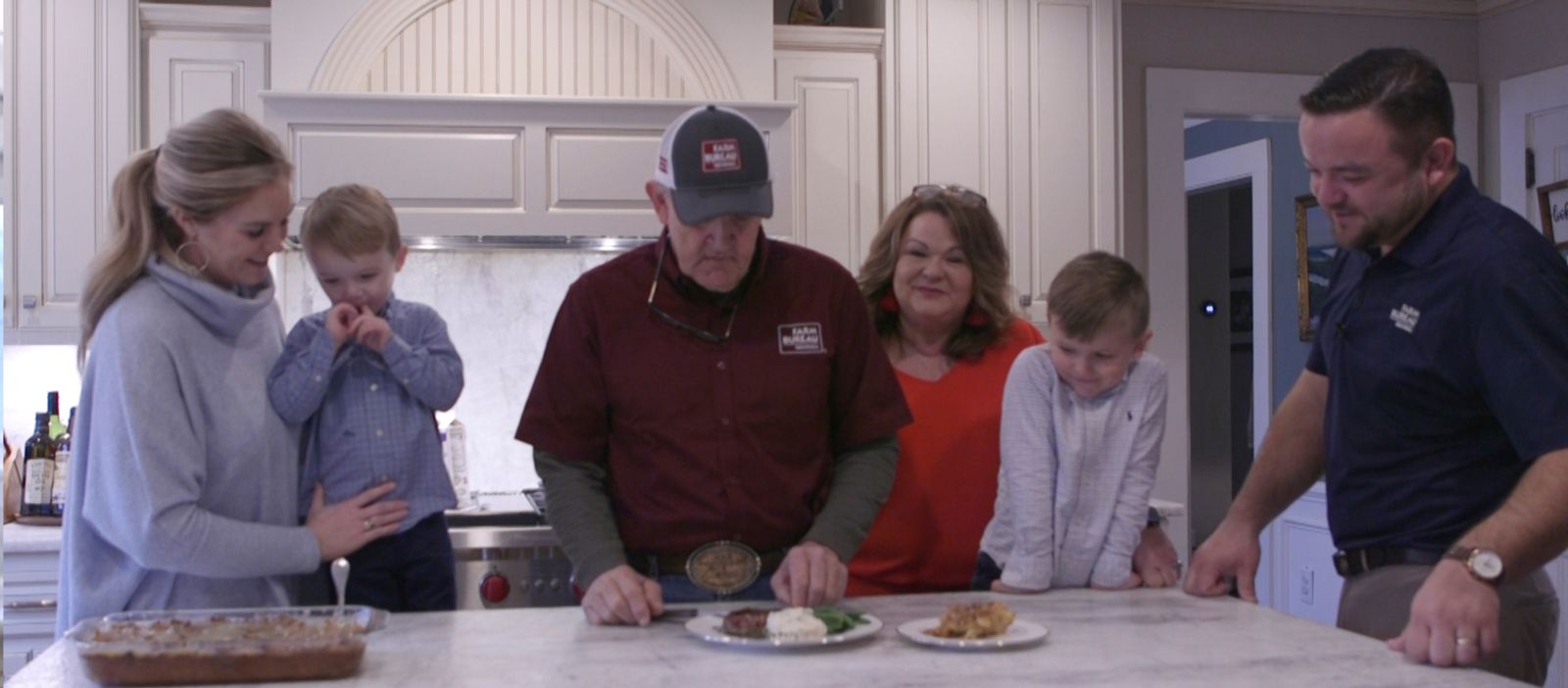 It was truly a joy to step into the McCall kitchen and see first-hand how strong their bond is. Mother and son cooking a meal together while sharing family memories and good food. After all, food is what brings us all together.
Watch the McCalls Cooking at Home
Cooking at Home with the McCalls from Georgia Farm Bureau on Vimeo.