Agriculture + Lifestyle
A spring guide to discovering Georgia Agriculture
---
Posted on April 14, 2020 8:00 PM
---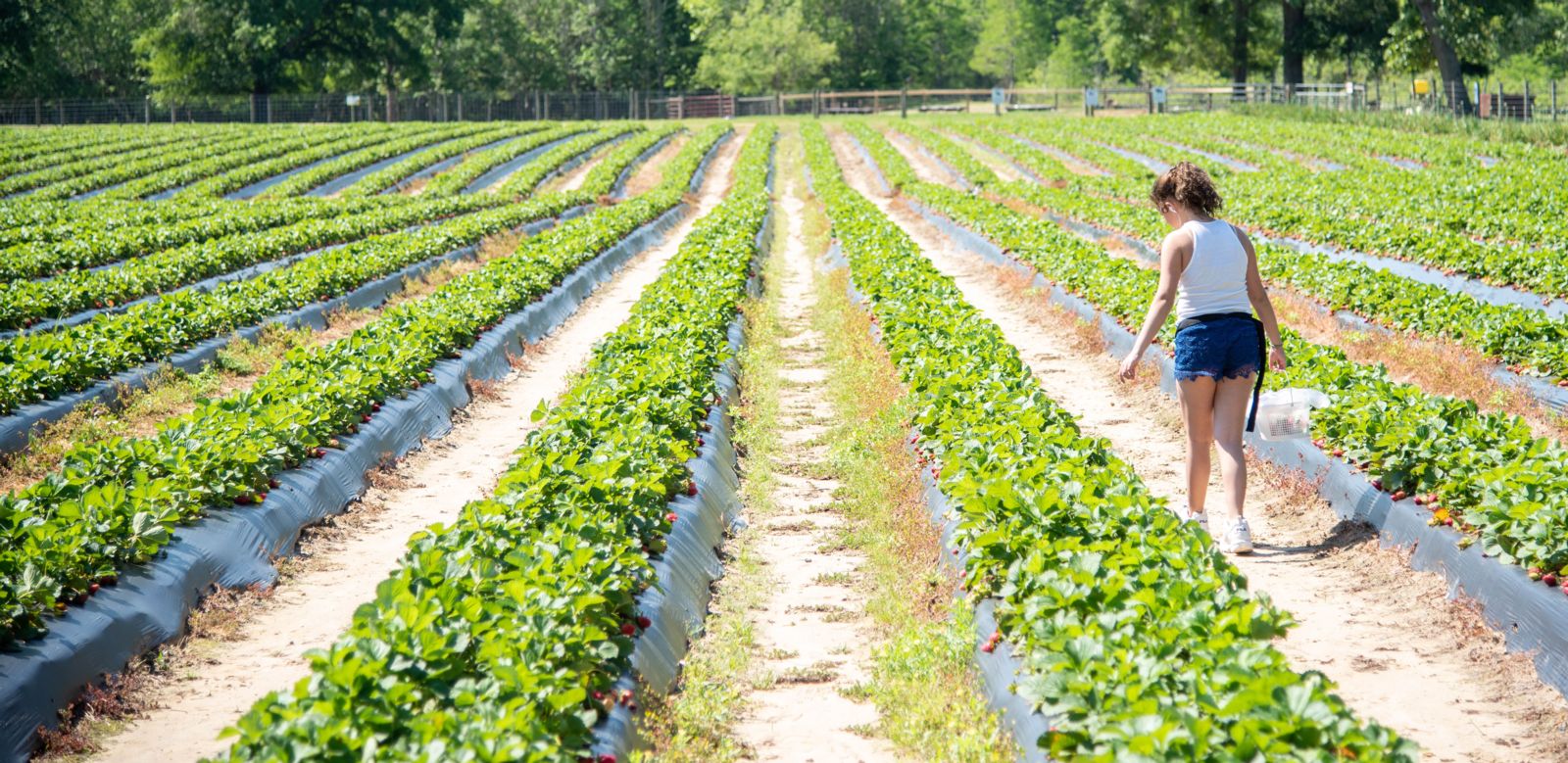 Looking for a place to buy your essentials with low crowds, high safety measures, and beautiful scenery?
Your local farm has you covered.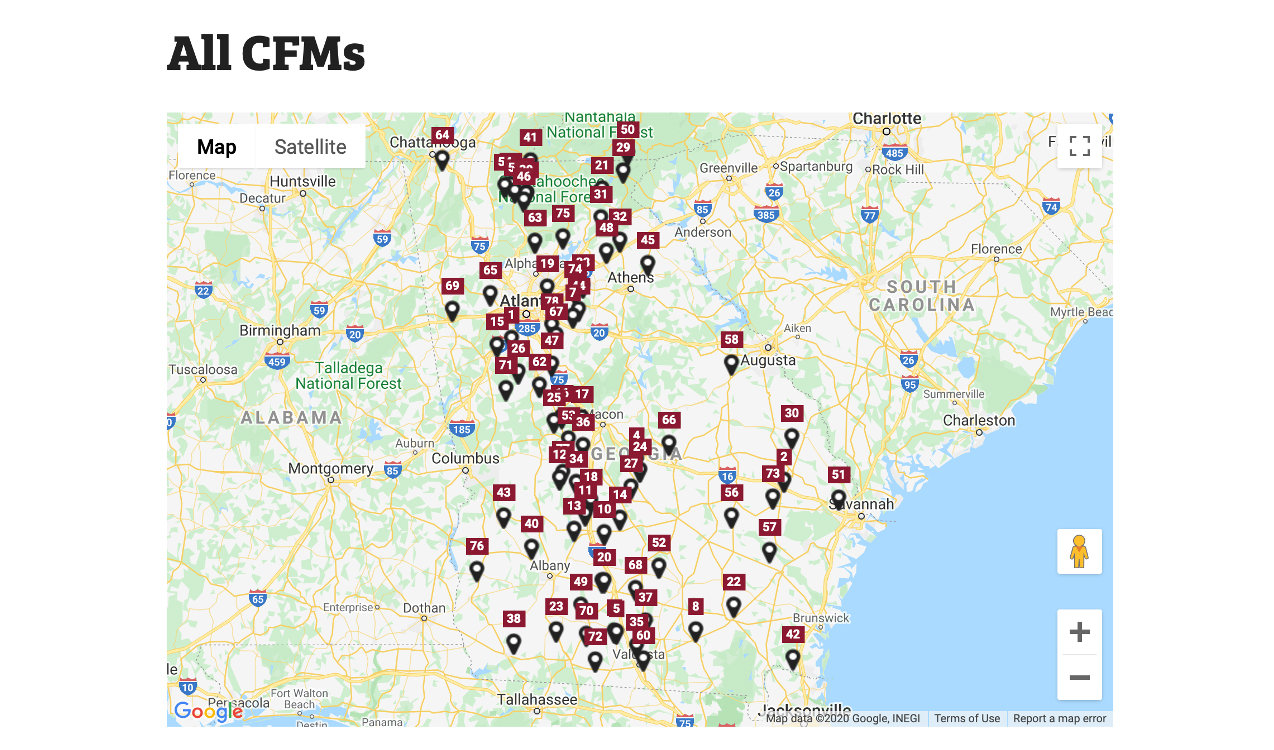 Your farm trip will be full of colorful spring blooms, views of animals grazing, and of course the opportunity to treat yourself to an ice cream or specialty cake. Enjoy your freshly picked strawberries, blueberries and local veggies just as they are, or find some recipes here!
Whether you desire to order your food completely online, be able to place an order and pick up with curbside delivery, or want to pick your own food straight from the field, Certified Farm Markets have stepped up their level of service to meet your needs and to preserve your health and that of the community. Our Certified Farm Market Coordinator has compiled a list of farms currently open to make it easy for you to find a farm near you. You can also visit this interactive farm market map to search by location.
April

May

June

Fritchey's Farm Fresh Market

Open

Open

Open

Hillside Orchard Farms

Open

Open

Open

Jaemor Farms

Open

Open

Open

Jaemor Farms at Banks Crossing

Open

Open

Open

Jensen Reserve

Open

Open

Open

Mack Aaron's Apple House

Open

Open

Open

Mercier Orchards

Open

Open

Open

Moon Farms Country Market

Open

Open

Open

Mountain Valley Farm Store

Open

Open

Open

O5 Farms

Open

Osage Farm Market

Open

Open

Penland's Apple House- HWY 282 Location

Open

Penland's Apple House- HWY 55 Location

Open

R & A Orchards

Open

Open

Open

Rockin' S Farms

Open

Open

Open

Sims Family Farm

Open

Open

Open

Tuckaway Blueberry Farm

Open

Warbington Farms

Open

Open

Open
April

May

June

Adams Farm

Open

Open

Open

B & G Honey Farm

Open

Open

Open

Back to the Basics Open0Open

Open

Open

Open

Chase Farm Market

Open

Country Gardens Farm

Open

Open

Open

Dickey Farms

Open

Open

Open

Elliott Farms

Open

Open

Ellis Bros. Pecans

Open

Open

Open

EM Farms LLC

Open

Open

Greene Acres Farm

Open

Open

Open

Greenway Farms Market

Open

Open

Open

Gregg Farms

Open

Jacobs Produce

Open

Open

Open

Jibb's Vineyards

Open

Open

Open

Lane Southern Orchards

Open

Open

Open

Merritt Pecan Co. & General Store

Open

Open

Open

Mitcham Farm

Open

Open

Open

Nu Sunrise Farms

Open

Open

Open

Pearson Farm

Open

Open

Prescott's Strawberries

Open

Open

Open

Red-Tip Farms

Open

Open

Sonrise Farms

Open

Southern Belle Farm LLC

Open

Open

Open

The Shed at Fitzgerald Fruit Farms

Open

Open

Open

William L. Brown Farm Market

Open
April

May

June

Bar C Cattle & Produce Co.

Open

Open

Open

Berry Good Farms

Open

Open

Open

Bruce's Nut-N-Honey Farm

Open

Open

Open

Burton Brooks Orchards

Open

Open

Calhoun Produce, Inc.

Open

Open

Open

Calhoun Produce, Inc.- Cordele State Farmers Market

Open

Copeland Strawberry Farms- Rochelle Location

Open

Open

Copeland Strawberry Farms- Warwick Location

Open

Open

Excelsior Farms & Fresh Market

Open

Open

Ganas Pecan Co.

Open

Open

Open

Georgia Grown Citrus

Open

Open

Kim's Kitchen

Open

Open

Open

Long Farms

Open

Open

Mark's Melon Patch

Open

Open

Open

Merck Farms LLC

Open

Open

Open

Ochlockonee Ridge Farms LLC.

Open

Open

Open

Ottawa Farms

Open

Open

Open

Paulk Vineyards

Open

Open

Open

Pittman's Country Market

Open

Open

Open

Poppell Farms

Open

Raisin Cane

Open

Open

Open

Southern Grace Farms

Open

Open

Open

Thompson Farms: All Natural Pork

Open

Open

Open

Thompson Produce

Open

Open

Open

White Oak Pastures

Open

Open

Open

View Map