GFB News Magazine
GFB Women's Leadership Committee expands focus to advocacy
---
Posted on February 17, 2022 7:00 PM
---
By Breanna Berry
The Georgia Farm Bureau Women's Leadership Committee (WLC) is excited about the future of its programs as it works to strengthen WLC members' leadership and advocacy skills. Ag literacy has historically been a cornerstone of this committee. While the committee will continue to promote ag literacy, it is expanding its horizons to include legislative advocacy activities.
"Each year, the Women's Leadership Committee educates and advocates for agriculture across our state. We are currently in a unique position where we have the opportunity to further support the overall mission of our organization through different avenues," said GFB WLC Chair Melissa Mathis. "I am excited about the new opportunities our committee will offer to develop leaders across Georgia as we promote Farm Bureau policy, membership and ag education. This is the time to show we are all Farm Bureau."
At the 2021 GFB convention, the WLC kicked off its news series of events "Ladies & Legislators," designed to make female Farm Bureau members' more comfortable in contacting elected officials. At its booth in the exhibit hall, the WLC encouraged GFB members to write their elected officials. WLC members helped members look up their legislators and write a post card to send on behalf of GFB.
In February, the WLC partnered with the YF&R Committee to host the Legislative Drive-In to help prepare WLC and YF&R participants to engage with state legislators during GFB Day at the Capitol.
GFB WLC Committee members also participated in the 2022 AFBF Convention by serving as Georgia delegates and volunteering with a community food service project with the AFBF WLC.
In coming months, GFB WLC members will participate in the AFBF D.C. Fly-In, attend the National Ag in the Classroom Conference, and host district events for ladies across Georgia.
Georgia Farm Bureau WLC Coordinator Breanna Berry may be reached at bcberry@gfb.org or 478-474-0679, ext. 5232. Contact your county Farm Bureau if you'd like to volunteer with your local Women's Leadership Committee.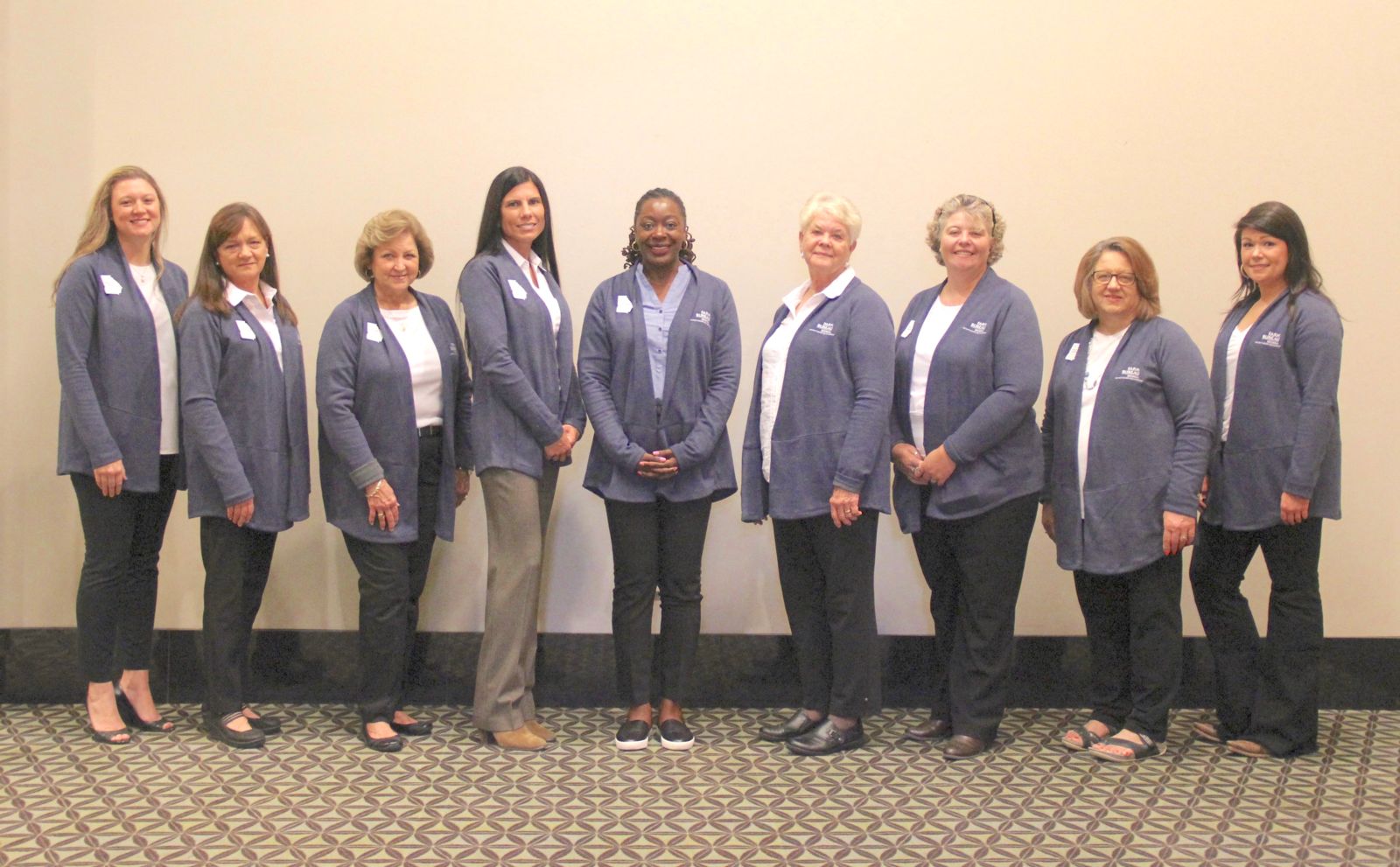 Meet the 2022 GFB Women's Leadership Committee pictured from left: GFB 5th Dist. Chair & GFB Committee Chair Melissa Mathis, Monroe Co.; GFB 6th Dist. Chair & Committee Vice Chair Kathy Sanders, Laurens Co.; GFB 1st Dist. Chair Andrea Sims, Catoosa Co.; GFB 2nd Dist. Chair Stephanie Branch, Rabun Co.; GFB 3rd Dist. Chair Chy Kellogg, Cobb Co.; GFB 4th Dist. Chair Patsy Spear, McDuffie Co.; GFB 7th Dist. Chair Melanie Hendrix, Evans Co.; GFB 8th Dist. Chair Vickie Brown, Turner Co.; & GFB 10th Dist. Chair Mary Elizabeth Branch, Bacon Co. Not pictured is GFB 9th Dist. Chair Kelli Long, Decatur Co.
Photo by Jennifer Whittaker