GFB News Magazine
This peach didn't fall far from the tree
---
Posted on August 19, 2019 8:00 PM
---
Article and photos by Jay Stone
Robert Dickey III was six or seven years old when he went to work in the family's peach packing shed.
"Of course, somebody was with me. I think I was putting labels on the baskets or something like that or working in the attic where they were putting the baskets down the chute," said Dickey, the 2019 Sunbelt Expo Georgia Farmer of the Year.
While he's lived farming all his life, he said it wasn't a foregone conclusion that growing and selling peaches would be his ultimate career choice. His father, Robert Dickey Jr., encouraged him to get a business degree, so Dickey went to the University of Georgia and earned a degree in finance. While in Athens, Dickey was in the Air Force ROTC and had other career options.
"I had an uncle in the banking business," Dickey said. "So, I wasn't sure farming was going to be what I wanted to do. I'd seen all the good side of it, but you have a lot of challenges, as well. You take the good with the bad. I love it. It's something different every day."
Article continues below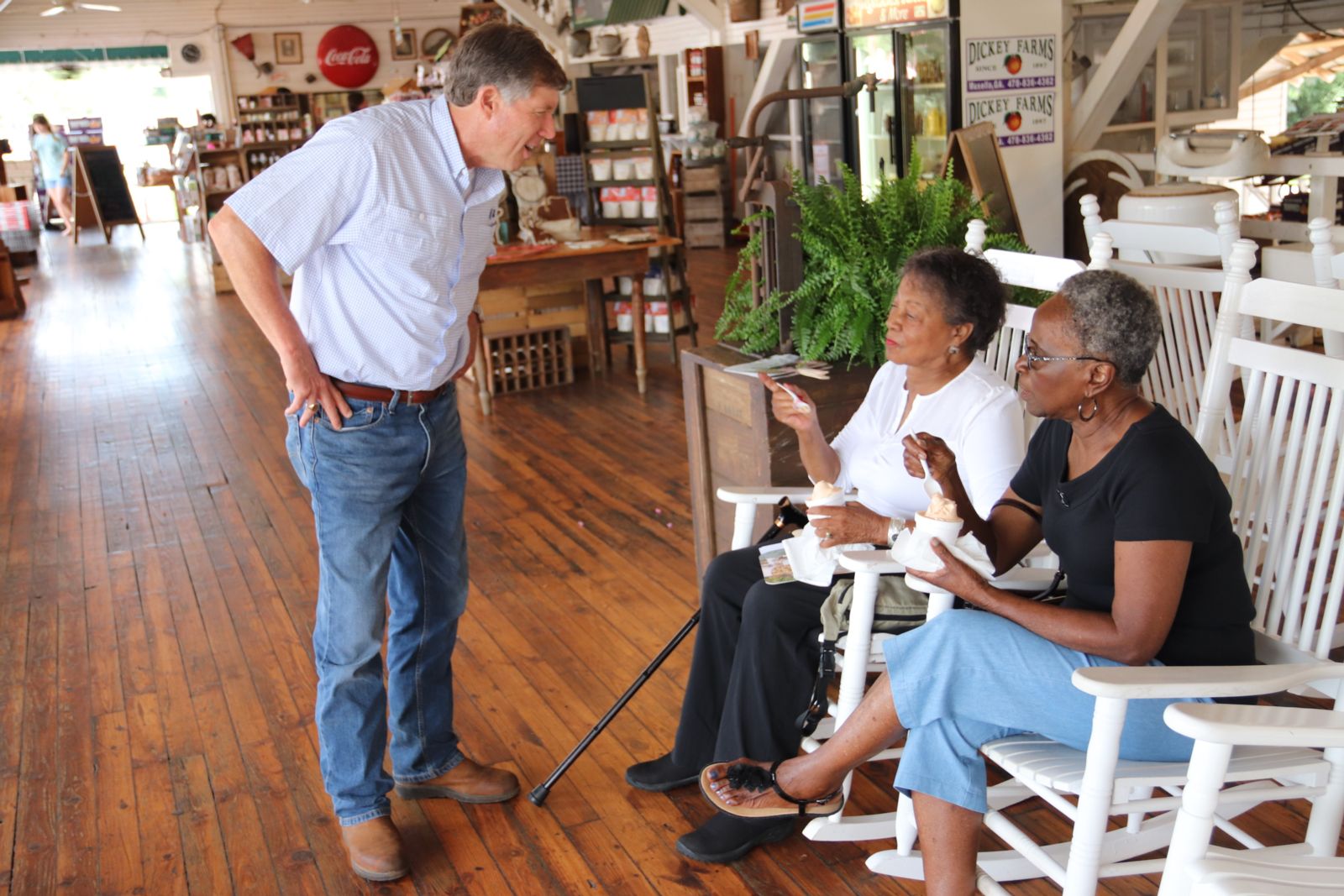 Robert Dickey III chats up customers at the Dickey Farms market as they savor the market's signature peach ice cream.
After graduating from UGA in 1976, Dickey returned to the family's Crawford County farm and hasn't looked back.
"I didn't want to do anything else," he said. "My wife [Cynde] loved it as much or more than I did. She's a very integral part of the farm, doing all the detail work in the office."
Dickey Farms has approximately 1,000 acres in peaches and another 3,000 in pine timber. The farm is adding pecan trees.
The Dickeys have been growing peaches since the 1890s. The farm's historic packing house in Musella includes a market offering a variety of peach and Georgia-grown products. The market was added to capitalize on customers already coming to the packing house to buy peaches.
Robert said Cynde has worked to grow the market into a thriving business where visitors can get their fill of delicious peach ice cream, buy fresh fruits and vegetables and sit in the open-air store's rocking chairs enjoying the breeze from overhead fans.
Dickey said seeing customers enjoy what the family has grown is one of his favorite things about farming.
"I really like growing a product that people love to eat and love to enjoy multiple ways, whether it's fresh-sliced, in a cobbler or ice cream. I just love growing a great, useful product," Dickey said.
It takes a combination of more than 100 seasonal and permanent employees to run the farm, Dickey said, including Robert's son, Lee and his wife, Stacy.
Dickey indicated his ability to continue farming is worth protecting, which is why he ran in 2010 to represent District 140 in the Georgia House of Representatives. He has served since taking office in 2011. Finding the time to be a part-time lawmaker is tough, Dickey said, but his family's support and the seasonal nature of his operation allow for it.
"I've been encouraged," he said. "The time I've been there, I've seen a lot more support for agriculture. I've sensed that urban legislators, people from the city, really have come to appreciate the value of strong agriculture, a plentiful supply of safe food."
Dickey and the other nine state farmers of the year are competing for the Swisher Sweets Sunbelt Expo Southeastern Farmer of the Year. The winner will be announced during the Sunbelt Expo on Oct. 15.