Ag News
GA farmers encouraged to continue following COVID guidelines during fall harvest
As Georgia enters its fall harvest season, Georgia Public Health Commissioner Dr. Kathleen Toomey and Georgia Commissioner of Agriculture Gary Black are encouraging Georgia farmers and the agribusinesses harvesting and processing fall crops to remain vigilant in following recommended guidelines to prevent the spread of COVID-19.
Commissioners Toomey and Black issued a joint statement Sept. 22 thanking Georgia's agricultural community for the safety precautions it adopted earlier this year to ensure worker safety and marketplace stability.
Recommended guidelines include: monitoring the health of employees, monitoring employee temperatures, wearing face coverings, following social distancing guidelines, providing hand-washing stations &/or hand sanitizer, providing personal protection equipment to employees and visitors.
Read their joint statement below. More information regarding Centers for Disease Control & Protection (CDC) and U.S. Department of labor guidance is available at www.gfb.ag/COVIDagworkerguidelines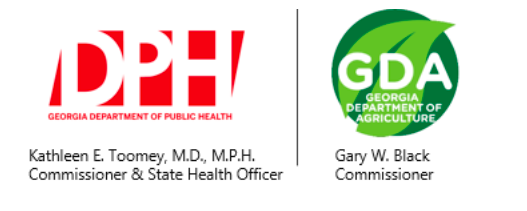 September 22, 2020
Dear Colleagues:
On behalf of the Georgia Department of Public Health and the Georgia Department of Agriculture, thank you for the work you are doing to keep Georgians safe during the COVID-19 pandemic.
Because of the ongoing response to COVID 19 in Georgia, our citizens are safer, students are returning to school and our economy is rebounding. Every Georgian should be grateful for the dedication and commitment of businesses and organizations, both public and private sector, considered critical infrastructure. Food and fiber producers, processors, distributors and retailers have served alongside healthcare professionals as heroes throughout this unprecedented journey. We, along with all Georgians, offer our sincere gratitude to you all.
The leadership demonstrated by Georgia's agricultural community at the onset of the pandemic set a very high standard ensuring safety at the workplace and stability in the marketplace. We must continue to fight this COVID-19 pandemic by remaining vigilant as we enter the fall harvest season in Georgia.
Monitor employees regularly. Follow social distancing and face covering guidelines. Provide social distancing when possible. Maintain biosecurity measures such as temperature monitoring and hand-washing stations as part of your business continuity plan. Sanitize employee housing and workspaces. Provide ample PPE to employees and visitors. Refer to and post up-to-date guidelines from the Centers for Disease Control and Prevention (CDC) and DPH. Lead by example.
Thank you for serving in the vital industry which, with so few, feeds, clothes and shelters so many.
Sincerely,
Kathleen E. Toomey, M.D., M.P.H.
Commissioner & State Health Officer
Georgia Department of Public Health
&
Gary W. Black
Commissioner
Georgia Department of Agriculture