Ag News
Help on the line for stressed farmers
The damage Hurricane Michael wreaked on agriculture in Georgia has been well-documented. Because it hit large swaths of rural Georgia so hard, it brought emotional and behavioral health issues to light. Nine months later, the long recovery is continuing in many places. Georgia Farm Bureau News Reporter Jay Stone recently talked with Jennifer Dunn, Region 4 Services Administrator for
the Georgia Department of Behavioral Health and Developmental Disabilities (DBHDD), about how farmers and their neighbors have coped with the storm's damage. The DBHDD secured funding from the Federal Emergency Management Agency last fall to implement the Georgia Recovery Project, which provides crisis counselors for disaster survivors to discuss how they've been affected by Hurricane Michael. The program is available through Oct. 11.
Jay Stone: From an emotional health perspective, how are things progressing in Southwest Georgia since Hurricane Michael?
Jennifer Dunn: People are just starting to increase their access to our services. I think after the shock of the storm itself has gone, people are now wanting to talk.
JS: The first five or six days, or even 30 days in this case because some of the places were so bad, I guess they were focused on stuff like being able to get out of their driveway and having power and finding ways to get food.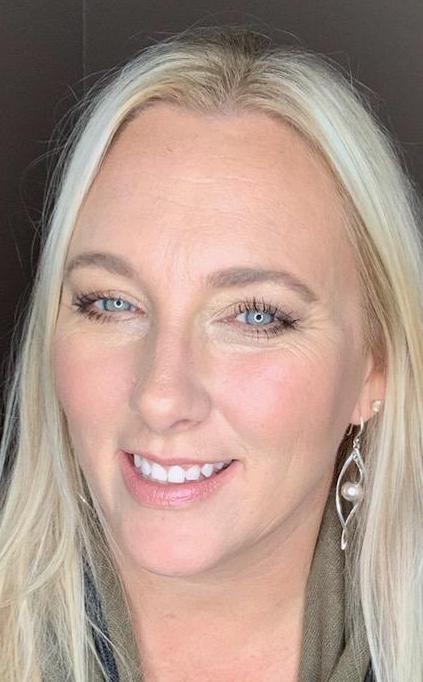 Jennifer Dunn
JD: Yes, the first thing was all about power. I literally had somebody pull me over in my car when I was driving in one of the more rural counties that just said … I thought maybe they were in a medical crisis, because they literally pulled my car over and they asked, "Can you help me find a cup of coffee?" [Dunn chuckles] It's the little things that people were just needing those kind of the basic things. We've seen an increase in individuals accessing services through the counseling program we have that was federally funded as a result of the hurricane. But in general, with our community service providers. We've seen an increase in the rural areas and I think it's word of mouth, people talking saying, "Hey, it's been really helpful for me to talk to this person. This is what we've been getting help with …"
JS: Is it as simple as people having a place to go to sit down and talk about the things bothering them?
JD: Absolutely. People feel better when they can talk through it. Some people might need more intensive services, and if that's the case we refer them to our more intensive programs. Sometimes it's simply, "Can we talk through this? This is what's going
on at my house or with my children or with me and my spouse." That sort of thing.
JS: What do you mean by community service providers?
JD: Our state contracts with what we call community service boards, or CSBs, as we like to call them. They provide services … group counseling, individual counseling, medication management, crisis counseling. Just kind of top to bottom, anything you can think of. They are our safety net providers, and it's just a place for people to go. They receive the right level of service based on professional assessments. They can see a psychiatrist, they can see a therapist. They may need to see a nurse. In short, they receive the services they need.

JS: You're based in Thomasville but you cover a region of several counties. There's a large agricultural component in the area that you service, right?
JD: That's right. We have 24 counties, and some people joke that we have more cows than people.
JS: So, with farmers in particular, there may be a reluctance to seek behavioral or emotional help. Have you gotten any indication that they've become more inclined to seek help?
JD: I have. I've actually had people to reach out to me personally. Sometimes it's not the farmer per se. It might be his wife. I've had some wives of farmers, or adult children who work the farm with their parents. One or two farmers have been very vocal and said, "This is what I need." But when I look over the last nine months in general, it's been more of the family members that have reached out. But they've all benefitted from just having somewhere to go, someone to talk to. So I have absolutely seen an increase.
JS: Do you have spouses calling you and saying, "Hey, I think my husband is struggling with some stuff." Does it progress from there to the husband actually reaching out and talking to somebody?
JD: It does and it has. We respect that everybody's in a different place personally. One time we went to an event. The wife of a local farmer pulled me in the back room and said, "Do you mind talking to me for a minute?" We were able to, with his comfort level, ask, "Can we send somebody over? That way we're not having you come to a clinic." Because for some people, they might not want their car seen up at the clinic. So, can we come to them … and make it easy for them to get the services they need.
JS: Farmers are known for their independence. How does having an independent nature and working in an isolated environment affect farmers?
JD: That does make it a little more challenging to get folks who kind of thrive in isolation … they're entrepreneurs, they're businessmen and businesswomen, and they're used to being able to handle and take care of things all by themselves, without help from anybody, or with minimal help. That has been something kind of had to work to overcome with these families to say, "it's OK to ask for help. I'd be concerned if you didn't. This is a very stressful situation, and statistically speaking it makes sense that you're struggling with some of this." We've tried to normalize it and provide opportunities for them to get comfortable in their request for help.
JS: Since the storm, what kind of issues have come to light? Has there been anything that was specifically the result of what happened with the hurricane, that you don't normally see?
JD: One of the things we've noticed that families struggled with was a lot of the storm debris being removed was really stressful. It took a long time for a lot of that, and it was causing some emotional issues to come up.
Another thing we were hearing was about people having trouble finding someone to do repairs on their home, or affordable repairs, or a place to live that is affordable. That is a little slow-moving, and it did cause a lot of anxiety and stress as a result of those other things. We've seen the community come together; the faith community come together with behavioral health professionals to work with families.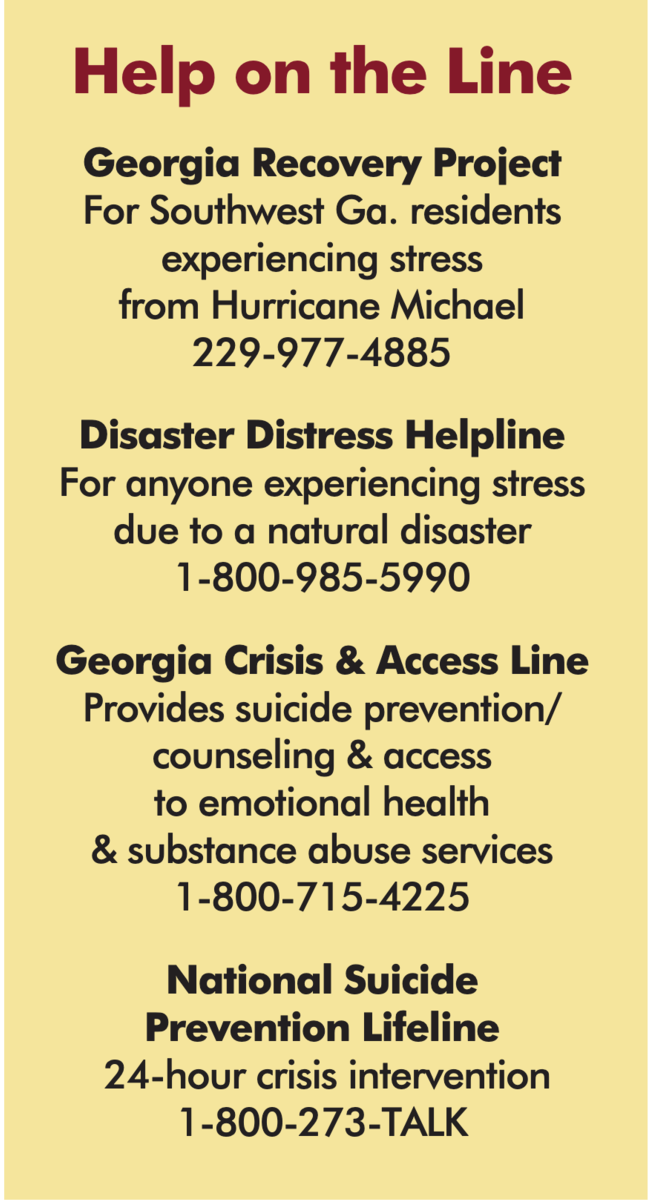 Specifically, as it relates to mental health services, behavioral health services, we see a lot of kids and adults having strong reactions during a typical summer thunderstorm … While logically they might know that this is just a typical thunderstorm that is coming through. It does bring up a lot of the feelings they had when the hurricane came through. So, they're just trying to deal with that. Because of that, it's given us a lot of places to talk with families about how to cope with anxiety and how to cope with some of these reactions that they've been having.
When it was school time, we did see a lot of kids missing school when we would have a rainy day. They would just have a lot of anxiety and concern about, is another storm coming? Or when it gets really windy out. Particularly from parents of young children, that they get really scared.
JS: Where does someone who feels like they're struggling go for help?
JD: We have the Georgia Crisis and Access line. That number is 1-800-715-4225. Some people prefer to call that number to have a bit of anonymity, and not call somebody that they know. The Georgia Crisis and Access Line [which is available statewide] can connect them back locally with somebody that can help them. If they would prefer to go somewhere locally [in the counties around Thomasville], we have Georgia Pines, which is our crisis counseling center and program. They have a website that has all of their information. It's www.georgiapines.net. We also have Aspire services in the counties around Dougherty County. Their website is www.aspirebhdd.org. Finally, Legacy serves individuals in counties around the Valdosta area. Their website is www.legacysga.com.
NOTE: Georgia Pines serves Colquitt, Decatur, Grady, Mitchell, Seminole and Thomas counties. Aspire services are provided in agency locations as well as partnering community agencies within Baker, Calhoun, Early, Dougherty, Lee, Miller, Terrell and Worth counties. Legacy serves Ben Hill, Berrien, Brooks, Cook, Echols, Irwin, Lanier, Lowndes, Tift, and Turner counties.