Ag News
Nave wins Georgia FFA Discussion meet sponsored by GFB YF&R
LaFayette High School FFA member Preston Nave won the state FFA Discussion Meet Career Development Event held April 26 at the 91st Annual Georgia FFA Convention in Macon. Nave bested 11 other competitors to win the $250 top prize.
The Georgia Farm Bureau Young Farmers & Ranchers Committee sponsored the event awarding Nave and the other competitors a total of $1,150.
The three finalists were: Claire Coleman of Morgan County High School FFA; Cedric Montgomery of Lowndes County High School FFA; and Matthew Peaster of Perry High School FFA. GFB awarded each of the finalists $100.
Two area winners from each of Georgia FFA's six areas competed in the event modeled after Farm Bureau's YF&R competition. The discussion meet is designed to teach contestants the three fundamental basics of discussion: constructive criticism, cooperation and communication. Contestants are instructed to exchange ideas and information to solve a problem.
GFB awarded $50 to each of the 12 FFA area winners who advanced to the state competition.
The other area winners were: Tyler Westbrook of Pickens County High School; Isabel Browning of East Hall High School; Avery Cook of Upson Lee High School; Phillip Babin of Effingham County High School; Jessi Strickland of Burke County High School; Harmon Smith of Irwin County High School; Gracie Lovett of Ben Hill County High School; and Cole Powell of the Bradwell Institute in Liberty County.
The topics in Rounds 1 and 2 were: 1) Given that the rapid dissemination of information and opinion about agriculture and food technologies makes it difficult to distinguish fact from fiction, how can Farm Bureau protect farmers' and ranchers' access to production technology options? and 2) Since technology is one of the driving forces for innovation in farming, how can agriculture attract the best and brightest Science, Technology, Engineering and Math students into ag careers?
In the third round of the competition the final four contestants discussed how Farm Bureau can be more inclusive of diverse demographic groups and production practices.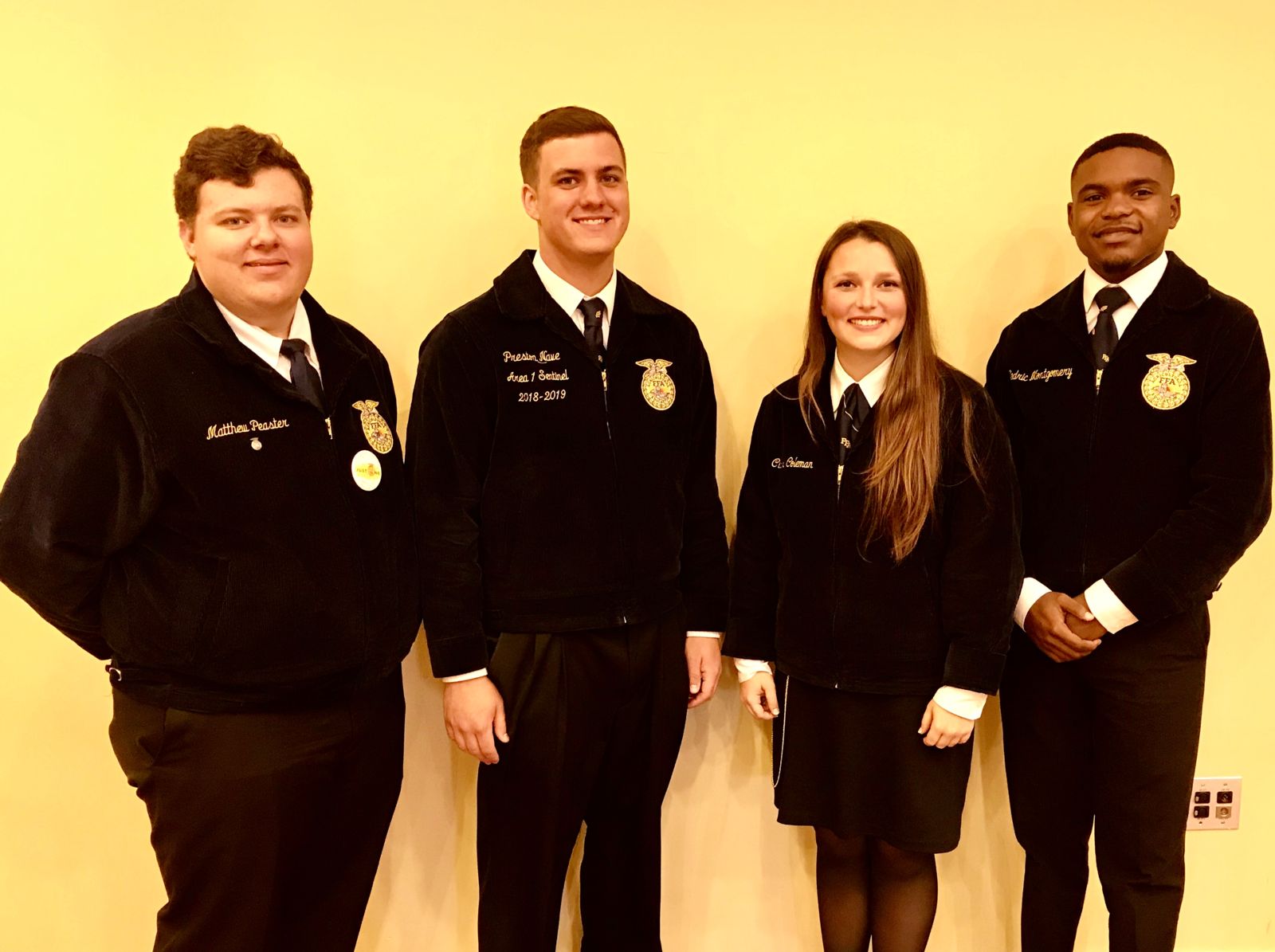 Georgia FFA Discussion Meet finalists, from left: Matthew Peaster, Perry High School; state winner Preston Nave, LaFayette High School; Claire Coleman, Morgan County High School and Cedric, Lowndes County High School.