Ag News
Pecan growers should use new varieties when replanting groves
If there is a silver lining to the devastating impact Hurricane Michael had on Georgia's pecan producers – an estimated 27,455 acres destroyed – it's that producers can replant their orchards with new varieties that cost less to grow. This could make Georgia pecan growers more competitive with growers in western states and Mexico.
"The hurricane took down a lot of old, big trees. It gives us a chance to replace older trees with newer varieties that have good scab resistance and produce a higher quality pecan," Lenny Wells, UGA Extension pecan expert said. "We need to start moving away from some of these old varieties. Even though everyone wants big yields, we need to start focusing on quality."
Avalon, Caddo, Creek, Excel, Lakota, Oconee and Sumner are some of the new varieties Wells recommended while speaking to growers attending the annual meeting of the Georgia Pecan Growers Association on March 27 in Tifton.
Wells said growers should "plant cultivars that have a decent level of scab resistance and better-quality nuts than Stuart or Desirable. You want a tree that produces a percent kernel in the mid 50s or better. We need to stop planting Desirables."
Growers who opt to plant a scab-susceptible pecan variety should choose one that has a short season with an early harvest date like Caddo or Pawnee, Wells said.
While the recent trend in planting new pecan orchards has been to plant more trees per acre, Wells cautioned against this saying this practice results in increased disease and insect pressure for the trees.
"Tighter spacings have the potential to increase early yield for trees but it requires more input costs to produce a crop due to increased sprayings needed to control insects and disease and keeping the trees hedged," Wells said.
He recommends planting orchards with tree spacings of 30x50, 40x40, 25x50, 30x60 or 46x46 to give trees adequate sunlight and air flow.
April 19 sign-up deadline for hurricane cleanup help
Although Congress has yet to pass a disaster assistance bill to help farmers hurt by Hurricane Michael, Georgia Farm Service Agency Executive Director Tas Smith reminded farmers they have until April 19 to sign up for financial assistance through two USDA programs to help with cleanup costs as they continue to recover from Hurricane Michael.
The Emergency Conservation Program, administered by the FSA, will help farmers cover the cost to remove center pivot irrigation systems Hurricane Michael damaged or destroyed.
Non-industrial timber growers affected by the hurricane can apply for the Environmental Quality Incentives Program (EQIP) to receive help with debris removal, site preparation tree planting and prescribed burning. EQIP will also help retrofit center pivot irrigation systems to be more efficient and replace damaged micro-irrigation systems in orchards. The USDA Natural Resources Conservation Service administers this program.
Smith also encouraged pecan growers to annually report the number of pecan trees on their farms to their local FSA office so it will be easier to document orchard loss for the Tree Assistance Program for future storms.
"These disasters are happening every year. If you aren't already reporting the number of trees on your farm every year, please do that," Smith said.
He also thanked Sens. Johnny Isakson and David Perdue, along with Georgia Agriculture Commissioner Gary Black for working to get a disaster bill passed that will help farmers who suffered damage from Hurricane Michael.
"Hopefully we'll have a new disaster program for you in a couple of months," Smith said. "Senators Isakson and Perdue and Commissioner Black are working hard to get a disaster program passed. Once it's funded, we know we've got to get this money to you as soon as possible."
Andrew Sawyer joins UGA Pecan Team
Growers attending the annual pecan meeting were introduced to Andrew Sawyer, who is joining the UGA Pecan team to work with growers in the Southeast part of the state. Sawyer, who most recently served as the Wilcox County Extension coordinator/agent, previously was an agent in Thomas County after graduating from UGA with a bachelor's degree in 2008 a master's degree in 2010. He is originally from Douglas.
"I look forward to meeting everyone and being on the UGA Pecan Team," Sawyer said.
Sawyer's position was secured through a joint effort by the Georgia Pecan Commission (GPC) and Georgia Pecan Grower's Association, GPC Chairman Lanair Worsham Jr. said. The GPC works on behalf of Georgia pecan growers to fund research\ that will improve crop yields, promote pecans to consumers and educate growers about better cultivation practices.
Worsham gave a report on projects the GPC has done this past year. Studies on insect and fungus control in pecan orchards along with a study on pecan tree hedging were among the research projects the commission funded. To reach consumers, the GPC funded 15- and 30-second commercials that aired on WSB-TV in Atlanta and conducted social media campaigns targeted to Atlanta, Augusta and Macon consumers.
"The commission continues to look at new opportunities for growers through e-commerce channels in Asia, and we're funding a feasibility study for a grower-owned shelling co-op," Worsham said.
Pecan growers honored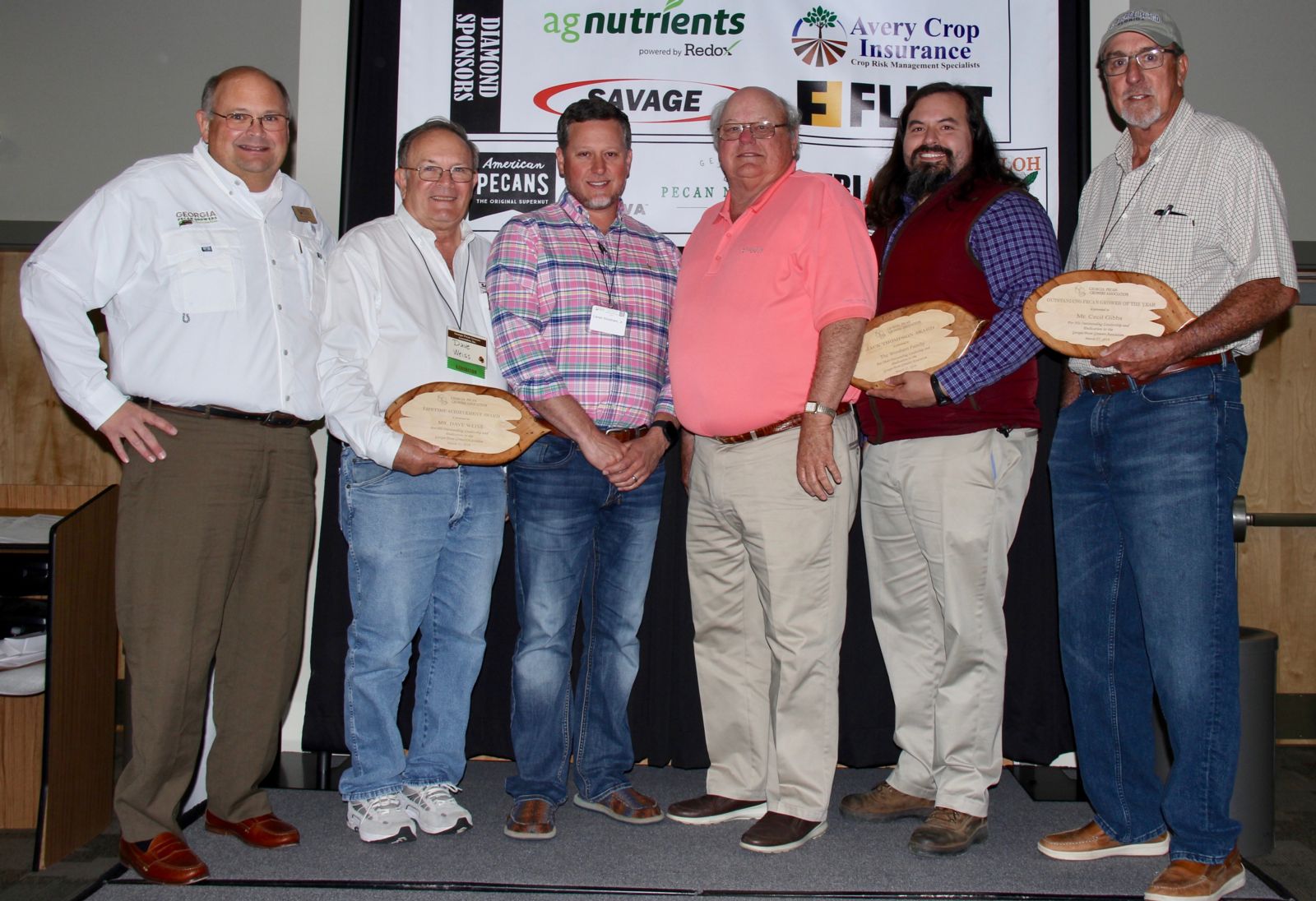 The Georgia Pecan Growers Association recognized several Georgia Farm Bureau members for their contributions to the pecan industry during the GPGA conference lunch. Dave Weiss of Mitchell County received the GPGA Lifetime Achievement Award. Lanair Worsham Sr. and his sons Lanair Worsham Jr. and Christopher Worsham of Mitchell County accepted the GPGA Jack Thompson Award in recognition of the example they set as a family farm. Cecil Gibbs of Grady County was named the GPGA Outstanding Grower of the Year.