Ag News
Hall GROWS wins AFBF award
Georgia had a strong presence in the IDEAg Trade Show at the AFBF convention where Hall County Farm Bureau (HCFB) was among 24 county Farm Bureaus nationwide selected to display exhibits about their innovative county programs. HCFB was a recipient of AFBF's County Activities of Excellence (CAE) Awards program.
HCFB showcased its Hall Grows Real Opportunities With Students (GROWS) program, which successfully installed Ag in the Classroom curriculum in six schools during the 2016-2017 school year to reach more than 700 students last year. The Hall GROWS program included 21 county volunteers who visited the classrooms of 27 teachers.
"GFB was proud to have Hall County Farm Bureau showcasing their Hall GROWS Ag in the Classroom program as a recipient of the County of Excellence Award in the trade show," Long said.
HCFB President Jerry Truelove credits Justine Palmer, the county office manager, and Caroline Lewallen, HCFB young farmer chairman, for developing the program. While HCFB had previously concentrated on its legislative programs, Truelove said the county recognized the need to get Agriculture in the Classroom curriculum in the local schools.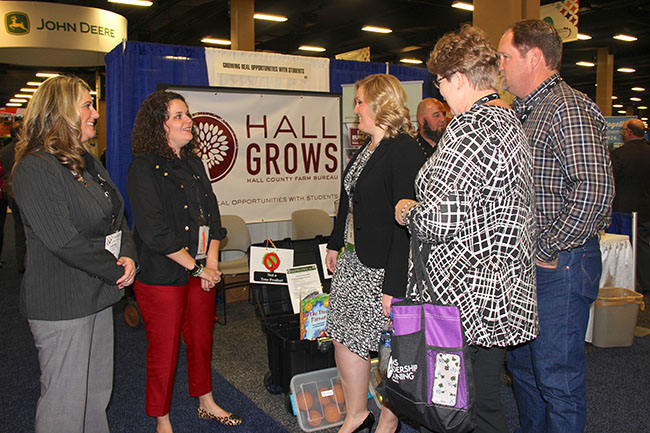 Pictured from left, Hall County Farm Bureau Office Manager Justine Palmer & HCFB Young Farmer Chairman Caroline Lewallen tell AFBF convention attendees about their "Hall Grows Real Opportunities With Students" program that teaches students about agriculture.
"Although Hall County has a lot of agriculture, we've got a lot more people in our county who know nothing about agriculture," Truelove said. "Our board said it's time to do something and here we are."
Truelove and his sister, Dixie, have taken Holstein cows to local schools for years.
"It's amazing how kids connect to a cow and can remember it from one year to the next. What we're doing now is taking it to a whole new level," Truelove said.
HCFB received $2,250 in prize money to further its program. HCFB was one of four states to be selected in the 3,001 to 5,000 county membership group. Awards were also presented in the following membership groups: membership of less than 1,000 members, 1,001-3,000 members, more than 5,001 members, and for collaborative multi-county activities regardless of membership size.
HCFB Director Brandon Reece is one of the volunteers who have visited the schools. Reece admits he was a little nervous at first, but said he felt comfortable reading books about chickens, since he's very familiar with the subject as a poultry grower.
"I like being a part of the program because it's letting the younger generation know what farming is about and letting them know farming isn't dead," Reece said.