Ag News
Motorists, farmers asked to look out for each other on roads
During a press conference at the Sunbelt Ag Expo on Oct. 18, Crisp County farmer John Bullington joined Harris Blackwood, director of the Governor's Office of Highway Safety, and Georgia Agriculture Commissioner Gary Black in asking motorists to be mindful of farm equipment traveling the highways during harvest season.
Bullington's brother, Donald, was severely injured in an accident four years ago when a motorist, who was talking on the phone while driving, hit the high-top sprayer Donald was driving.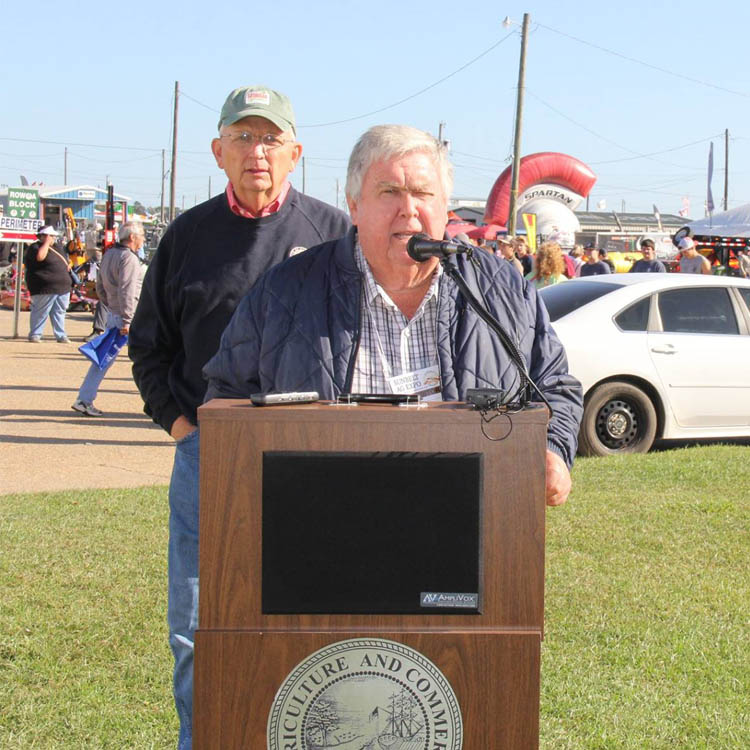 Crisp County farmer John Bullington, at podium, asking motorists to be aware of farm equipment traveling the highways during harvest season.
"We ask you during this harvest season to be aware that tractors and other farm equipment is on the road. They have the legal right to operate their equipment on our roads," Blackwood said.
Bullington asked motorists to be patient if they get behind a piece of farm equipment.
"If you get behind us on the road, give us a little time. We have to dodge mailboxes and obey double lines, Bullington said. "If you'll just give us time, we'll pull over to let traffic go by as quick as we get an opening."
Bullington also asked motorists to not talk on phones while driving and especially not to text.
"These phones are a hazard from the word go," Bullington said.
Bullington stressed the importance of farmers wearing their seat belts when driving any equipment on public highways. Unfortunately, Bullington's brother, Donald, wasn't wearing a seatbelt at the time of his accident and was thrown around in the sprayer cab when the impact of the crash sent it into a ditch.
"When you have a crash with farm equipment it will impact that farm tremendously," Bullington said. "My brother hasn't been able to farm with me since his accident because of the severe nerve pain he lives with from his accident injuries."
Georgia Department of Transportation data shows there were 494 crashes involving farm and construction vehicles in Georgia last year that killed 12 people and injured 185 others.
"Farm accidents are one thing in life that are one hundred percent preventable if we all do what we're supposed to," Black said. "From a producer standpoint please have slow moving vehicle signs and flashers on your equipment. To the traveling public, in harvest season when farm equipment is prevalent on highways all across Georgia, please drive slow and be alert."