GFB News Magazine
Promoting Rural Prosperity: What do farmers need from their workers?
By: Jay Stone
Paul Harvey, in his 1978 speech at the National FFA convention, regaled the blue-clad masses with his famous "So God Made a Farmer" narrative. The speech referenced at least 28 farm jobs, making it clear that farmers have to be proficient in a wide variety of tasks.
Perhaps due to time constraints, Harvey only scratched the surface of a farmer's must-do list, and this was in 1978. It's easy to come up with at least a dozen modern-day tasks that didn't exist then. So, the point remains valid: Farmers have a lot to do. And they need help.
Farmers need help to plant and harvest, but they also need people who can do a lot of other things year-round.
If a tractor breaks down, farmers have the option of calling a service technician, waiting for that person to arrive, then order parts, then perform repairs. Or, farmers can hire employees who can do that work and then move on to fixing a fence or laying roof panels on a barn or feeding calves.
"We just need more people with technical skills," said Decatur County Farm Bureau Director Andy Bell. "Face it. We're in a job where you have to work with your hands a lot of times. You've got to think and think smart, but you've got to do stuff with your hands too."
Farmers face the same workforce reality that other industries have. The machinery and practices on farms have advanced to the point where many of the skills required to keep a farm running match skills, like advanced computer skills, needed in other career fields. Many jobs in agriculture require college degrees, but there are many that don't.
"Agriculture has changed so much in the last 40 years, it's not even the same training," said Lee Webster, president of Burke County Farm Bureau. "You've got basic training, certainly, but the skills today, computer skills, just about any skill you can think of going into any other career, you would be using in agriculture. We use drones today. The types of knowledge you would need for fertilizer and seed and all those other kinds of things are part of just about the most sophisticated training that you would need for any other career choice."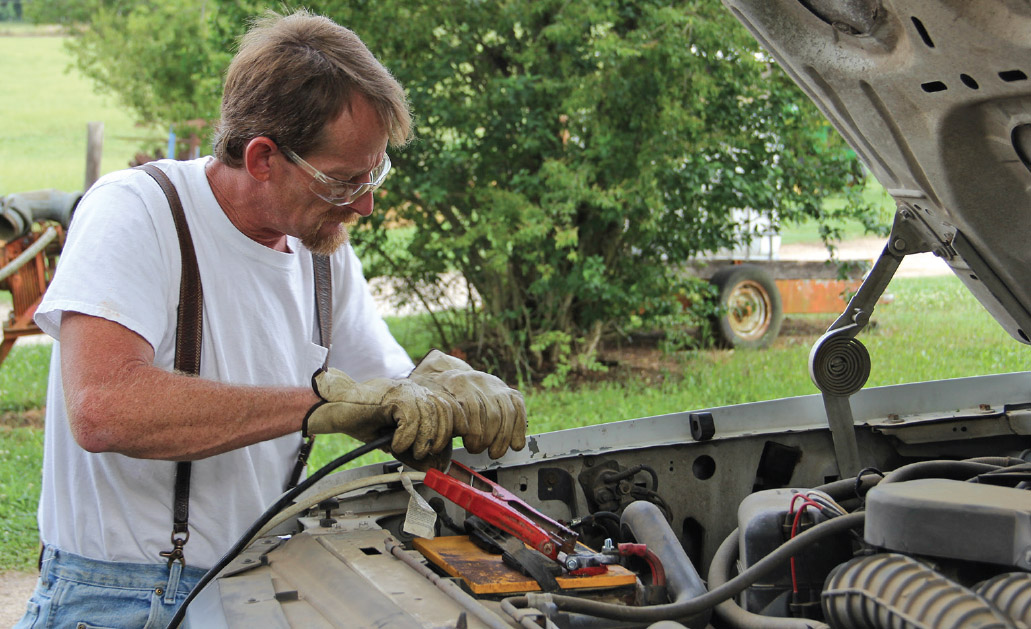 At Rucks Farm in Spalding County, Robert Fowler uses his mechanical skills to start a pickup. He's also able to repair hay balers, work cattle, keep records and fix fences.
Young people ready & willing to work
Whether they're seeking entry-level summer jobs or permanent full-time work, general labor or advanced computing, applicants who have learned job-specific tasks are welcomed at farms as they would be in any other field.
"The biggest thing is kids who are willing to work and then have some type of skills related to farming when they show up to get a job," said Melissa Bottoms, a former ag education teacher who chairs the Pike County Farm Bureau Promotion & Education Committee. "A lot of us don't mind training them, but the thing I ran into was not even having the work ethic to be able to handle life on a farm."
Bottoms said farmers need the people who come to them for jobs – whether they're high school students or further along in life – to have basic skills.
"Can you drive a tractor?" she said. "Do you know how to read a tape measure and do different things like that when you need to work on stuff? They're little skills that I think people just take for granted. When they come to get a job and they don't know those things, it gets frustrating."
To address these concerns, Bottoms said the Pike County Business Authority is working toward facilitating on-farm experiences for FFA students considering agriculture careers.
"I've always said that nothing [you learn] sitting in a classroom is going to beat having your hands on stuff and being out at a farm and watching what they're doing," Bottoms said. "If that's what you think you want to do one day, nothing is going to replace that experience."
The hands-on skills Bell and Bottoms say farm workers need have the attention of state legislators. Rep. Terry England, co-chair of the House Rural Development Council (HRDC), introduced a bill in the 2018 session of the Georgia General Assembly, H.B. 778, which proposed transferring the state's Career, Technical and Agricultural Education (CTAE) from high schools to the Technical College System of Georgia (TCSG).
"TCSG has the charge to develop and train a workforce for our state and that is their focus," England said. "They have to provide workers for the needs of local business and industry, as do those local CTAE programs. However, many times local [school] systems do not have the resources to make sure they are meeting local or even regional demand for employees."
H.B. 778 would have helped make sure that CTAE programs and TCSG training have matching courses that meet the needs of business and industry. The bill was withdrawn for further study, and England said the issue will be considered as the HRDC convenes for its second round of hearings this year.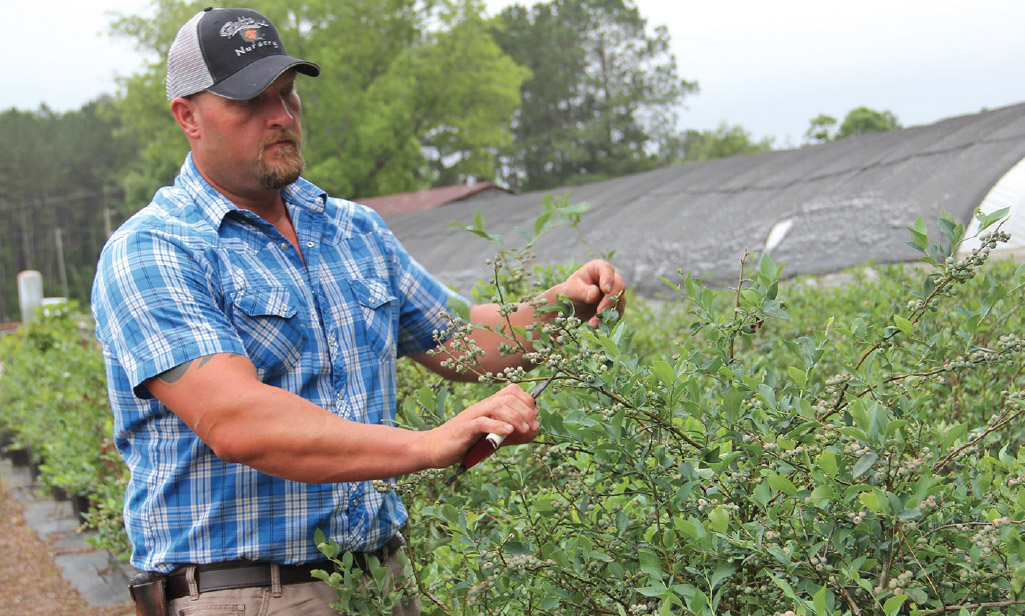 At Bottoms Nursery in Pike County, Terry Batchelor prunes blueberry bushes. Knowing how to prune a young bush so it will bear a lot of fruit when it matures is a special skill.
Soft skills
Even with its withdrawal, HB 778 recognizes what farmers around the state say is one of their biggest needs from the education system: a workforce skilled in the jobs they need done, ranging from welding or driving a tractor to utilizing sophisticated technology being adopted by farms. Farmers also need workers who show up on time and interact well with other people, regardless of their assigned tasks, a collection of personal attributes referred to as "soft skills."
England said that whatever the curriculum is, there should be a built-in component of soft skills - interpersonal skills like courtesy and accountability.
"The lack of soft skills training came up many times as we traveled around the state," England said. "Employers from one corner of the state to the other kept bringing up that the students and workers they see today do not possess the soft skills needed to hold down jobs and be good reliable employees."
Rep. Terry England said the state's FY 2019 budget included language and funding to draw attention to the need for soft skills and work on providing soft-skill training in rural schools along with those schools identified as needing assistance.
---
Posted: 06/07/2018 in Uncategorized
Tags: Labor
---
Comments:
No comments have been posted.
HTML not allowed, max characters 255, * denotes required field.