GFB News Magazine
Irwin Co. Farm Bureau continues mission in new office
By Jennifer Whittaker, Georgia Farm Bureau
Irwin County Farm Bureau (ICFB) leaders saved their money and talked about building a new county office for years. Their patience was rewarded this summer when they had the chance to buy the former Ag Georgia Credit building after its Ocilla office relocated to Tifton.
"We'd been in the other building since the early 1970s. Being in this new building gives us more exposure to potential new members because we're now located near the bank and downtown Ocilla," ICFB President Gary Paulk said. "The most important part of moving to this new office is being able to better serve our members who make this possible."
ICFB held a ribbon-cutting and open house June 29 to celebrate its new home. ICFB's new office has a welcoming lobby, a central open office, three private offices, a file room and kitchen. ICFB plans to convert an unfinished room on the second floor into a conference room for board meetings.
"We're proud for Irwin County Farm Bureau to have the opportunity to move into this beautiful office building and for all of the services it is offering its members and the many things they are doing in their community to promote agriculture," Georgia Farm Bureau President Tom McCall said.
Longtime members Vernon & Jean Biggers share Farm Bureau memories
Seeing their county Farm Bureau move into a new building is especially meaningful for longtime ICFB members Vernon and Jean Biggers, who have been ICFB members since 1957.
"In the fall of 1957 Jacob and Judy Paulk, Gary's parents, came and picked Vernon up to travel around Irwin County to ask people to join Farm Bureau," Jean recalled. "That same year we started going to [Georgia] Farm Bureau conventions."
The Biggerses regularly attended GFB conventions through the years, Jean said. They remember the conventions being held in Columbus and Macon before it moved to Jekyll Island.
"It was nice to meet the state Farm Bureau officials, and we made a lot of good friends in Farm Bureau all over the state," Vernon said.
The Biggerses said GFB held a campaign from the late 1950s into the 1960s to encourage farmers to file income taxes. Vernon helped farmers in his county file their taxes.
"There were so many people who didn't file income taxes back then, and they needed to in order to be eligible to draw Social Security Payments," Jean recalled.
She said GFB later offered bookkeeping services to its members. This replaced the volunteer services members and county staff offered.
"Farm Bureau has always just been part of our lives," Jean said.
Vernon served as Irwin County Farm Bureau president from 1965-1970 acccording to ICFB records.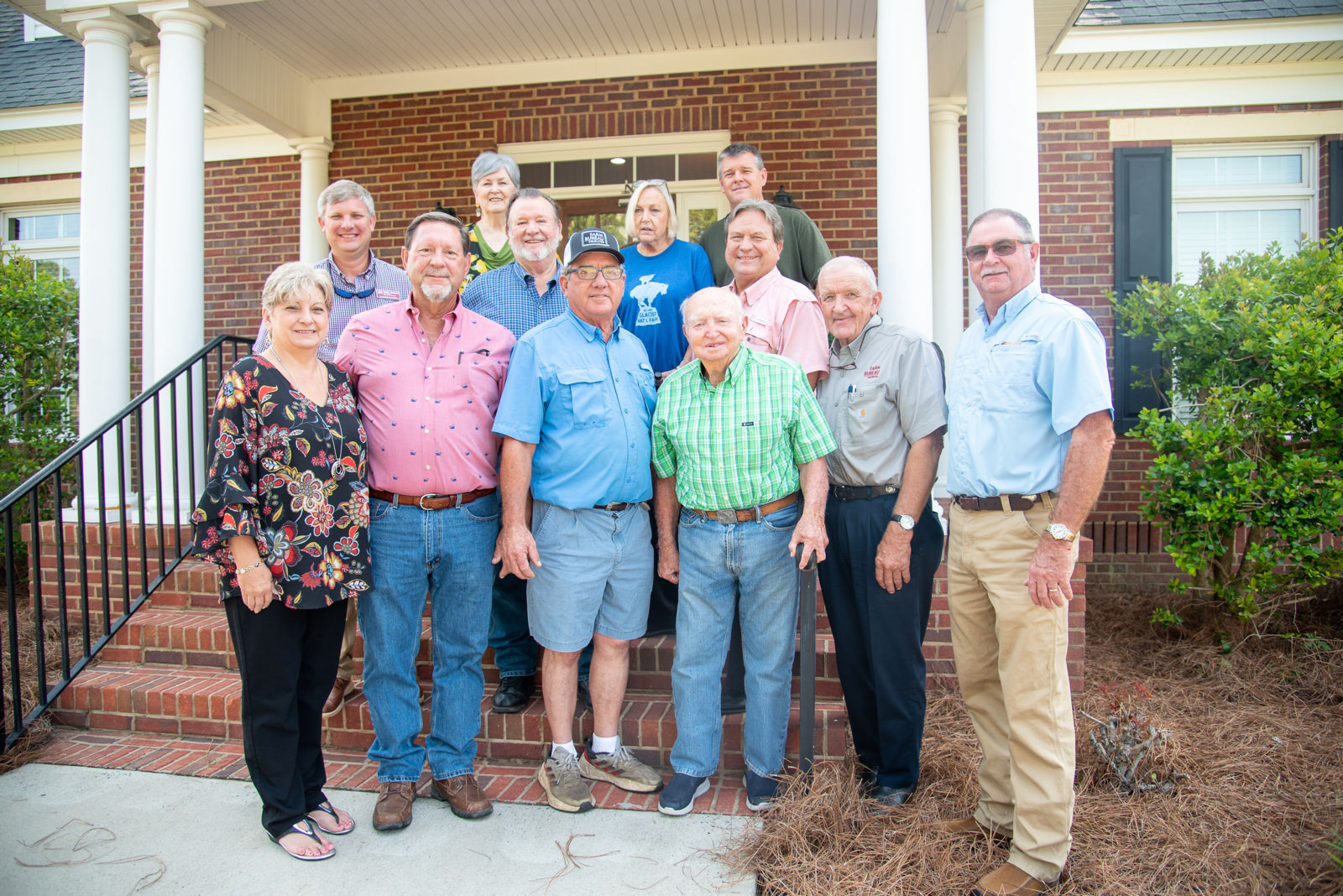 Celebrating Irwin County Farm Bureau's new office are: front row, from left: ICFB Office Manager Angie Hutto, GFB 10th Dist. Director Lamar Vickers, ICFB Vice President John Hudson, ICFB Director Vernon Biggers, GFB President Tom McCall, & GFB 1st & South Georgia Vice President Daniel Johnson. Second row, from left, GFB 10th Dist. Federation Manager Kane Staines, GFB 10th Dist. Director David Lee, ICFB Director Jo Glen, & ICFB President Gary Paulk; and back row ICFB Directors Libby Spicer and Wesley Paulk. /Photo by Logan Thomas
---
Posted: 08/10/2023 in Georgia Farm Bureau
---
Comments:
No comments have been posted.
HTML not allowed, max characters 255, * denotes required field.