GFB News Magazine
GFB poultry house guidelines based on UGA recommendations
Georgia poultry farmers raised a variety of products – broilers, table eggs, breeder chickens and eggs – valued at about $5.34 billion in 2016, according to the UGA College of Agricultural & Environmental Sciences (CAES).
Poultry has become Georgia's top ag commodity thanks to production innovations researchers have developed that help farmers raise quality chickens and eggs.
Georgia Farm Bureau's Mutual Insurance Company (GFB MIC) is a longtime supporter of Georgia's poultry farmers and was one of the first Georgia insurance companies to offer coverage for poultry operations. GFB MIC is committed to providing our members high-quality insurance coverage for their poultry houses.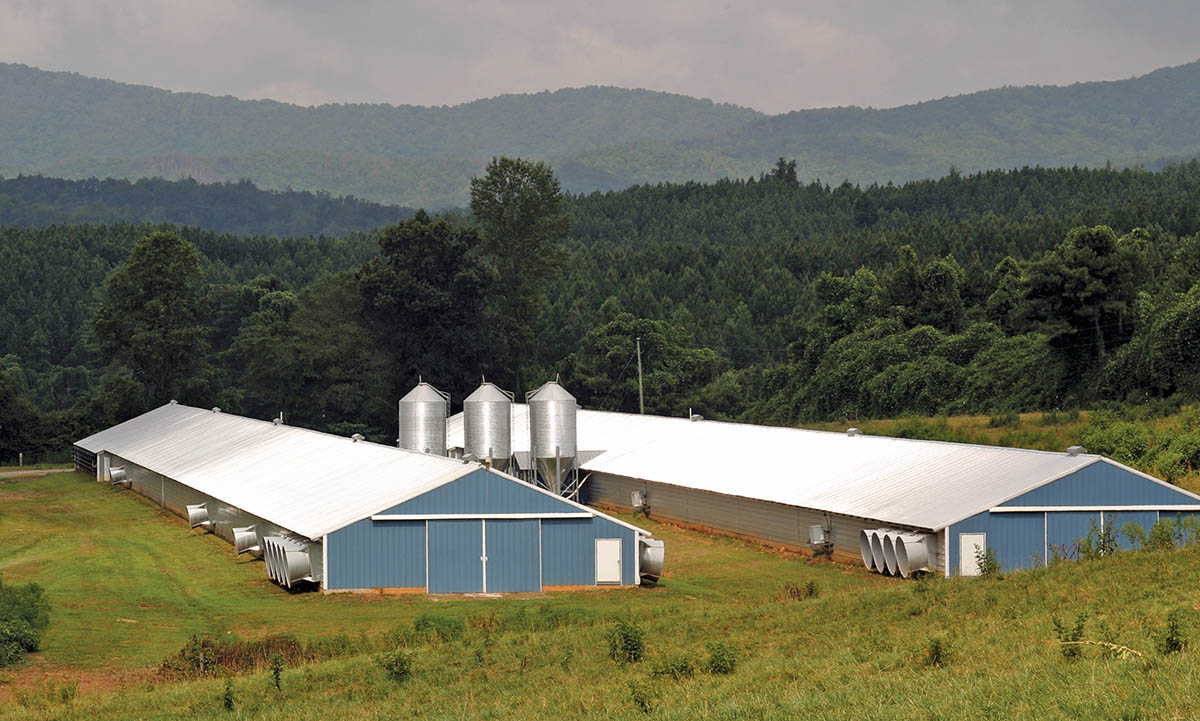 The Georgia Farm Bureau Mutual Insurance Company is committed to providing high-quality insurance coverage for poultry houses. To do this, the company uses recommendations regarding poultry house construction and maintenance made by the UGA College of Agricultural & Environmental Sciences.
To do this, we use recommendations professors in the Biological & Agricultural Engineering Department at the UGA CAES make regarding poultry house construction and maintenance. Just as UGA poultry scientists research ways to help growers produce healthier chickens using improved management practices, UGA ag engineers study how to best build poultry houses to help growers with production.
GFB MIC has adopted UGA engineering recommendations in our insurance guidelines for poultry houses that balance growers' need to keep construction costs low while strengthening the integrity of the poultry house against moderate to strong storms. Our guidelines also emphasize the importance of proper poultry house maintenance, which UGA recommendations show is critical to maximizing the lifespan and usefulness of the houses.
GFB members, poultry farmers and the poultry industry have benefited from the increased emphasis poultry house policies place on improved construction and maintenance. These benefits include protecting farmers' assets, reducing the loss of birds, and a reduction in storm damage costs when a weather event occurs.
Georgia Farm Bureau strives to offer the best insurance protection at a competitive price, with the guarantee of being there when farmers need us most. Being a leader for poultry house insurance has been, and will continue to be, our goal.
Contact your local Farm Bureau office today for a quote.
Doug Oliver is a member of the GFB Mutual Insurance Company's Underwriting Department. He is the farm risk manager for GFB Districts 1-5 and has been employed with the company for 35 years.
---
Posted: 02/16/2018 in Uncategorized
---
Comments:
No comments have been posted.
HTML not allowed, max characters 255, * denotes required field.