GFB News Magazine
GFB insurance policies follow UGA recommendations to protect poultry farmers' investment
Georgia poultry farmers are improving their farms by building poultry houses with improved construction methods designed to increase profitability. Many new poultry houses are much larger than traditional houses. Some of the earliest commercial poultry houses were small, wood framed chicken coops like those you might find in the yard of today's hobby farmer.
Most modern commercial broiler houses range in width from 40 to 42 feet and in length from 300 to 500 feet. Today's larger poultry houses are more than 50 feet wide with lengths up to 600 feet.
The initial capital outlay to build a new house is a significant investment, but it plays a key role in determining the quality of the flock, which ultimately impacts the profitability of a grower's poultry operation. According to the UGA Cooperative Extension, it costs about $225,000 to build one new poultry house. This cost includes site preparation, construction, equipment, wiring and plumbing. Growers are usually required to build a minimum of two houses but farms typically have four or more houses.
Larger houses cost more to build, but they result in lower production costs per square foot for farmers based on economies of scale. Farmers get a larger return on their initial investment with lower production costs. Large poultry houses require construction methods that maintain the structural integrity of the buildings since their size creates greater weight bearing loads.
The Georgia Farm Bureau Mutual Insurance Company has adopted construction recommendations made by the UGA College of Agricultural & Environmental Sciences that promote the structural integrity of poultry houses. These recommendations include chain-wall foundations, which consist of 4 x 4 wood posts and poured concrete walls.
The posts should be treated to resist decay and termites and buried a minimum of 36 inches below the soil surface and secured in concrete. Rebar should be used to secure the wood posts to the concrete, and the concrete on the largest houses should extend 18 inches below the soil surface.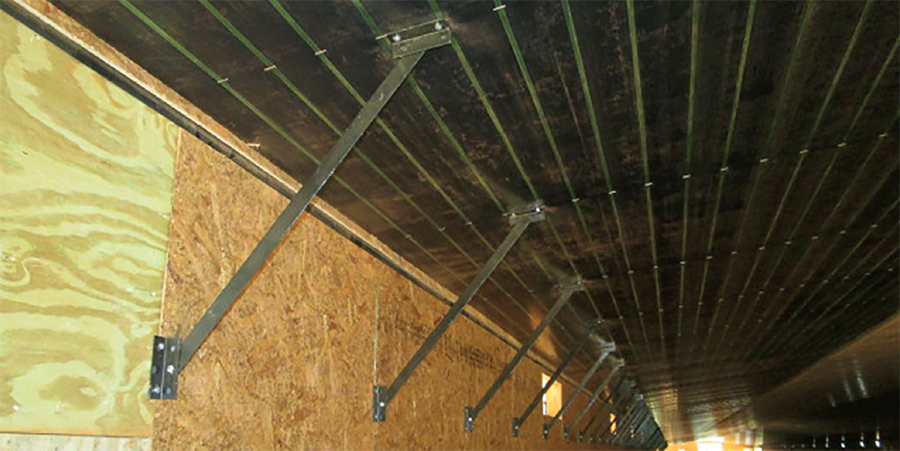 UGA poultry house recommendations advise that large poultry houses be built with sufficiently sized knee braces, like these pictured extending from the roof to the house wall. Knee braces should be attached using angle iron and lag bolt connections. Braces should be strong enough to carry the weight of the roof.
In addition to having a strong foundation wall, large poultry houses should be built with professionally engineered roof trusses designed to carry the extra weight loads created by a larger roof. It's crucial the trusses are braced correctly to ensure the trusses remain in a straight and plumb position. Large poultry houses require sufficiently–sized knee braces, which extend from the roof trusses to the house wall, that are strong enough to carry the extra weight loads. UGA recommends that knee braces be attached using angle iron and lag bolt connections instead of 2 x 4 studs.
Georgia Farm Bureau stands ready to provide the best insurance protection possible as the poultry community looks for ways to increase the return on growers' initial investment while cutting the production costs per house for poultry companies. Georgia Farm Bureau's years of poultry industry knowledge and our desire to provide the best insurance product for Georgia's farmers make us the best choice to protect your investment.
Our agents and field underwriters are always ready to answer any questions regarding construction techniques and insurance coverage provided by a GFB farm policy. Contact your local Farm Bureau office for more information.
Jeff Hancock is a member of the GFB Mutual Insurance Company's Underwriting Department. He is the GFB District 4 Field Underwriter and has been employed with the company for 19 years.
---
Posted: 04/30/2018 in Uncategorized
---
Comments:
No comments have been posted.
HTML not allowed, max characters 255, * denotes required field.