GFB News Magazine
Young Farmer & Rancher Achievement Award Profile: Mitchell and Becky Pittman
By Jay Stone
There is a lot to see in Pittman's market near U.S. Highway 1 south of Lyons. Jams, jellies, a produce section that would please the pickiest of shoppers and a collection of 257 brands of glass-bottled sodas.
Make your selections, take them to the checkout area, and what you notice there are family ties. There are photos of previous generations of Pittmans in military dress, and it's likely a Pittman family member or three is ringing up sales.
Mitchell and Becky Pittman are more than happy to work in this environment and have their three children – daughter Braylin and sons Tatem and Milo – tag along. As they were growing up, though, it was far from a foregone conclusion that "Pittmanville" – the area where their family's collection of houses are situated near the market and its surrounding fields – was their career destination.
"Growing up, my granddaddy and daddy would always say, 'You're smart. Go try to find something else to do that's more predictable than farming. It's too unpredictable,' " Mitchell said. "So that's what I kind of had in mind, going to do something else. When I got to be a senior in high school and had to really think about what career I wanted to follow, I decided that farmer wasn't that bad of a career. Daddy said I had to go to college first, so I ended up going to Georgia, majoring in ag business. I came back once I graduated and started working full time."
He's turned it into a running joke with family members.
"They say, 'oh, you're smart enough to be a doctor?' I told them I didn't like cutting on people. 'Well, why don't you be a pharmacist?' I told them I didn't hear anything past pharm," Mitchell said.Becky grew up hopping around in the life of a military brat. Her father was in the U.S. Air Force, and the family made stops in South Carolina, Virginia, Germany and finally Warner Robins, where she graduated from Houston County High School.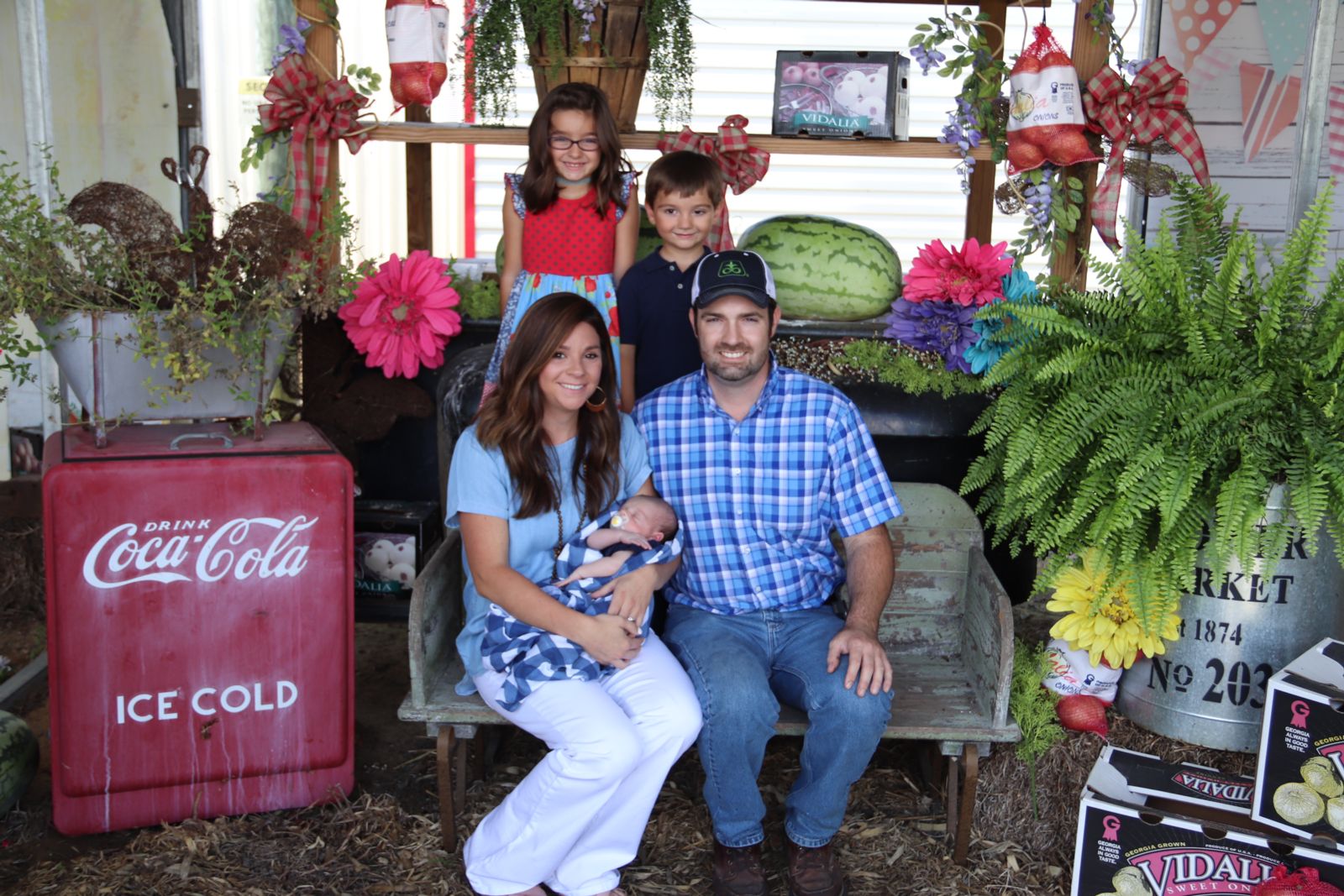 The Pittmans: Becky (holding Milo) & Mitchell with daughter Braylin & son Tatem. Visit www.gfb.ag/pittmanphotos to see more photos.
"We moved around. I went from moving around to never moving again," Becky said. "You can't move a farm, so this is pretty much where I'll be. I enjoyed moving around, but I also like the stability, you know, of being in one place and the kids getting to experience all this. I'm experiencing it with them."
The couple met in part because Becky had an apartment lease. She was a December graduate from nearby Brewton-Parker College. She stayed in Toombs County to finish out the lease and looked for work. She wound up working at a doctor's office with Mitchell's aunt, who encouraged her to meet Mitchell.
"That's how it was," Becky said. "She gave him my number and that's how it went."
Three kids and a farm later, she wouldn't have it any other way.
"Farm to me is family," she said. "My dad worked 9 to 5 most of the time. This is 24/7. It's your livestyle. I enjoy how Tatem wants to go to work with Daddy [Mitchell]. He can go. He sees it and this is what he wants to do do. It's not really a job to me. It's more like this is what we do."
"I know it's cliché to say farming is more than just an occupation, it's a way of life, but that's how it is," Mitchell said. "When I was growing up, watching my dad and granddad work together and just seeing how they raised their families and kept the farm running all the other chores that came with that, I saw how good a lifestyle it could be."
The Pittmans, who run the family farm and market with Mitchell's father, Timmy, and brothers, Jonathan and Kyle, work approximately 1,200 acres, growing a wide variety of vegetables along with watermelons that are sold through the family store and to larger retail customers. The family also grows cotton and peanuts and has a small herd of cows.
Becky pitches in when needed – "I can drive a forklift and turn off irrigation pumps," she noted.
As a part of their Farm Bureau activities, the Pittmans host school farm tours and while they're pursuing success in the farm business, they are seeking out opportunities to share the story of agriculture.
Mitchell has served as the Toombs County Farm Bureau Young Farmer & Rancher Chairman since 2013 while also serving as a TCFB director, helping with planning legislative events with state and federal elected officials. Under his leadership, the TCFB Young Farmer & Rancher Committee won the GFB District 7 Outstanding Young Farmer Committee Award. The Pittmans are three-time winners of the GFB District 7 Young Farmer & Rancher Achievement Award.
Becky is part of the TCFB Women's Leadership Committee. The couple served on the Georgia Farm Bureau Young Farmer & Rancher Committee in 2016 and 2017, serving as committee chairs in 2017.
"There's stuff taught that a farmer plants a seed, he waters it, it grows, it makes your food," Mitchell said. "That's simple. They don't realize now all the different types of diseases out there that could affect your crop, or being able to water so you make max production. You need to be able to tell these people that yeah, these are important things. Yes, you go to the grocery store and boom your food is just there, but they don't realize the struggle it takes to get there."
Visit www.gfb.ag.Pittmans to read more.
---
Posted: 07/27/2018 in Uncategorized
---
Comments:
No comments have been posted.
HTML not allowed, max characters 255, * denotes required field.