Meals From The Field
This month, Marcia and Ray want to help you solve that age-old dilemma - what can you do with all that leftover Thanksgiving turkey? They are preparing a turkey enchilada casserole and turkey panini sandwiches with blueberry sauce.
And here are these two wonderful recipes!
Turkey Enchilada Casserole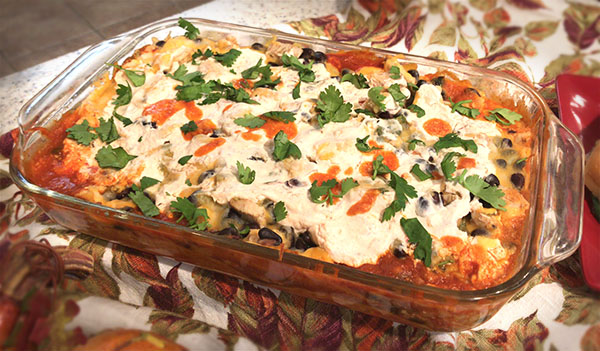 INGREDIENTS
2 1/2 cups cooked turkey
1/2 teaspoon ground cumin
1/2 teaspoon ground coriander
2 tablespoons fresh chopped cilantro
15-ounce can black beans, rinsed and drained
1 can (4.5-ounce) chopped green chilies, drained
10-ounce can mild red enchilada sauce
8 six-inch flour tortillas
2 cups Mexican blend grated cheese
1 cup sour cream
2 tablespoons salsa
DIRECTIONS
1. Preheat oven to 375º.
2. Combine turkey, cumin and coriander in a large bowl. Then stir in cilantro, beans and chilies.
3. Spread half of the enchilada sauce in the bottom of an 11" x 7" prepared casserole dish.
4. Place 4 tortillas over sauce, overlaping the tortillas to fit into the dish.
5. Spoon half the turkey mixture over tortillas, sprinkle with half the cheese.
6. Combine sour cream and salsa, and place half of this mixture over cheese.
7. Spoon remaining enchilada sauce over cheese, then top with remaining tortillas and the turkey mixture.
8. Cover and bake for 30 minutes, then remove from oven and uncover.
9. Top with remaining cheese and sour cream salsa mixture, then bake an additional 5-10 minutes.
Makes 4 servings
Turkey Panini with Blueberry Sauce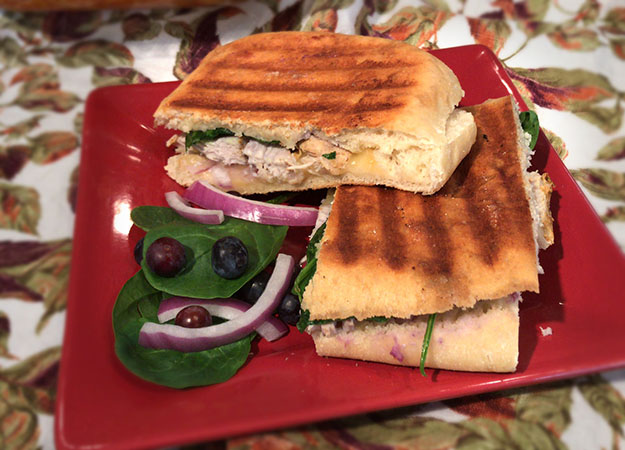 INGREDIENTS
SANDWICH
2-3 slices leftover turkey, per sandwich
2 slices smoked Gouda cheese, per sandwich
Sliced red onion
Spinach leaves
Blueberry Spread, recipe below (optional)
2 slices of bread such as ciabatta, sourdough or focaccia
Butter
BLUEBERRY SAUCE
2 cups blueberries
3/4 cup water
2 teaspoons lemon juice
2 teaspoons instant fruit pectin
3 tablespoons sugar
DIRECTIONS
TO MAKE BLUEBERRY SAUCE
1. Over medium heat combine berries, 1/2 cup water and lemon juice.
2. Bring to a boil and reduce heat.
3. Simmer for 8-10 minutes, stirring frequently.
4. In small bowl, soak pectin in 1/4 cup water.
5. Remove berries from heat and stir in pectin and sugar.
6. Cool and store in refrigerator.
TO MAKE SANDWICHES
1. Melt butter in a skillet.
2. Place turkey, cheese, onion, spinach and blueberry sauce on bread.
3. Brown on both sides to desired doneness and until cheese is melted.
Makes 4 servings