Recipes
This month, Marcia and Ray want to help you figure out how to handle breakfast when things get busy around the holidays. They are presenting two breakfast casseroles that you can prepare the night before, and simply pop into the oven in the morning.
And here are these two wonderful recipes!
Grits and Sausage Breakfast Casserole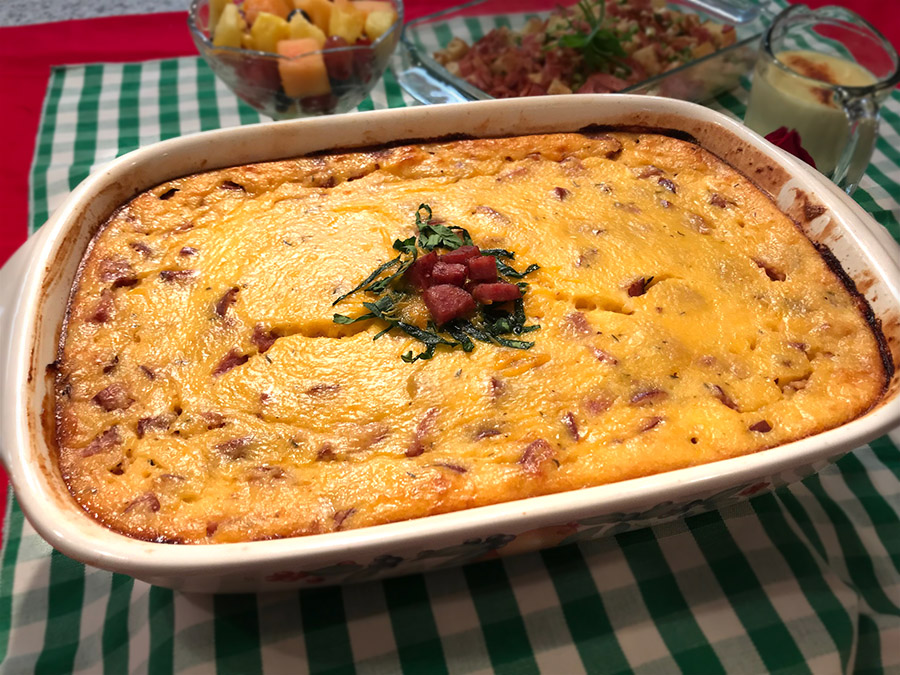 INGREDIENTS
Two 14-ounce packages smoked sausage, chopped
1 ½ cups quick cooking grits
½ teaspoon salt
4 ¾ cups water
4 cups shredded sharp cheddar cheese
1 cup half and half or milk
¼ teaspoon garlic powder
¼ - ½ teaspoon pepper
¾ teaspoon thyme leaves
4 eggs, beaten
DIRECTIONS
1. Preheat oven to 350º.
2. Brown sausage in a large skillet, and drain on paper towels.
3. Cook grits in boiling water according to package directions, stirring occasionally, until creamy.
4. Remove from heat, then add cheese, half and half, thyme, garlic powder and pepper.
5. Stir in sausage.
6. Spoon mixture into 9 x 13-inch prepared dish.
7. Bake 5 minutes to 1 hour.
Can be made several days in advance. Refrigerate prepared uncooked casserole until ready to cook.
Serves 6 - 8.
Eggs Benedict Casserole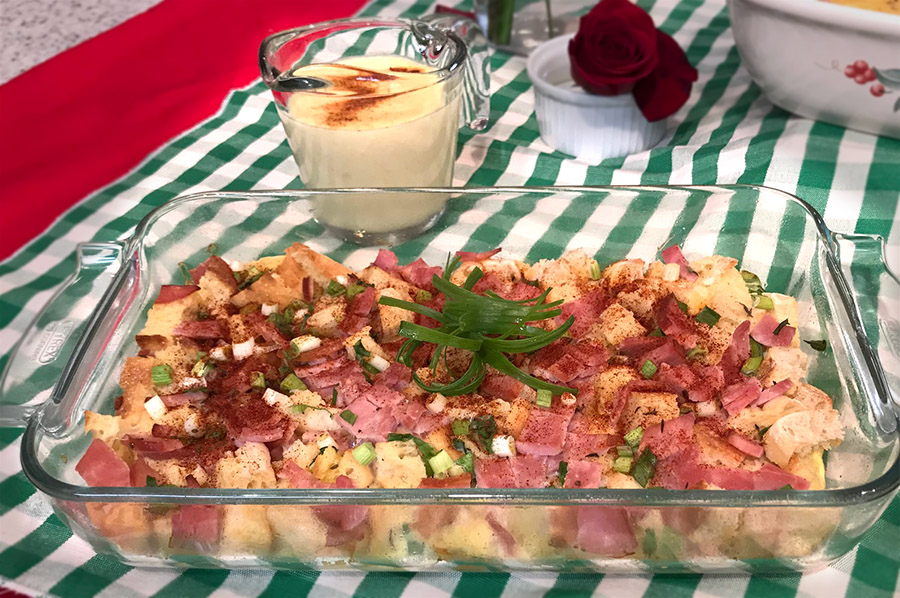 INGREDIENTS
1 ½ cups chopped ham
3 English muffins, cut into ½ inch pieces
4 eggs
1 cup milk
3 green onions, chopped
½ teaspoon onion powder
½ teaspoon salt
½ teaspoon pepper
½ teaspoon paprika
1 (.9 ounce) package hollandaise sauce, prepared according to package directions
DIRECTIONS
1. Spray 9 x 13-inch baking dish with cooking spray.
2. Layer half of ham in bottom of dish, top with all English muffin pieces, then top with remaining ham.
3. In small bowl, combine eggs, milk, onions, onion powder, salt and pepper. Pour this mixture over ham and muffin pieces.
4. Cover and refrigerate overnight.
5. When ready to cook, preheat oven to 375º.
6. Cover baking dish with aluminum foil and bake until eggs are almost set, about 30 minutes.
7. Remove foil and continue baking about 15 minutes, until eggs are set.
8. Sprinkle with paprika and serve with prepared hollandaise sauce.
Serves about 4.
Makes 4 servings